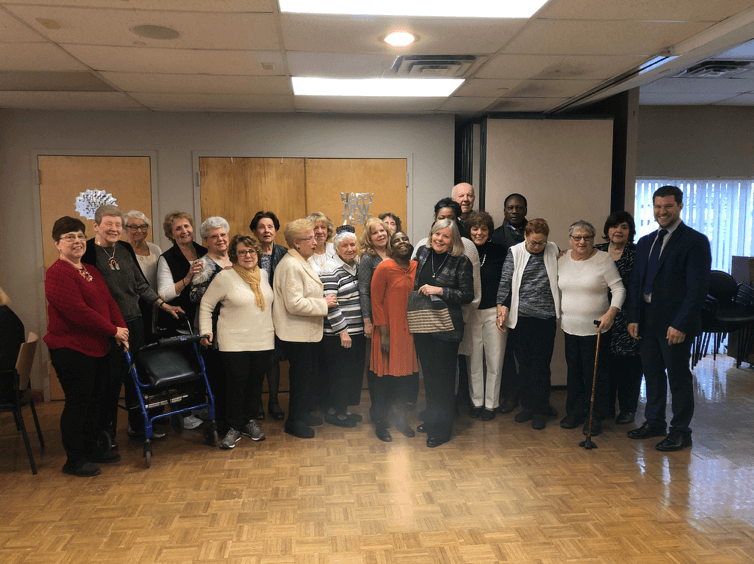 Wanda (center) with members of the Sandel Senior Center Senior Concerns Committee
Old Bethpage, NY – On Friday, January 10th, Wanda, a woman with special needs supported by Family Residences and Essential Enterprises, Inc. (FREE), who sews "Wheelie Buddies", presented over 60 of them as gifts to the Seniors at the Sandel Senior Center in Rockville Centre, NY at their annual New Year's party.  "Wheelie Buddies" attach to walkers and wheelchairs. The senior citizens use the 4 pockets on the "Wheelie Buddies" to carry glasses, money, phones, and other items, giving them easy access while freeing up their hands.
The "Wheelie Buddies" project began in 2012. Since then, Wanda has sewn over 2,000 Wheelie Buddies that were donated to over 40 nursing homes and assisted living facilities.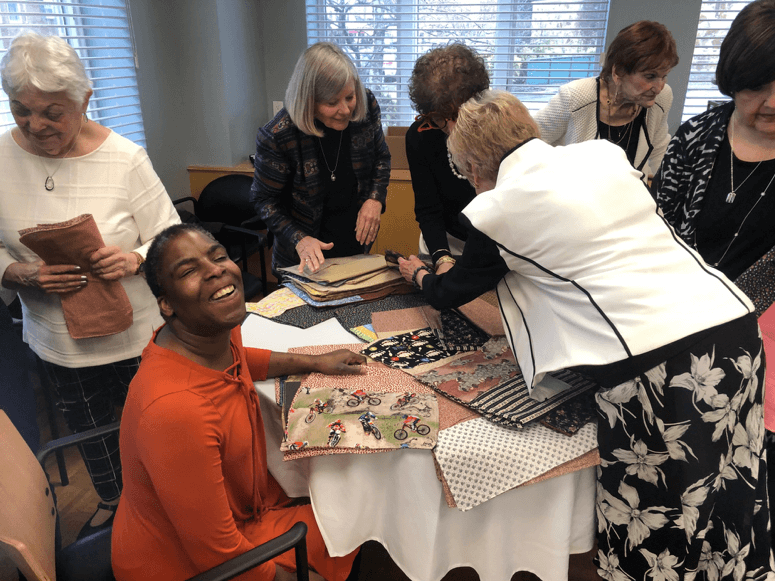 Wanda Happily Watching Seniors from the Sandel Senior Center Pick Their Wheelie Buddy
"Wanda's skill at crafting these Wheelie Buddies has helped thousands of seniors live their lives in a more unencumbered way," said Robert S. Budd, CEO, FREE.  "The individuals we are privileged to serve are capable of remarkable things, and it's always great when others are witness to it," he continued.
Family Residences and Essential Enterprises, Inc. (FREE)
Family Residences and Essential Enterprises, Inc. (FREE), founded in 1977, benefits and proudly supports more
than 4,000 individuals with intellectual/developmental disabilities, mental illness and traumatic brain injury. It is the mission of FREE to help individuals of all abilities realize their full potential. FREE provides a diverse array of supports and services including housing; recovery services; transition to work; employment; day, community and family services; respite; crisis services; education and after school support; specialty health services; and advocacy.
FREE also collaborates with a variety of diverse 501(c)(3) nonprofit partners on educational, vocational, rehabilitative and a myriad of other creative initiatives to enhance the local communities and the lives of more than 35,000 people that reside within them. Each of the valued partners of the FREE Network has a unique mission, vision and strategic goals that are aligned in purpose, and embody the spirit of the meaningful work we do every day. For more information, please call 516-870-7000 or visit www.familyres.org.