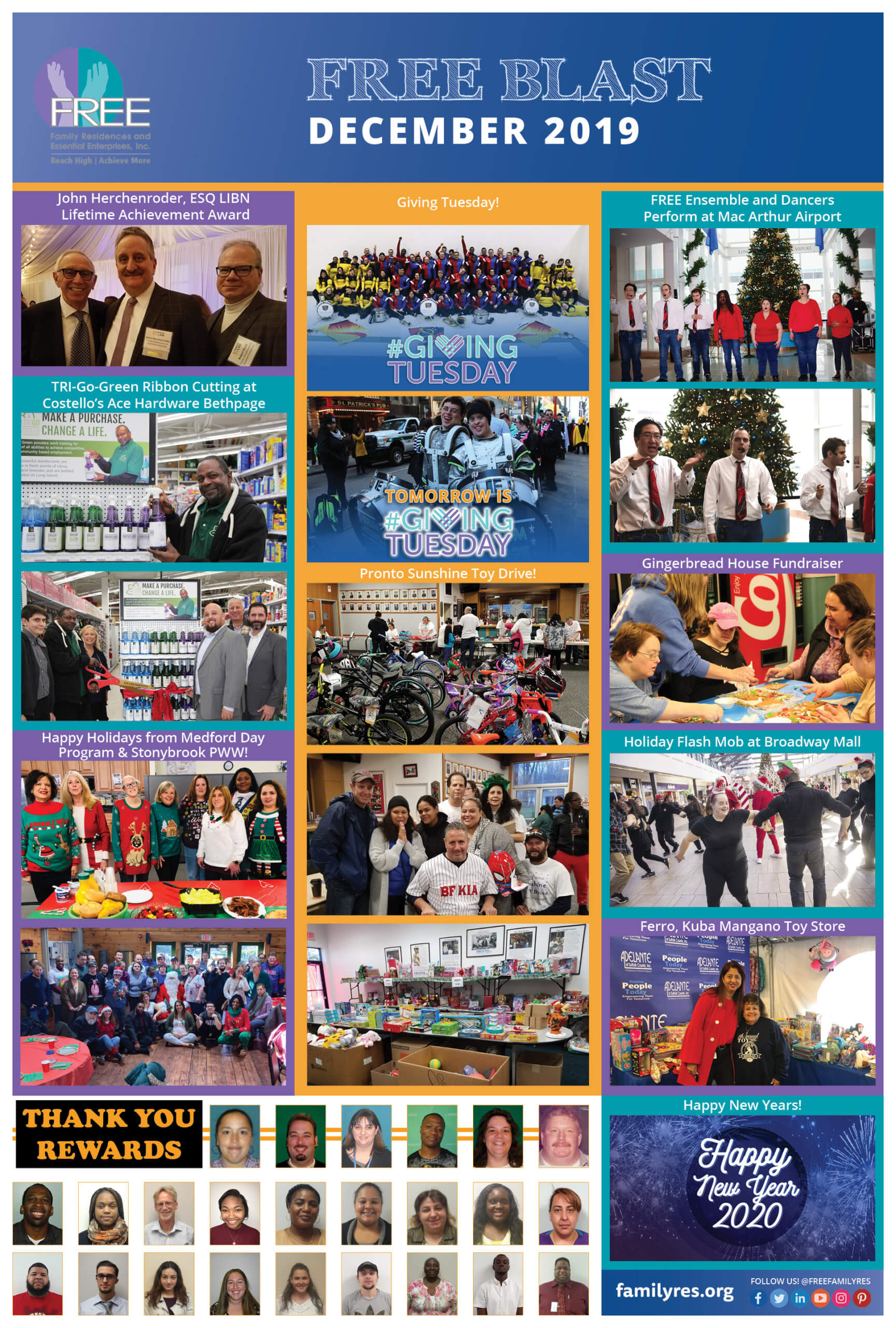 FREE Blast December
John Herchnroder LIBN Lifetime Achievement Award
We want to congratulate a key member of our internal FREE team. Recently, Chief Legal Officer, John Herchenroder was honored at an event held by Long Island Business News Leadership in Law. John Herchenroder was honored with the Lifetime Achievement Award by the LIBN. Congratulations John!!
TRI-Go-Green Ribbon Cutting at Costello's Ace Hardware Bethpage
On Wednesday FREE, TRI and Costello's Ace Hardware were honored to gather for a ribbon cutting ceremony. The announcement was that TRI Go Green products are now entering their fourth store in the Costello's ACE family. The Bethpage location on Hempstead Turnpike now carry's all TRI Go Green products! Along with locations at Bellmore, Melville and Nesconset, get yours today!
Happy Holidays from the Medford Day Program & Stonybrook PWW
The spirit of the holidays could be felt everywhere throughout FREE. Team members, and the men and women we support had an amazing time celebrating the holidays!
Giving Tuesday!
Each year on the Tuesday after Thanksgiving, Giving Tuesday celebrates charities and non profits around the world to come together for a day of giving back. Whether it's making someone smile, helping a neighbor out, showing up for an issue or people we care about, or giving some of what we have to those who need our help, every act of generosity counts and everyone has something to give.
Pronto Sunshine Toy Drive
On Saturday, December 14th, Pronto of Long Island, Inc., took one hundred needy families to the Dix Hills Fire Department to shop for donated toys. The event and toys were generously donated by Sunshine Toy Drive!
FREE Players Ensemble and Dancers Perform at MacArthur Airport
FREE Players Ensemble and Dancers Perform at MacArthur Airport's 6th Annual Holiday Concert Series, featuring music performed by students from Islip Town and throughout Long Island, jazz ensembles, acoustic guitar performances, and much more.
Gingerbread House Fundraiser
A number of our residential programs came together to host a Gingerbread House Fundraiser! It was a night of candy, gingerbread, holiday music and pizza!
Holiday Flash Mob at Broadway Mall
The Free Ensemble performed at the Broadway Mall in Hicksville, surprising shoppers as a flash mob and rocking around the Christmas Tree during a holiday-themed flash mob. 
Ferro, Kuba & Mangano Toy Store
Ferro, Kuba, Mangano, P.C. (FKM) made the holiday season merrier for families in need with Adelante of Suffolk County and Pronto of Long Island at their 8th Holiday Toy Store and Festival. FKM transformed their offices into a Holiday Toy Store for needy families where parents can shopped for toys donated by FKM and its Liga de Justicia legal clinic in Brentwood, as well as other corporate sponsors.  Festivities included singing, dancing, games, food and pictures with Santa. Each family had a personal shopper to assist with toy selection and wrapping. Now in its 8th year, the Holiday Toy Store provided an estimated $30,000 worth of new toys, games, books, and clothes to more than 750 children of needy families.