Hello All,
In adhering to our Core Values, April's FREE Blast portrays how we commit ourselves to meet the needs of the people we support, Valued Team Members and the unmet needs of the community. Through many different advocacy efforts and innovative solutions, we can help Individuals of all abilities realize their full potential.
Respectfully, Chris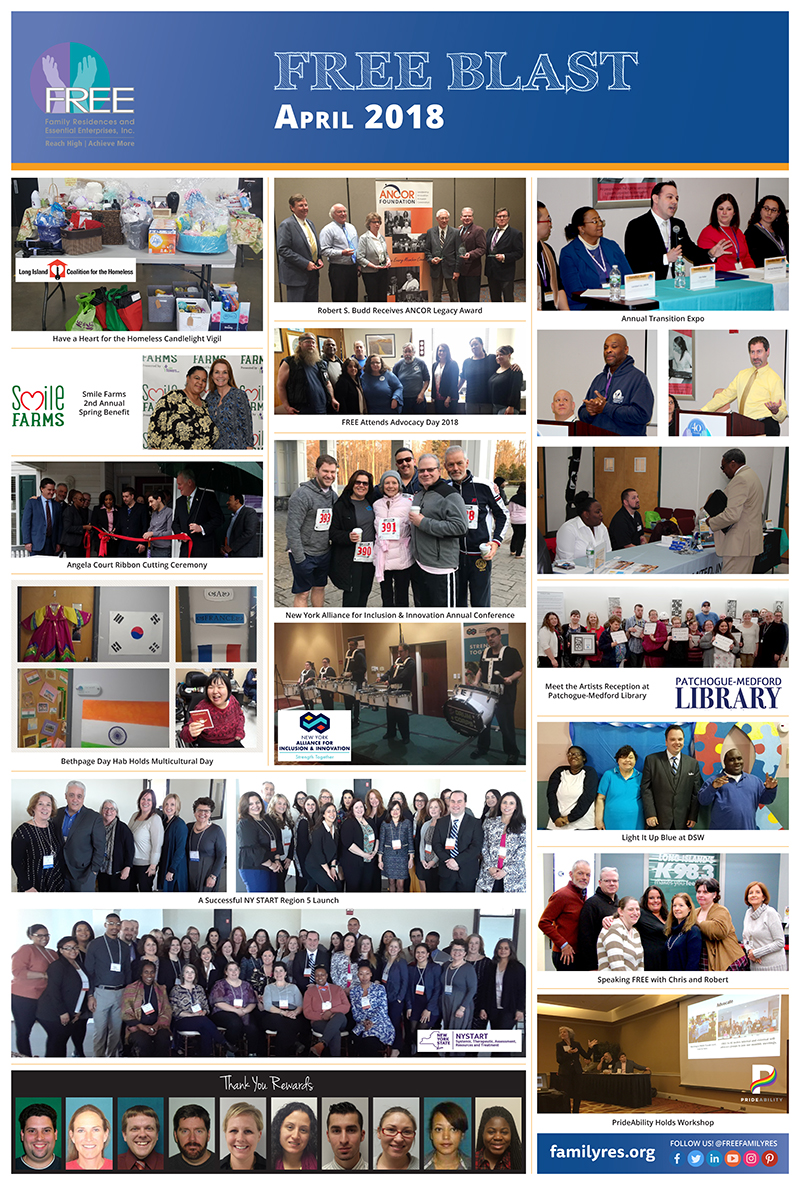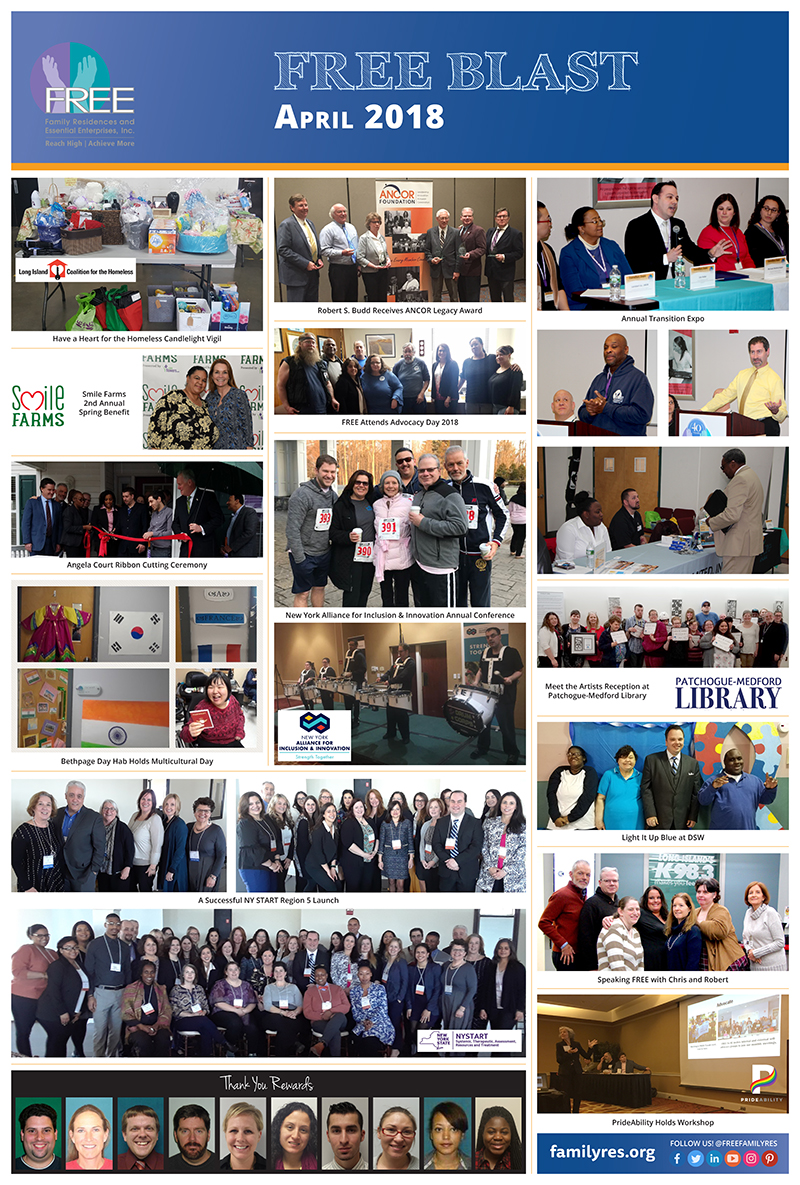 Click HERE for the Full-Sized Poster!
Have a Heart for the Homeless Candlelight Vigil
Thank you all so much for volunteering your time and donations for the Long Island Coalition for the Homeless. It was wonderful to see everyone come together the night of the Candlelight Vigil. The FREE Players Ensemble, which performed that night, was amazing, as always. Value of Responsiveness
Smile Farms 2nd Annual Spring Benefit
Smile Farms recently held their 2nd Annual Spring Benefit as they celebrated the employment of 73 developmentally disabled Individuals and counting. The event was held at Riverpark Restaurant in New York City. All proceeds benefitted Smile Farms' mission of creating jobs for people with developmental disabilities in agricultural settings. Values of Responsiveness, Innovation and Quality
Angela Court Ribbon Cutting Ceremony
It is with great pleasure that FREE announces that the first home for transitioning some of the Individuals we are so privileged to support at Melville Estates – the Angela Court IRA – is officially certified and open! Thank you to everyone who helped make this possible. Values of Responsiveness, Innovation and Quality
Bethpage Day Hab Holds Multicultural Day
The Individuals had a wonderful time learning about different countries around the world. Each participant received a passport to document where they visited. At each location, people got to enjoy authentic cuisine, as well as learn foreign languages, facts and trivia. Value of Diversity
A Successful NY START Region 5 Launch
On April 11th, the NY START Region 5 Long Island team hosted their program launch training event in Smithtown, NY. The launch featured Center for START Services Director, Dr. Joan Beasley; OPWDD Director of Health and Community Supports, Kate Bishop; Region 5 Program Director, Camille Livingston; CEO of Family Residences and Essential Enterprises, Inc. (FREE), Robert Budd; and Center for START Services Associate Director, Dr. Karen Weigle. The training event was very well attended by community partners, members of all regional NY START programs, and advocates from the Long Island community. Congratulations to NY START Region 5 on a successful launch! Values of Diversity, Responsiveness, Stewardship, Interdependence, Innovation and Quality
Thank You Rewards
Rich Morton (PWW) is a music therapist and under co-direction with fellow HS Fran Nemeroff, has been having his Individuals mentor Special Education students at Massapequa High School. His guys have been helping the students during weekly drama workshops in preparation for a performance at the end of the run. Their performance of Be Our Guest was such a hit that they were invited back again! Rich utilizes his expertise and gift of music to assist his Individuals to come out of their shell and to gain confidence.
Kathleen Serafin (Program Admin) is always going above and beyond for our Crisis Team. She is a valuable asset and great support. She has helped with so many things that it is hard to count. Because Kathleen has developed trust with so many, she has been recognized as a person who people can go to and express concerns, and vice versa. As we all know, we always need that one person we can do this with. She always stops what she is doing to listen and to help.
Chris Mitchell (Bethpage Day Hab) has been involved with the FREE Players Drum and Bugle Corps since its inception, and in Brian Calhoun's absence has done a tremendous job keeping the Corps moving towards its goals at DCI coming up in August.
Steve Paul (Smith Road) has gone above and beyond, especially when it comes to dealing with difficult situations.
Caitlin Wilson (PROS) has been on our team for a couple of years now and she has proven to be an extremely dedicated and hard worker. She is reliable, compassionate and a true team player. Caitlin completes quality work and over time she has taken on more responsibilities within the program, showing that she is eager to continue learning and growing as a professional. She has a clear passion for what she does, which is evident in her interactions with our program participants. Caitlin often volunteers to assist others when needed, and she goes above and beyond to engage the Individuals we work with, truly enjoying the time she spends with them. Caitlin is also the lead for Population Health within the program, working hard to track information and look for trends and different ways to better meet the Individuals' needs. Additionally, she has taken the lead with a new partnership at Nassau Community College where she leads a social club for college students on campus. Overall, Caitlin has been an asset to our team from day one and it's been a privilege to work with her.
Natalie Font (DSW) has been such a great advocate and natural support to one of our Individuals. She made plans to go to the Bronx Zoo with him and Natalie's family on her day off. Due to circumstances that were out of our control, the Individual was not able to go. Instead of going to the Bronx Zoo, Natalie and her family came to DSW and had lunch with this Individual.
Joshua Levine (Supported Housing, CSS) has been a true team player. Recently we had several incidents with our Individuals that required staff to immediately drop what they were doing to help assist the Individuals during crisis. On one of the occasions, Josh was involved in the altercation, as he had to intervene and break it up between two Individuals. Afterwards, he still made sure she was safe and brought her personal items to the shelter, even after she threatened him. Josh has always been a team player and has recently helped the MRST program with some cases to ensure the Individuals were getting the services they needed. Josh will stop whatever he's doing to assist the needs of the Individuals and to aid with his coworkers whenever asked. When there are emergencies, he is consistently ready, willing and able to help on a moment's notice.
Maria Rust, Charile Alt Pluges and Brittany Allen (Terryville) are three overnight staff who have voluntarily been putting together monthly/holiday themed decorations crafted by themselves in the house. They really have gone above and beyond this time.
If you would like to nominate someone for a Thank You Reward, please contact Pat Hogan at PHogan@FamilyRes.org. Winners of a Thank You Reward receive a gift card and thank you card to show our appreciation. Values of Diversity, Responsiveness, Interdependence, Innovation and Quality
Robert S. Budd Receives ANCOR Legacy Award
The ANCOR Foundation Legacy Leaders Circle honors the finest and most influential leaders and celebrates the accomplishments of long-term ANCOR members who made significant contributions to ANCOR during his/her tenure as a member. It is with great pride that we announce that Robert S. Budd, CEO of FREE, was one of the recipients of the 2018 ANCOR Legacy Award. Values of Diversity, Responsiveness, Stewardship, Interdependence, Innovation and Quality
FREE Attends Advocacy Day 2018
Colan, from East Hampton, said nothing would stop him from attending this year's Advocacy Day to advocate for all that was needed. He did really well speaking to both Senator LaValle's office and Assemblyman Theile from Sag Harbor. He spoke well about the need of the waiver and what it would mean if it no longer was around. Along with Colan's great talks, we had about 20 letters typed and made into packets that were hand delivered to many politicians. Values of Diversity and Responsiveness
New York Alliance for Inclusion & Innovation Annual Conference
In preparation for the annual Inclusion & Innovation event, New York Alliance's Conference Committee identified a variety of workshop "tracks" that address the most pressing information needs of their members. After much discussion, the tracks were identified and agencies were invited to submit presentations that relate to one or more subject areas and demonstrate the ways in which we can improve the ongoing supports to people with ID/DD and develop new ideas which address their new and/or emerging needs. NY Alliance Fun Run participants took part in a 5K run in honor of DSPs. The FREE Players Drum and Bugle Corps also performed at the annual conference. They were one of the recipients of the 2018 Excellence Awards. Values of Diversity, Responsiveness and Interdependence
Annual Transition Expo
FREE welcomed agencies, school district educators, counselors, administrators and SEPTA representatives to come explore our comprehensive services — how we support seamless transition experiences from the world of school-to-work for students and families. The day included vendor tables, a Question and Answer Session with panelists who specialize in this area, as well as various success stories. Values of Responsiveness, Interdependence, Innovation and Quality
Meet the Artists Reception at Patchogue-Medford Library
Disruption is a series of paintings that grew out of multiple drawings exploring the idea of how to interrupt a pattern. More than simply interfering with a visual pattern that was already in existence, Disruption challenged our artists to create a pattern, then disrupt it and transform the old pattern into a brand new one. It looks different, feels different and is different. In order to be able to embrace this new pattern, old thinking and memories had to shift. What was old had to be let go of as our artists immersed themselves into the flowing river of creativity; where healing resides and has the power to rejuvenate and transform life. The Individuals that participate in the Fine Art and Art Therapy programs were overjoyed to be displaying their art at Patchogue-Medford Library during the month of April. At the Meet the Artists Reception, not only were the artists recognized, but for the first time ever, the Art Champions were honored, as well. For those that were unable to make it, keep an eye out for further details about the Meet the Artists Reception at LENZ Winery. Values of Diversity, Responsiveness, Innovation and Quality
Light It Up Blue at DSW
FREE hosted a "Light It Up Blue" event in recognition of National Autism Awareness Month for Individuals participating in our day program in Hauppauge (DSW). Individuals wore blue, decorated T-shirts, and each classroom made a puzzle. The puzzle symbolizes that we are all different like the different pieces of the puzzle, but it is important to look at our abilities, look at what we can do, we each have a story to tell like each piece of the puzzle. In addition, Saddle Rock Ranch, a member of the FREE Family, brought some animals for pet therapy. Values of Diversity and Innovation
Speaking FREE with Chris and Robert
The most recent showed aired on KJOY 98.3FM on April 8th at 7:00 a.m. Co-produced by Connoisseur Media, FREE President Dr. Christopher D. Long, and FREE CEO Robert S. Budd hosted the show and interviewed guests Michelle Flood, Director of Advocacy, FREE; Bridget Cariello, Supervising Coordinator, Self-Advocacy Association NYS (SANYS); Coleen Mackin, SANYS Statewide President; Stefanie Russo, Advocacy Peer Mentor, FREE; and Mickey Michaels, Coordinator of Family Advocacy, FREE. Value of Innovation
PrideAbility Holds Workshop
A PrideAbility Workshop was recently conducted at the New York Alliance for Inclusion and Innovation Annual Conference at the Sagamore Hotel in Lake George. Presenters included Claire Miller, Advocacy Coordinator, FREE; Jim Huben, Senior Program Planner, NYS Developmental Disabilities Planning Council; Matthew Kuriloff, Creative Arts Manager & Advocacy Coordinator, East End Disability Associates; and Rick Banner, Advocacy Coordinator, People, Inc. Values of Diversity, Responsiveness, Innovation and Quality