Our daughter, Barbara, became part of FREE in 1991. Looking back at her at age 22, and just having moved into a FREE residence, gives us some perspective. She couldn't have achieved all that she has without the help of a wonderful residential staff. She learned to do so much over the years – helping to prepare meals, to taking care of her belongings, to getting along with her roommates and friends, who eventually became much like a family.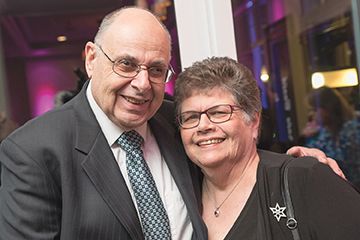 One day, a counsellor brought her to a rehearsal of what was to become The FREE Players. The show was Fiddler on the Roof. Barbara began to sing. She knew most of the songs and the reaction was, "Where has she been until now?" So, what began as this timid, soft-voiced, young lady developed into a mature performer belting out "Adelaide's Lament" in Guys and Dolls, and in high heels, no less. There are just too many people to mention among the Theater Day Habilitation Staff who helped Barbara achieve what she did. Nor did it stop there. Barbara, of her own free will, joined the Drum Corps, and was recently on CBS New York, Channel 2 News – she was so joyful and competent in that segment.
A few years ago, Barbara also became a part-time receptionist at the Theater Day Hab. We're told that she takes this responsibility very seriously and does it well, adding her own little flair of singing the daily announcements from time to time.
When Barbara was a withdrawn, frightened, anxious and barely communicative child, we would never have dreamed that she would achieve all that she has. FREE has provided the setting, and the caring, dedicated and talented staff that has helped make all of this possible.
— Anne and Alan Sharkis
Want to Contribute?
If you are a parent of someone who receives services from FREE and would like to share your story or thoughts, please email Mission_Advancement@FamilyRes.org.