April was a busy month with an incredible array of achievements for all of us at FREE. Our Center for Talent Development in Oakdale was given an official grand opening celebration with a ribbon-cutting ceremony. Pronto and Skills Unlimited hosted successful events and our annual Transition Expo was well attended and informative. We are especially proud of the many advances and accomplishments of our individuals who shined this month, including the history-making announcement that the FREE Players Drum and Bugle Corps is going to compete at the prestigious Drum Corps Associates (DCA) World Championships. Moving ahead, we have many other events to look forward to including the Job Expo, the Dinner Dance, the Ascension Art Collection at the Tilles Center and the Hotdog Dash.
Respectfully,
Chris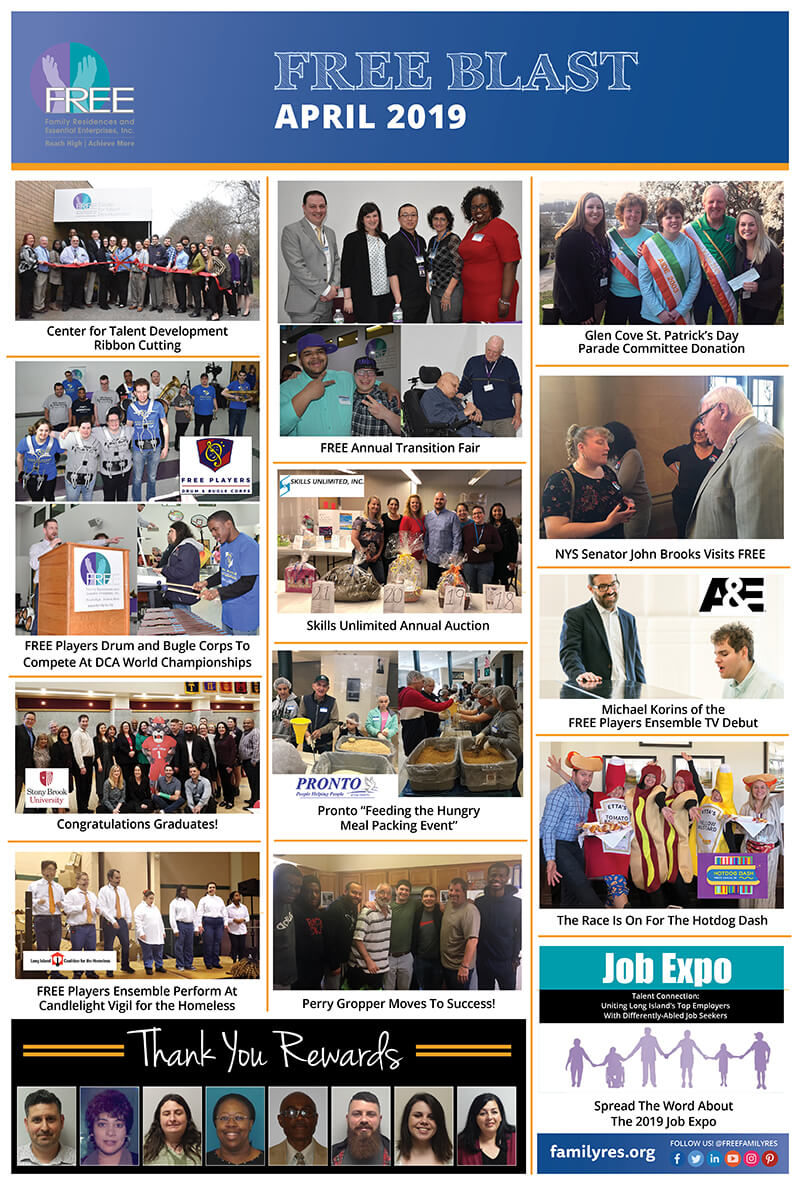 Click HERE to download the poster-sized version! 
Center for Talent Development Ribbon Cutting
FREE's Center for Talent Development held their official ribbon cutting on April 11th, marking a major advancement in our recruiting and training divisions.  The move to Oakdale shifts these functions further east, where more team members and candidates will be closer to the houses and people we support. The brand new center has its own outside entrance with a long welcoming path lined with spring flowers, housed under a large awning. The training rooms offer plenty of space for large groups and smaller rooms for intimate interviews and smaller group meetings.  An added bonus is that we share this space in the same building as Skills Unlimited and see their friendly faces every day!
FREE Players Drum and Bugle Corps To Compete At DCA World Championships
FREE held a rally for the FREE Players Drum and Bugle Corps where Senior Music Specialist Brian Calhoun announced which members will perform and compete at the prestigious Drum Corps Associates (DCA) World Championships in Williamsport, PA over the Labor Day Weekend, August 30th – September 1st.  This performance will make history as the first time a special needs Drum & Bugle Corps was selected to perform and compete at the DCA World Championships. Since their inception in 2010, they have made history on several other occasions by traveling across the country to perform at world-class events, including the WGI Percussion World Championships, DCI Eastern Classic, the Newsday Marching Band Festival, USBands NY State Championships, Battle In the Apple, Walt Disney World, the NYC Columbus Day Parade, and the Drum Corps International (DCI). After the names were announced, the group performed for guests, parents and the press.  Congratulations to all and good luck!
Congratulations Graduates!
The School of Professional Development (SPD) at Stony Brook (SBU) Human Services Program, held a Cap & Gown Party to celebrate the commencement of the first graduating class of FREE employees on Monday, April 29th. This pilot program allowed 22 FREE employees to attend SBU classes at FREE's Old Bethpage headquarters and online while earning credit towards their master's degree.  As part of the program, FREE offered a tuition reimbursement plan coupled with a unique payroll deduction program which helped to support zero debt upon graduation.
FREE Players Ensemble Perform At Candlelight Vigil for the Homeless
Just hours after their standing ovation at Mary Poppins Jr. show, the FREE Players Ensemble performed at the Candlelight Vigil for the Homeless at Farmingdale State College. This annual event held by the Long Island Coalition For The Homeless brings together members of the community to collect and distribute new winter coats, new/unused baby items, non-perishable food, cleaning supplies and toiletries to Long Island's homeless and at-risk families. As many of you know, an assortment of these goods had been gathered by our HR Team in March from many team members, and we were happy to make this donation on FREE's behalf. Thank you to all who donated.
FREE Transition Fair
Our annual Transition Fair was a huge success with a packed house of families and vendors. This forum is intended to help teens "bridge the gap" between the programs they have at school and to ready them for life after graduation. We were fortunate to have a panel of speakers who were enthusiastic as well as informative on the subject as they spoke about the many programs available and answered questions. The gathering was capped off with speeches by three individuals who have successfully moved through various FREE programs;  From  PROS, Justin Doran, who participated in Legislative Day in February, works at Home Goods; and Zakk Roche, who presented a  basic assurance at the 7th Annual Advocacy/Disabilities Awareness conference in March, works for Stew Leonards. Eddie Green, who is about to complete our Pathway to Employment program, will soon be referred to ACCES-VR to be authorized for placement services through Supported Employment. Congratulations to the planning committee and thank you to all the panelists and the vendors who made this possible.
Skills Unlimited Annual Auction
We are very happy to report that Skills' annual auction was a phenomenal success raising $2,645 and was attended by 124 guests who paid admission!  Not only did the event raise a lot of money to support the continued growth of their operations, and the event proved to be a night of fun for all. Congratulations to everyone who contributed to the months' worth of work in preparation for the auction, and to those who provided support during the event.
Pronto "Feeding the Hungry Meal Packing Event"
Pronto participated in the annual "Feeding the Hungry Meal Packing Event"  sponsored by the Brentwood Rotary Club and Brentwood Union Free School District. Over 8,000 meals of mac and cheese and beans and rice were packaged by volunteers and students at the event, some of which will remain for a food pantry at the school. The remaining packets will go to Pronto's storeroom to aid the most vulnerable children and families living in Brentwood, Bay Shore, Central Islip, and neighboring communities.  Thanks to all of the wonderful volunteers who made the event such a success!
Thank You Rewards
FREE has been sharing with everyone the Thank You Rewards, showcasing the Valued Team Members who go above and beyond what is required of them. It is our honor to announce the April nominees: Brian Casserly, Deborah Cedeno-Mcquade, Sarah Constantinou, Cynthia Groeneveldt, Reynald Jean-Louis, Bryan Kelly, Meagan Pantuliano and Debra Patrizi. These Valued Team Members have exhibited behavior that inspires all of us to go the extra mile. If you would like to nominate someone for a Thank You Reward, please contact Pat Hogan at PHogan@FamilyRes.org. Winners of a Thank You Reward receive a gift card and thank you card to show our appreciation.
Perry Gropper Moves To Success! 
After a year and a half of residing in our short term crisis program, Perry Gropper recently obtained employment at Swept Free and this month realized his dream of moving into his own ILS Apartment in Hauppauge!  A moving party was held in his honor at Melville Crisis. Congratulations and good luck to Perry from all of us!
Glen Cove St. Patrick's Day Parade Committee Donation
The Glen Cove St. Patrick's Day Parade Committee donated $3,000 to FREE in honor of Emily Furlong who attends our Saturday Bethpage/Team Extreme program. FREE Grants Coordinator Caitlin Eamotte and Danielle Penesky, PC in Respite, were on hand to accept this generous gift and spend time with Emily and her family. Thank you to all on the committee.
NYS Senator John Brooks Visits FREE
NYS Senator John Brooks visited the Bethpage office and got a rare opportunity to see some of our day opportunities in action. He met with many of our team members and those we support in the Theater, Music and Art divisions as well as in PROS, TRI and Terry's Cafe before his meeting with FREE CEO, Robert S. Budd. Senator Brooks was elected in 2016 and represents the 8th State Senate district on the South Shore in Eastern Nassau and Western Suffolk where many of our homes and programs are. He also serves the NYS Senate as the Chair of the Veterans and Military Affairs committee and as a member of the Mental Health and Developmental Disabilities committee and Education committee.
Michael Korins of the FREE Players Ensemble TV Debut
Michael Korins, a member of the FREE Players Ensemble, will be featured on a new television series on A&E called "The Employables"; an eight-episode documentary series following those with Autism as they work with a specialist who helps them identify their strengths to seek employment. This is not only a major breakthrough for one of our individuals, but it also brings awareness to our mission at FREE to help individuals of all abilities realize their full potential. The show premieres on May 15th. In the meantime, we suggest you visit Michael's YouTube channel to hear this very talented singer!
The Race Is On For The Hotdog Dash
If you looked out the window at our Bethpage location lately, you may have seen our DMA team walking around the parking lot wearing very curious hats. This is to remind all about the Hotdog Dash – our annual 5k being held on July 7th.  I'm proud to say many other team members are joining them for these daily laps around the building to prepare for the event and get in shape for summer! (FYI: Two laps equal one mile.) Grab your sneakers and join in the fun weekdays at 3 pm.  And don't forget to invite your family, friends, and businesses to be part of the event. All the information you need is at Hotdog Dash.
Spread The Word About The 2019 Job Expo
Our Annual Job Expo and Talent Connection will be held on June 7th at Farmingdale State College. We encourage everyone to pass the word as this event offers job seekers an opportunity to discuss their skills and abilities with recruiters, and please invite any businesses who employ this very special labor population. For more information or download a flyer, go to Job Expo Information.