Hello All,
It is my pleasure to bring to you November's Blast! It is suiting that Thanksgiving is one of the focal points this month, as we see all the smiles on everyone's faces, being appreciative of everything they have and everything we have accomplished together.
Respectfully, Chris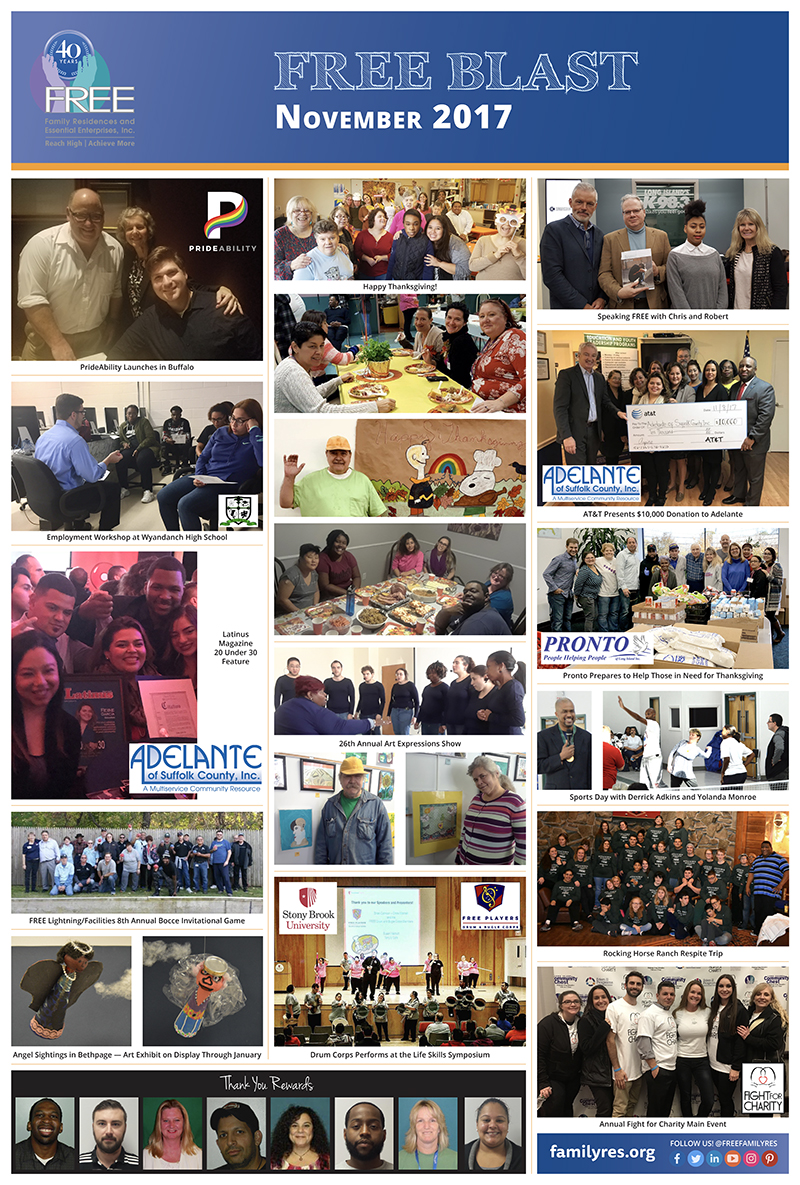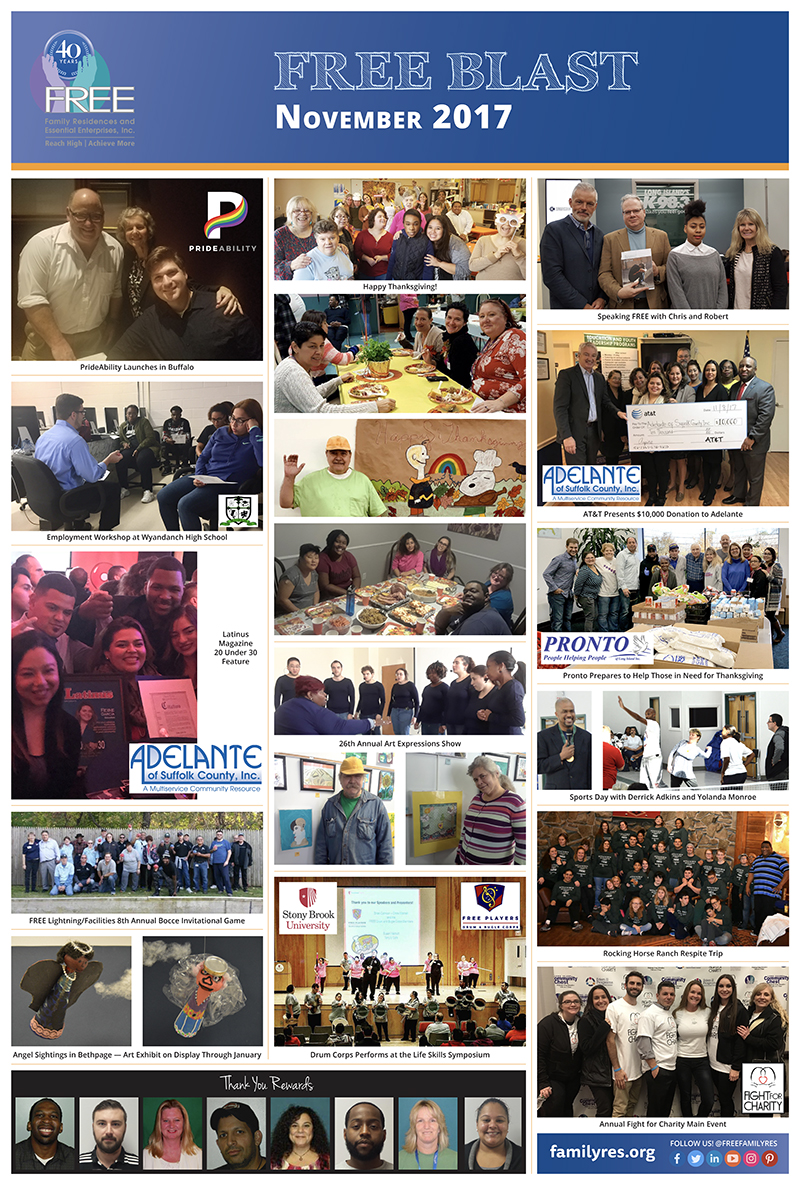 FOR THE FULL-SIZED POSTER CLICK HERE
PrideAbility Launches in Buffalo
Rick Banner, Advocacy Coordinator, People, Inc.; Matthew Kuriloff, Manager of Development, Public Relations and Advocacy, East End Disability Associates; and Claire Miller, Advocacy Coordinator, FREE conducted two PrideAbility Workshops in Buffalo on October 23rd. The PrideAbility project goal is to grow the LGBTQIA Advocacy Movement across New York State, which has been funded by the NYS Developmental Disability Planning Council. Special presenters at the workshop included a panel discussion conducted by self-advocates from the Forbidden Fruits LGBTQIA Self-Advocacy Group, People, Inc. who shared about the positive impact of joining a group for LGBTQIA people with intellectual/developmental disabilities. Matt and Claire were invited to participate in the Forbidden Fruits meeting, which is held monthly at the PRIDE Center in Buffalo. Thank you to Rick Banner and our friends at People, Inc. in Buffalo for hosting our first statewide PrideAbility Workshops! To learn more about PrideAbility, please contact Claire Miller at 516-870-1645 or CMiller02@FamilyRes.org.  Values of Integrity, Diversity, Responsiveness and Innovation
Employment Workshop at Wyandanch High School
Fred Catapano, Human Resources Manager, gave a workshop on the topic of "What Employers Are Looking For" to the Workforce Development Program students in Wyandanch High School. This is part of a series in which students are given the interactive tools and lessons meant to improve their future career outcomes. Values of Responsiveness and Innovation
Latinus Magazine 20 Under 30 Feature
Febe Garcia, of Adelante, was one of the honorees of Latinus Magazine's 20 Under 30 for her work in education. She also received a citation for her efforts. Value of Diversity
FREE Lightning/Facilities 8th Annual Bocce Invitational Game
Recently, the FREE Lighting Team/Facilities Division Team's 8th Annual Bocce Invitational Game and Supper was held at Sipp Ave. Both teams came away with wins and enjoyed a delicious supper and social time. Value of Quality
Angel Sightings in Bethpage — Art Exhibit on Display Through January
Once again FREE is proud to exhibit our artist interpretations of the concept of angels, which is evident throughout our culture and in fact, around the world. As you gaze into each of the angels you become aware of the depth and light each one carries within it. Our artists have imbued their angels with all the emotion you can imagine as they related their stories to us about the holiday season, with all its wonder and pain from the losses in their lives. This exhibition provided the opportunity for our artists to "talk to us" through the hidden language of images, colors and symbols. This, in turn, spurred on meaningful conversation related to the concepts of the afterlife and people who have passed, and the importance of the staff here at FREE…as many have become "Everyday Angels" to so many of "our individuals."
Whether you believe in the actual existence of angels or you believe they are but a fanciful figment of the mind…it is hard to deny their universal existence and impact in our folklore, popular culture and historical spiritual writings. Please take the time to view all the works, perhaps purchase a piece, with the proceeds going to support the artist and our programs, and join us in celebrating the love that is so prominently displayed for your viewing pleasure. Value of Innovation
Thank You Rewards
Akili Carter consistently goes above and beyond to support his Individuals and Teams, as well as the agency, as he is a SCIP Instructor. Recently, Akili assisted a program that is not on his caseload during a crisis. Without hesitation, he rearranged his schedule to provide emergency grief counseling to the individuals and staff after the sudden loss of one of their housemates; his calm approach and demeanor was a welcomed support during a time of need. John Gower is relatively new to the agency. However, he has quickly immersed himself in his role and proven to be a valued clinician. He recently supported a program not on his caseload during a behavioral emergency. John happened to be in the vicinity when the emergency arose and spent an entire day and evening assisting the team to support one of their individuals. Susan Narbutt recently helped an individual who is limited in her communications and is not associated with FREE. She was dropped off at the Bethpage location by public transportation. Susan took this person under her wing and was able to gain her confidence and obtain additional information. Susan took care of this person until the authorities arrived to take her home. David Ruiz was nominated for an award because he jumped in to assist with benefit forum setup. Mary Sherry was chosen for her tremendous work and successful outcome of an intern project. The program has made a significant positive impact to the RN interns which, in turn, positively impacts the future of those we support. Ian Taylor, of our Mt. Sinai team, has been going to fill in at Greentree to help out. Ian goes where he is needed without any complaints or comments and he works well in whatever situation he is put it. He has also filled in at other houses to help out. He is a new employee who has been here for almost two months and has completed all his Relias courses and completes his paperwork in a timely manner. As you may know, Greentree is a behavioral house, which is very different from Mt. Sinai, and Ian has been doing very well with the situations he has been put in. Annie Zoitke and Tatiana Rivera-Ludwig were nominated for supporting the Jefferson IRA with staffing. Within 24 hours, due to Annie and Tatiana's support, Jefferson went from having no staff for one weekend on several shifts to having only one open shift on Sunday PM. That is truly amazing and supporting of another team. If you would like to nominate someone for a Thank You Reward, please contact Pat Hogan at PHogan@FamilyRes.org. Winners of a Thank You Reward receive a gift card and thank you card to show our appreciation. Values of Integrity, Diversity, Responsiveness, Interdependence, Innovation and Quality
Happy Thanksgiving!
What began as a day of giving thanks for the blessing of the harvest and of the preceding year, Thanksgiving has evolved into a time when people show their gratitude for all of the amazing parts of their life that they are so grateful to have. For the people at FREE, this is no exception. It takes true wisdom to understand what you have been blessed with, and the many Individuals we serve are proud to show that off. Shown in the this month's Blast are photos from Fancy FREE, DSW, Bethpage and Greentree. Values of Diversity, Responsiveness, Interdependence and Quality
26th Annual Art Expressions Show
The 26th Annual Art Expressions Show will be on display at Lakeview Public Library until December 4. Art Expressions is sponsored by the Nassau County Office of Mental Health, Chemical Dependency and Developmental Disabilities Services. Adults who are participating in various Nassau County Mental Health, Chemical Dependency and Developmental Disabilities programs were encouraged to submit their artwork for consideration. Several of our Individuals had their artwork chosen to be on display this year. The FREE Players Ensemble also performed. Values of Diversity and Innovation
Drum Corps Performs at the Life Skills Symposium
The Life Skills Symposium was an event for people receiving I/DD services (self-advocates), their families and circles of support. It was a full day of activities and educational workshops about living independently in the community with person- centered supports. Members of the Drumline and Color Guard performed at the Life Skills Symposium, hosted at Stony Brook University. The performance took place in the auditorium of the Student Activities Center. Values of Integrity, Diversity, Responsiveness, Interdependence, Innovation and Quality
Speaking FREE with Chris and Robert
The latest episode of Speaking FREE with Chris and Robert focused on November as National Adoption Awareness Month. Listeners were able to hear the stories of the guests who shared their experiences with this timely issue: Anita Dowd-Neufeld, an adoptive parent and Chief Administrative Officer, FREE; Melanie a foster youth from MercyFirst, a not-for-profit human service agency serving more than 3,200 children, teenagers and families each year in Brooklyn, Queens, Nassau and Suffolk counties; and Pat O'Brien, Long Island Rockland Director, Adoption and Guardianship Assistance Program for Everyone (AGAPE), Adoptive and Foster Family Coalition New York. Keep an eye out to see when the next edition of this monthly radio show will air. Values of Diversity, Responsiveness, Interdependence, Innovation and Quality
AT&T Presents $10,000 Donation to Adelante
Adelante of Suffolk County, Inc. was recently presented with a $10,000 donation by AT&T. The purpose of the contribution is to support a college preparation program that helps underserved high school students prepare for post-secondary education by offering campus tours and assistance with the college application and financial aid processes. AT&T's support for Adelante is part of the company's legacy of supporting educational programs focused on STEM disciplines in New York through AT&T Aspire, the company's signature $400 million philanthropic initiative that drives innovation in education by bringing diverse resources to bear on the issue including funding, technology, employee volunteerism and mentoring. Value of Innovation
Pronto Prepares to Help Those in Need for Thanksgiving
Pronto of Long Island, Inc. recently held a press conference to ask the public for food donations for the upcoming Thanksgiving season. Last year, Pronto helped feed over 740 families for Thanksgiving, and they expect the need to be even greater this year. Values of Responsiveness, Stewardship, and Innovation
Sports Day with Derrick Adkins and Yolanda Monroe
The first annual Sports Day kicked off with The FREE Players Ensemble performing "The Star-Spangled Banner," "Overload" and "The Greatest." Derrick R. Adkins spoke first, captivating the audience with tales of how he worked hard and practiced consistently to rise to the ranks of being a gold medal Olympic champion. Following his touching story, Gold Medalist Yolanda "Yo-Yo" Monroe explained to the crowd how she managed to make a name for herself in a sport that is predominantly male. Both agreed that the key to their success was perseverance and never giving up. Although it may have taken them many years of practice, they are now gold medal winners, and no one can ever take that away from them. After, Yo-Yo and her teammate, Anthony Jones, professional handball player, gave demonstrations and lessons on how to play both handball and pickle ball. Once the rules were explained and our Individuals got a feel for the sports, Yo-Yo and Anthony brought members from the audience onto the playing field where they got to practice with these extremely talented athletes. The day concluded with a raffle, where people won handballs and pick balls signed by Yo-Yo. A week later, Yo-Yo and Anthony returned – this time to take a moment to spend with the youth who attended November's monthly Stop the Bounce meeting. They also got to participate in an interactive discussion and demonstration in both sports. Values of Diversity, Responsiveness, Innovation and Quality
Rocking Horse Ranch Respite Trip
Respite & Family Support Services completed the annual Rocking Horse Ranch trip the weekend of October 27-29. A total of 20 Individuals were able to join us this year. This is our 10th year doing this trip. Each year is a blast and we always look forward to returning! Values of Innovation and Quality
Annual Fight for Charity Main Event
Recently, Long Island Fight for Charity, the nation's only all-volunteer charity boxing event, was held at the Hilton Long Island, where Valued Team Members volunteered their time. It is one of the most anticipated events in the region, attracting over 1,000 fans and supporters. It is the only program in the world where local businesspeople step in the boxing ring to raise funds for charity. Long Island corporations, small businesses, professionals, community leaders and food service companies support the Fight for Charity mission through sponsorships and donations. Since 2002, over 300 volunteer boxers have participated in Fight for Charity and over $1 million has been raised for local charities including Long Island Community Chest, Genesis School, National Foundation for Human Potential (FREE) and more. Values of Integrity, Stewardship, Interdependence and Innovation