History was made this past week in Williamsport, Pennsylvania. That was the site of the Drum Corps Associates World Championship, also known as the DCA's. For the first time ever, the FREE Players Drum & Bugle Corps became the first ever differently-abled group performed at the event. After their invitation was made official earlier this year,  the FREE Players were raising money to ensure that the trip would happen. They beat their goal and went to make history.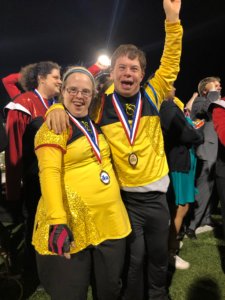 The Drum Corps even made local newspapers and television! The Williamsport Sun-Gazette caught up with both the President of DCA; Allen Buell and the Drum Corps Director, Brian Calhoun:
"They are here to celebrate their abilities, not their disabilities. They are brilliant, brilliant people, and they are going to perform their hearts out, and you must not miss it," Allen Buell, said
Director and founder of the group, Brian Calhoun said he works with his players to emphasize their strengths.
"The biggest challenge we always face is having to think outside the box," he said. "There's certain things that work for us that are common for the typical drum unit, but then we have to also take a look at our members and what their talents and abilities are."
It's important to work with the members to realize their full potential, said Calhoun.
Eyewitness News; PA Homepage also caught up with Brian Calhoun and some of the Drum Corps members to see how excited they were to make history:
"Once we are out there and performing it's like God give me the applause. And give me my glory," said Jessica Oliveira, Trumpet Player, Free Players Drum and Bugle Corps
"We are great ambassadors not only for the marching arts activity but also for the entire differently-abled population or anyone who faces challenges. As long as you believe in yourself and you're willing to put in the work, you can achieve excellence. You just have to have the heart and the drive to succeed"
– Brian Calhoun, founder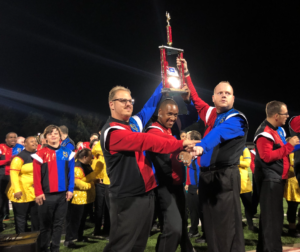 The FREE Players had a weekend that included solo acts and group performances. But the event for them was capped off with a huge headline performance Saturday night. When the night was over, the FREE Players Drum & Bugle Corps were awarded the 2019 DCA Grand Champions. Please join in congratulating the entire team for this amazing achievement.
Please click here to learn more about the FREE Players Drum & Bugle Corps as well as our other Performing Arts groups.