Hello All,

October was a month of celebration, including, of course, our 41st Annual Celebration of Life Gala. Throughout the month, there were moments of education and appreciation, all syncing perfectly to provide the Individuals we are so proud to serve and our Valued Team Members with the tools and opportunities to enhance their life. This was a great example of why FREE was named one of the Top Workplaces of 2018 by Newsday.

Respectfully,
Chris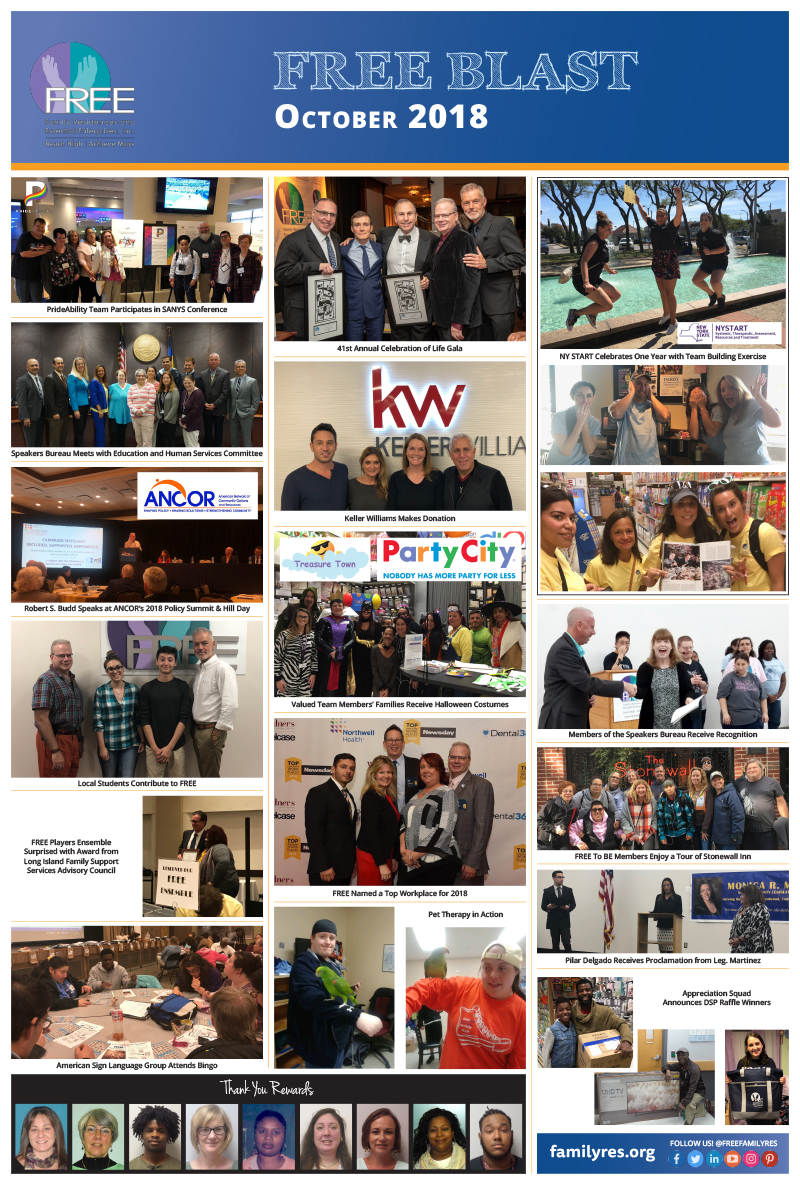 Click HERE to download the poster-sized version!  
PrideAbility Team Participates in SANYS Conference
The PrideAbility Team hosted an LGBTQ Meet and Greet, participated in a Diversity Panel, and presented a session entitled "Over the Rainbow: The LGBTQ IDD Movement Comes Out of the Closet" at the Statewide Self-Advocacy Association of New York State's (SANYS) Conference in Albany.
Values of Integrity, Diversity, Responsiveness and Innovation
Speakers Bureau Meets with Education and Human Services Committee
The Speakers Bureau recently met with the Suffolk County Legislature's Education and Human Services Committee. Stefanie Russo, Peer Mentor, FREE Advocacy Department, presented her story to the committee, highlighting the successes and issues that people with disabilities face each day. Shown, left to right, are: Legislator Rudy Sunderman, Deputy Presiding Officer Rob Calarco, Legislator Kara Hahn, Legislator Monica Martinez, Legislator Tom Donnelly (Chair), and Legislator Steve Flotteron. 
Values of Responsiveness and Innovation
Robert S. Budd Speaks at ANCOR's 2018 Policy Summit & Hill Day
As you may be aware, Included. Supported. Empowered. is a powerful declaration that we all have a stake in ensuring that people with intellectual and developmental disabilities can thrive as members of our community that enrich our lives and make our society stronger. It's also ANCOR's declaration that if we are to see their vision transform into reality, we must make deep investments in the supports and services on which people with I/DD rely. To further spread the message, Robert S. Budd, CEO of FREE and Co-Chair of ANCOR's Included. Supported. Empowered. Campaign, spoke in Washington DC at ANCOR's 2018 Policy Summit & Hill Day. 
Value of Responsiveness
Local Students Contribute to FREE
Loretta, a student at Suffolk County Community College, chose FREE to do her internship. And James, a senior at Mineola High School, chose FREE to do his senior project. Both students exhibited excellent work ethic and participated in various projects in some of the departments that help the FREE agency to thrive.
Value of Responsiveness
FREE Players Ensemble Surprised with Award from Long Island Family Support Services Advisory Council
The Long Island Family Support Services Advisory Council
recently presented its 26th Annual Legislative Breakfast. The event provides an opportunity to inform legislators about
the needs and accomplishments of family members with a disability. Bridget Livingston and the FREE Players Ensemble were surprised with an award that evening.
Values of Diversity and Innovation
American Sign Language Group Attends Bingo
Recently, the American Sign Language Group from FREE attended ASL Bingo. It was a great way for everyone to have fun while still practicing their sign language skills. The group looks forward to more outings where they can continue to improve on their abilities and enjoy themselves at the same time.
Values of Responsiveness and Innovation
Thank You Rewards
As a way to extend DSP Appreciation Week, FREE has been sharing with everyone the Thank You Rewards, showcasing the Valued Team Members who go above and beyond what is required of them. It is our honor to announce October's nominees: Christina Arnao, Ann Biondo, Anthon Brown, Melissa Ficken, Marmeille Jesuca, Lori Ann Raji, Pat Simpson, Tyannna Simpson and Odonis Whiteside. These Valued Team Members have exhibited behavior that inspire all of us to go the extra mile. If you would like to nominate someone for a Thank You Reward, please contact Pat Hogan at PHogan@FamilyRes.org. Winners of a Thank You Reward receive a gift card and thank you card to show our appreciation.
Values of Integrity, Diversity, Responsiveness, Stewardship, Interdependence, Innovation and Quality
41st Annual Celebration of Life Gala
FREE celebrated their 41st Annual Celebration of Life Gala on October 18, 2018, at The Mansion at Oyster Bay, located in Woodbury, NY. The night was a huge success and everyone had a wonderful time. Special thanks to all of our honorees, sponsors, donors, Valued Team Members and everyone else who helped make the evening such a magnificent affair. This special event pays tribute to exceptional leaders and humanitarian partners who are dedicated to our mission and have made outstanding contributions to our community. It serves both as a major fundraising event and as a friend-raising cultivation event. It is our generous supporters that enable FREE and their valued affiliates to continue the mission to help individuals of all abilities realize their full potential. This year's honorees were Gordon M. Siess, of Baker Tilly Virchow Krause, LLP, named Humanitarian of the Year, and Bruce and Stuart Scheinson, of Centereach Pharmacy, named Philanthropist of the Year. The Master of Ceremonies for the evening was Joe Fusco. Throughout his diverse career as an actor and local journalist, Fusco has been nominated 15 times for an Emmy, winning once for Outstanding Investigative Journalism. While continuing his acting studies, Fusco remains passionate about improving local communities and making a difference in the world. He is active in supporting meaningful missions, including FREE's goal of helping individuals of all abilities realize their full potential. To see photos from the evening, visit
https://www.flickr.com/photos/freefamilyres/sets/72157672504866817
.
Values of Stewardship and Innovation
Keller Williams Makes Donation
The kind people at Keller Williams Realty were collecting donations for people who were affected by the damaging weather down south. Left with some excess supplies, they chose FREE to donate to.
Values of Responsiveness and Stewardship
Valued Team Members' Families Receive Halloween Costumes
This year, thanks to Party City, children of Valued Team Members got to go to the store and pick out their own costumes. Special thanks to all who contribute to Treasure Town, as it allowed FREE to provide our Valued Team Members with approximately 120 costumes this year, putting huge smiles on the children's faces that received them.
Values of Responsiveness, Stewardship and Innovation
FREE Named a Top Workplace for 2018
FREE has been awarded a 2018 Top Workplaces honor by Newsday. The list is based solely on employee feedback gathered through a third-party survey administered by research partner Energage, LLC, a leading provider of technology-based employee engagement tools. The anonymous survey measures several aspects of workplace culture, including alignment, execution, and connection, just to name a few. Being named a Top Workplace is a big deal — only 74 companies made this year's list.
Values of Interdependence and Innovation
Pet Therapy in Action
Participants from Theater Day Hab recently spent time with Arnie the Parrot during their pet therapy session. Research has shown that animals can be very beneficial when it comes to therapy. They can help reduce blood pressure and improve overall cardiovascular health. They can also release endorphins that produce a calming effect. This can help alleviate pain, reduce stress and improve your overall psychological state.
Values of Responsiveness and Innovation
NY START Celebrates One Year with Team Building Exercise
The NY START Team acknowledged their one-year anniversary of being in operation by participating in a special team building exercise. All the team members had a great time working together and look forward to more fun and exciting challenges in the future.
Values of Interdependence and Innovation
Members of the Speakers Bureau Receive Recognition
Erin, from FREE's Speakers Bureau, recently received a certificate from Suffolk County Legislator Tom Donnelly. A group of our Individuals from the Speakers Bureau were recognized by Donnelly for their advocacy efforts. Keep up the great work!
Values of Responsiveness and Innovation
FREE To BE Members Enjoy a Tour of Stonewall Inn
Eighteen FREE To BE members from AHRC, YAI, ISS and FREE enjoyed a tour of the historic Stonewall Inn conducted by Stacy, a co-owner of the Inn and friend of Kerrie O'Neill, Director of Community Engagement for the LGBT Network.
Values of Diversity, Responsiveness and Innovation
Pilar Delgado Receives Proclamation from Leg. Martinez
Legislator Monica Martinez celebrated Hispanic Heritage Month in the Ninth Legislative District of Suffolk County, NY, in a ceremony at the Central Islip Public Library. Among the well-known Hispanics that were recognized was Pilar Delgado, Assistant Vice President of Adelante of Suffolk County, Inc. Martinez congratulated Delgado on this amazing achievement for her continuing leadership and desire to help the lives of others in a positive way.
Value of Innovation
Appreciation Squad Announces DSP Raffle Winners
Oluwafemi "Femi" Adeoye was the lucky DSP who won the first prize, a 50" television. Angel Neal received the second place prize, a Keurig. And finally, Erin Sheehan was the third place winner, receiving a bag of FREE swag.
Values of Interdependence and Innovation