Hello All,
The month of May was another wonderful example of how FREE embraces diversity. Last month we launched new programs, were honored with prestigious awards, held another exciting  symposium and celebrated one our most memorable events — the ANNUAL Dinner Dance!
Respectfully, Chris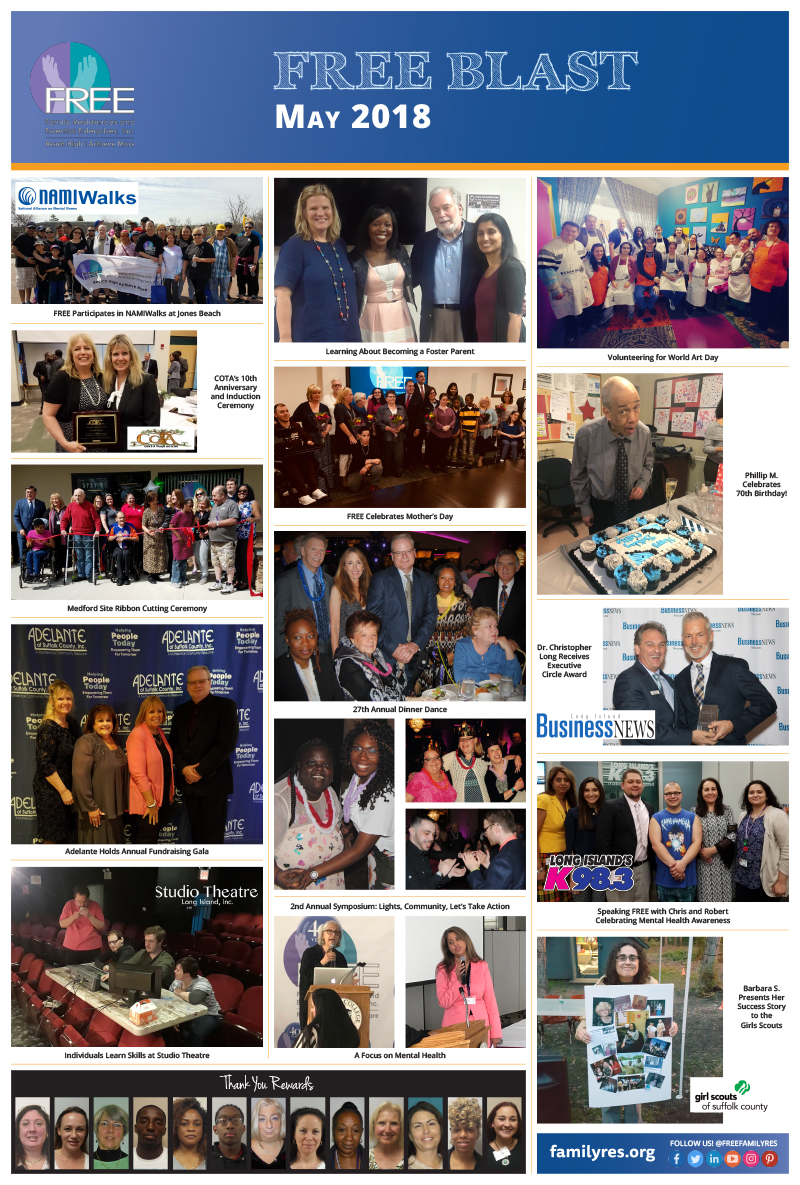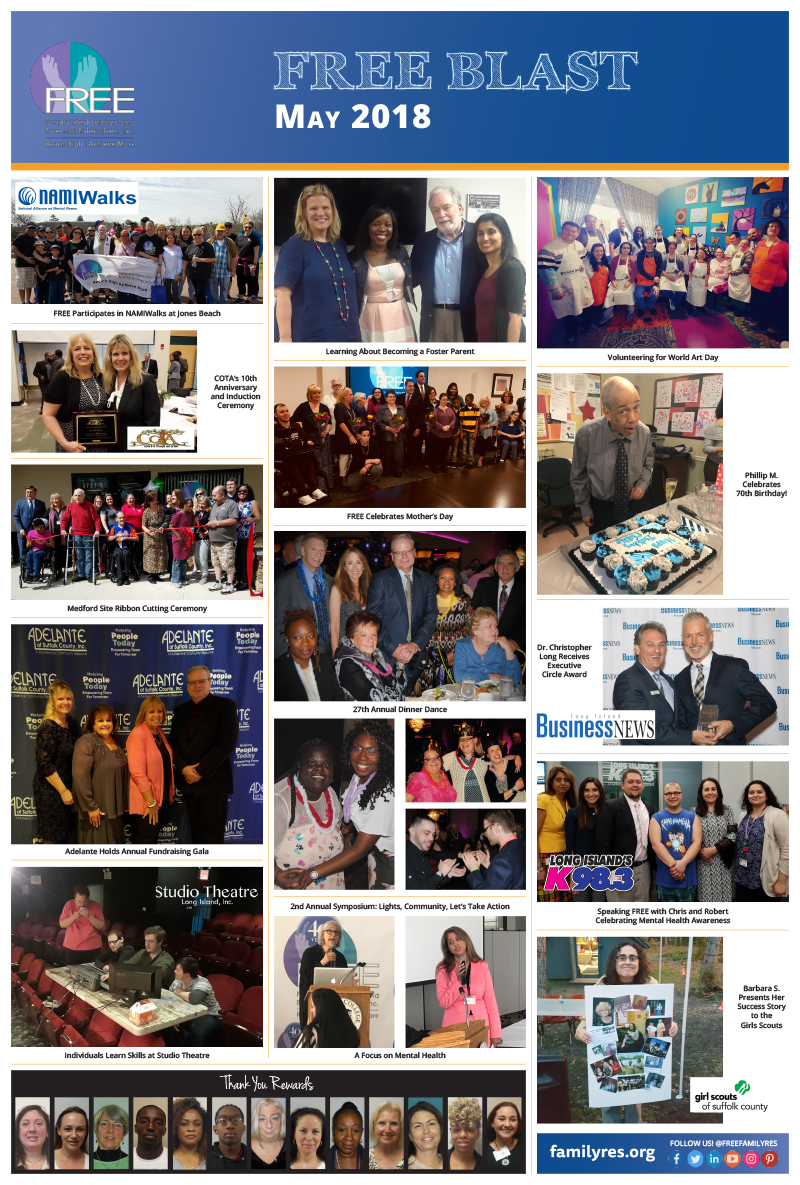 For the full-sized poster, click HERE!
 
FREE Participates in NAMIWalks at Jones Beach
Members of the FREE team joined together again this year to support the NAMIWalks that were held at Jones Beach. NAMI, the National Alliance on Mental Illness, is the nation's largest grassroots mental health organization dedicated to building better lives for the millions of Americans affected by mental illness. FREE was proud to support such a wonderful organization and plan on walking again in the future. Values of Diversity, Responsiveness and Interdependence
COTA's 10th Anniversary and Induction Ceremony
The Council of Thought and Action (COTA) recently celebrated their 10th Anniversary and held an Induction Ceremony at Farmingdale State College. COTA, a Long Island movement gaining national attention, is spearheaded by law enforcement and a group of men and women from within communities who choose to be part of the transformation of change regarding crime, offenders, the criminal justice system, etc. At the event, Gerard Cairns, Vice President of Education and Youth Services at FREE, received the COTA Hero Award, accepted on his behalf by Susan Sorrentino and Anita Dowd-Neufeld. COTA thanked Gerard for selflessly advancing the progress of COTA and its members, while applauding his fortitude and commitment to change. Values of Integrity, Diversity, Responsiveness and Interdependence
Medford Site Ribbon Cutting Ceremony
FREE hosted an Open House/Ribbon Cutting ceremony at its newest site in Medford. Town of Brookhaven Supervisor Ed Romaine joined FREE to officially open this much-needed facility. It will serve as part of FREE's Program Without Walls, which allows individuals with different abilities to have access to volunteering and job opportunities in the greater community. Values of Responsiveness, Stewardship, Innovation and Quality
Adelante Holds Annual Fundraising Gala
Another successful year was celebrated by Adelante of Suffolk County, Inc., at its Annual Fundraising Gala. Town of Islip Supervisor Angie Carpenter was proud to be there and support the mission of Adelante: To inspire forward movement in the lives of the diverse people of the community by promoting a deeper understanding and respect for cultural differences and similarities; by empowering young people to realize their unlimited potential; and by protecting our seniors, and those with special needs, while improving their quality of life. Values of Stewardship and Innovation
Individuals Learn Skills at Studio Theatre
The group involved in FREE's Community Theatre Program Without Walls location, Studio Theatre in Lindenhurst, recently learned about how to run a sound board for a show. This is just one of the many lessons that the Individuals have learned over the course of our relationship with Studio Theatre, one of Long Island's oldest and finest theaters, operating for more than 50 years. The men and women we are so proud to support are looking forward to learning more about how to run a successful production. Values of Interdependence, Innovation and Quality
Thank You Rewards
As a way to extend DSP Appreciation Week, FREE started sharing with everyone the Thank You Rewards, showcasing the Valued Team Members who go above and beyond what is required of them. It is our honor to announce May's nominees: Lori Raji, Patricia Simpson, Anne Biondo, Terrell Bostic, Shaneke Millington, Jahshon Dotson, Anita Friedman, Jennifer Giamundo, Valerie Davis, Monica Glamore, Kristen Tedesco, Angela Grant and Julianna Ardolina. These Valued Team Members have exhibited behavior that inspire all of us to go the extra mile. If you would like to nominate someone for a Thank You Reward, please contact Pat Hogan at PHogan@FamilyRes.org. Winners of a Thank You Reward receive a gift card and thank you card to show our appreciation. Values of Integrity, Diversity, Responsiveness, Stewardship, Interdependence, Innovation and Quality
Learning About Becoming a Foster Parent
It was great to see so many people show up for the Foster Care Film Preview and Parent Find Night. During the first part of the evening, attendees got to watch "Feeling Wanted," "My Identity," and "Family Rewritten." After, a question and answer session was held, where potential foster parents spoke with people involved in the films, including the producer/director, and individuals featured in the movies. Later, speakers and vendor tables were available for people to learn more about what it takes to become a foster parent, and how to navigate the entire process from start to finish. It was a great and educational night for all that attended. Values of Diversity, Responsiveness, Interdependence and Innovation
FREE Celebrates Mother's Day
Oyster Bay Town Supervisor Joseph Saladino and Town of Huntington Supervisor Chad Lupinacci joined FREE as we honored our "Super Moms" at a special Mother's Day event held in Old Bethpage. Citations and flowers were handed out during this intimate gathering. Values of Diversity, Responsiveness and Innovation
27th Annual Dinner Dance
More than 550 people attended this year's Annual Dinner Dance, which was once again held at the Crest Hollow Country Club. Everyone who came to party had such an amazing time! Between the food, dancing, mingling and posing for pictures, there was never a dull moment throughout the night. If you are a Valued Team Member at FREE, be sure to login to the newly redesigned portal, where you can find a photo album of this year's dance. Everyone is already looking forward to next year's Dinner Dance – they just can't get enough! Values of Integrity, Diversity, Responsiveness, and Innovation
2nd Annual Symposium: Lights, Community, Let's Take Action – A Focus on Mental Health
At FREE's 2nd Annual Symposium: Lights, Community, Let's Take Action – A Focus on Mental Health, attendees had many educational workshops to choose from, while also getting to hear a motivational talk from Keynote Speaker Lucy Winer. Additionally, a panel discussion took place, as well as a Naloxone Training Class. This year, Certified Rehabilitation Counselors were able to earn CEUs at no additional cost. Values of Diversity, Responsiveness and Innovation
Volunteering for World Art Day
Individuals participating in FREE's Day Hab Program volunteered alongside employees from Nassau Veterans Memorial Coliseum for World Art Day. Everyone had a great time creating their own masterpieces in honor of Leonardo da Vinci's birthday. They look forward to doing it again next year. Values of Responsiveness and Innovation
Phillip M. Celebrates 70th Birthday!
Recently, Phillip M. celebrated his 70th birthday. The Valued Team Members at our Ridge IRA threw a huge bash to acknowledge this momentous occasion. Everyone had a wonderful time joining in on the festivities, including cake, dancing and music. Values of Diversity, Innovation and Quality
Dr. Christopher Long Receives Executive Circle Award
Twenty-nine Long Island business leaders were honored recently at Long Island Business News' Executive Circle Awards luncheon. Executives from the fields of law, accounting, real estate, healthcare, technology, finance, education and nonprofits, among others, accepted honors for consistently demonstrating remarkable leadership, skills, values and vision. Among the recipients was Dr. Christopher D. Long, President of FREE, who received an award for his dedication to mentoring youth, and implementing many programs to help them perform academically and socially to realize their full potential. Values of Diversity, Responsiveness, Innovation and Quality
Speaking FREE with Chris and Robert Celebrating Mental Health Awareness
The May program of Speaking FREE with Chris and Robert, which airs on K98.3, focused on mental health in recognition of Mental Health Awareness Month. Robert S. Budd, CEO of FREE, and Dr. Christopher D. Long, President of FREE, hosted guests Zakk and Francis, from FREE's PROS program, who discussed the services that helped in their recovery, their jobs in the community, and their future goals. The panel also included Samantha Wolf and Nancy Levy, their Vocational Counselors, Anu Arnold, Senior Vice President of Integrated Health and Community Services of FREE, and Maninder Sharma, Assistant Director of Terry's Place PROS. Values of Integrity, Diversity, Responsiveness, Interdependence, Innovation and Quality
Barbara S. Presents Her Success Story to the Girls Scouts
At a recent Girls Scouts of Suffolk Camporee Event, Barbara S. presented her success story to the captivated audience. Barbara spoke about being a shy young lady who was nervous to move from her family home to a group home, and how becoming a member of the FREE Players transformed her into the accomplished woman and true performer she is today, despite her disabilities. Values of Diversity, Responsiveness, Innovation and Quality