It is my pleasure to present to you the June FREE Blast!!!

In this issue, you will get to see some of our Valued Team Members receiving recognition for all that they do, both from FREE and outside organizations. And not a month goes by where you don't see our advocates out there fighting for a better future. It's also wonderful to see how FREE collaborates with so many other agencies — WE is more powerful than YOU or I.

Respectfully, Chris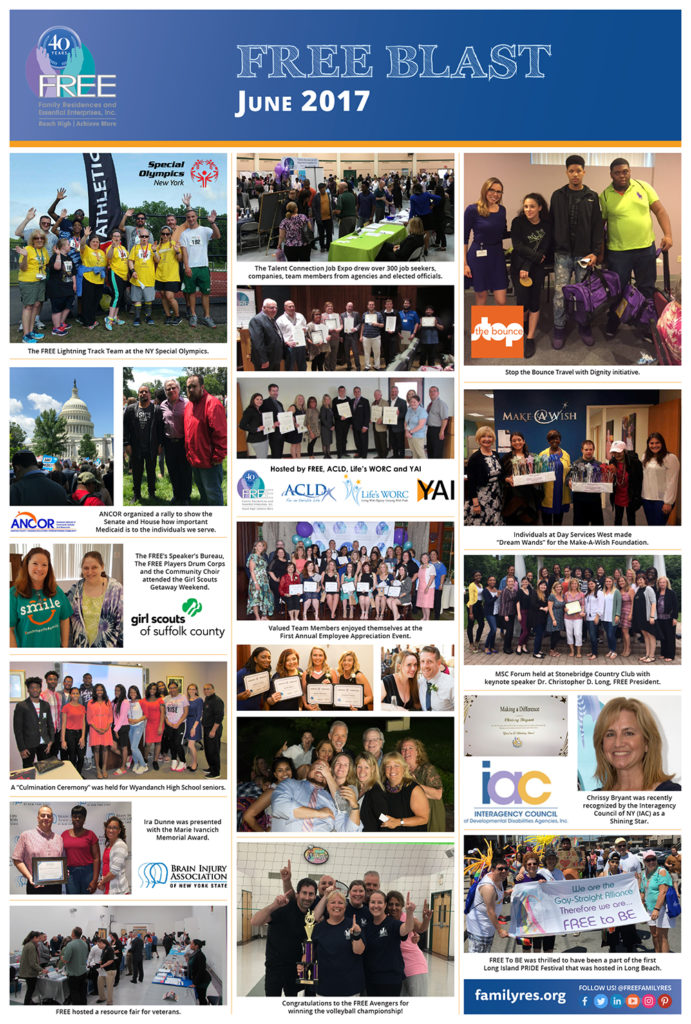 Click HERE to Download the Full Size Poster!!!

NY Special Olympics
The FREE Lightning Track Team participated in the NY Special Olympics at Siena College in Albany, NY. They were there to compete in the 50M and 100M Dash, 400M Speed Walk, Softball
Throw and Javelin Throw. They won gold, silver, bronze and ribbons in all these events. Value of Diversity

Washington, D.C., Rally
ANCOR, the national association for non-profits serving people with intellectual/developmental disabilities, organized a rally to show the Senate and House how important Medicaid is to those we serve and that the proposed American Health Care Act (AHCA) will have a very adverse effect on that, cutting more than $800 billion from Medicaid over the next 10 years. The rally was attended by Robert S. Budd, FREE CEO, along with individuals who voiced their concerns. Value of Stewardship

Girl Scouts Getaway Weekend
Stefanie R., Self-Advocate, and Michelle Flood, MS Edu, Director of Advocacy, addressed 115 Girl Scouts at a Getaway Weekend at Camp Edey where the theme was "Diversity and Inclusion." Members of the FREE's Speaker's Bureau educated and increased awareness of disabilities, and The FREE Players Drum Corps and Community Choir performed, as well. Stefanie and Michelle also took the opportunity to inform the girls about the #Moments4Smiles campaign. Values of Diversity & Innovation

Wyandanch Culmination Ceremony
FREE, in partnership with Wyandanch High School, hosted a "Culmination Ceremony" for high school seniors who participated in the Workforce Readiness Program. The Program was provided to a class of approximately 15 seniors in Wyandanch High School over this past 2016-2017 school year. The model of the program is blended with the first three quarters of immersive learning in the classroom led by a Wyandanch High School teacher about career readiness, which included various guest speakers and Career Exploration Field trips coordinated by FREE, and fourth-quarter internship placements at FREE's Old Bethpage location in various departments such as Finance, Affirmative Business Development, Human Resources, Information & Technology, Nursing, Psychology and more. Values of Diversity, Responsiveness & Innovation

Ira Dunne Receives Award
Ira Dunne, one of FREE's Traumatic Brain Injury (TBI) PBIS/ILST Team Members, was presented with the Marie Ivancich Memorial Award by the Brain Injury Association of NY State in Albany in recognition of his outstanding commitment and advocacy involvement with survivors of brain injury. Ira has gone above and beyond in his professional efforts to support people with brain injury by making their voices heard. Values of Integrity & Interdependence

Veterans Resource Fair
FREE hosted a resource fair for veterans located in Nassau and Suffolk County. The event provided a vast array of resources for veterans who are seeking out work, financial or legal advice, as well as help with obtaining services from the government. The event was a huge success, with our guests leaving with, at the very least, the knowledge of how to shape their future for the better. Values of Diversity & Responsiveness

Talent Connection Job Expo
News 12 Long Island TV and FiOS 1 TV covered the Talent Connection Job Expo at Farmingdale State College. The event drew over 300 job seekers, companies, team members from agencies and elected officials. FREE, in partnership with ACLD, Life's WORC and YAI, hosted the event. The day commenced with a Community Partnership Forum welcome and introduction by Dr. John Nader, President of Farmingdale State College, and Dr. Chris Long, President of FREE. There was also an inspirational presentation by keynote John Kemp, President and CEO of The Viscardi Center, an informational panel on supported employment, Employment Success Stories, and Top Star Employer Awards to model companies who hire people with disabilities. This year we honored Cambridge Art and Framing, D3 LLC, Chocolate Works, Costello's Ace Hardware, Panera of Bohemia and Hercules. The event also included employment workshops followed by the Talent Connection Job Expo and a press conference with remarks by Anita Dowd-Neufeld. New York State Senator John E. Brooks and Town of Oyster Bay Supervisor Joseph Saladino presented proclamations to the Top Star Employers and partner agencies. Values of Diversity, Responsiveness & Interdependence

Employee Appreciation Event
At our recent Employee Appreciation Event, held at the Mansion at Oyster Bay, the evening was bursting with the diverse gifts and talents of our celebrated Valued Team Members! Whatever our role, only when we come together as one can we continue to provide the best support system for the individuals we serve. As we continue to grow and make strides toward a better world, you can feel the positive energy in the air embracing all of the wonderful things that have yet to come. Values of Integrity, Diversity & Innovation

Volleyball Champions
At the end of the season, the FREE Avengers took the trophy away from FREE Money with a score of 15 to 12. Congratulations FREE Avengers!!! Value of Integrity

Stop the Bounce Travel with Dignity Initiative
Recently, the Stop the Bounce (STB) Travel with Dignity initiative held an event in which several foster care youth picked out duffle bags and luggage sets for themselves which had been donated through FREE and Dream & Lead! The youth in the green will use his luggage set and duffle bag for when he goes away to college this fall, where he plans to major in business. One of the girls from MercyFirst made friends with a regular STB adopted girl – Tiffany, who is featured in the book – during the youth activity they did together and exchanged information. Values of Diversity, Responsiveness & Innovation

Individuals Make "Dream Wands"
The individuals at Day Services West, with the assistance of Habilitation Specialist Donette Walrond, created "Dream Wands" that were donated to the Make-A-Wish Foundation. The wands have been given to sick children in hopes that each of their dreams come true. Value of Diversity

MSC Forum
The MSC Forum was held on June 23 at Stonebridge Country Club, with keynote speaker Dr. Christopher D. Long, FREE President. The MSC Forum is a one day conference for MSCs from the different provider agencies on Long Island to learn about upcoming changes in the field, receive training hours, and network with other providers. During this event, agencies had the opportunity to nominate one of their MSCs to be MSC of the Year. Among the 23 nominees, Chrissy Bryant from FREE was awarded this recognition. Values of Integrity, Interdependence & Innovation

Making a Difference
Please join us in congratulating Chrissy Bryant, MSC, for making a difference! Each day Chrissy comes to work and is making a difference in the lives of people we support. Chrissy was recently recognized by the Interagency Council of NY (IAC) as a Shining Star for all of her hard work and dedication to those we serve. Thank you, Chrissy, for making a difference every day! Values of Integrity, Diversity, Responsiveness & Quality

Long Island PRIDE Festival
FREE To BE was thrilled to have been a part of the first Long Island PRIDE Festival that was hosted in Long Beach, sponsored by the LGBT Network! This three-day destination weekend was a fabulous success. Congratulations and thank you to all who came together for this amazing celebration of Long Island and LGBT PRIDE! Values of Diversity, Innovation & Quality