Hi all:
I am so proud to announce FREE is off to a great start for 2019!  Thank you to our Valued Team Members, Partners, as well as the Individuals we support for sharing their unique gifts each and every day!
Let's make 2019 our best year yet!
Respectfully, Chris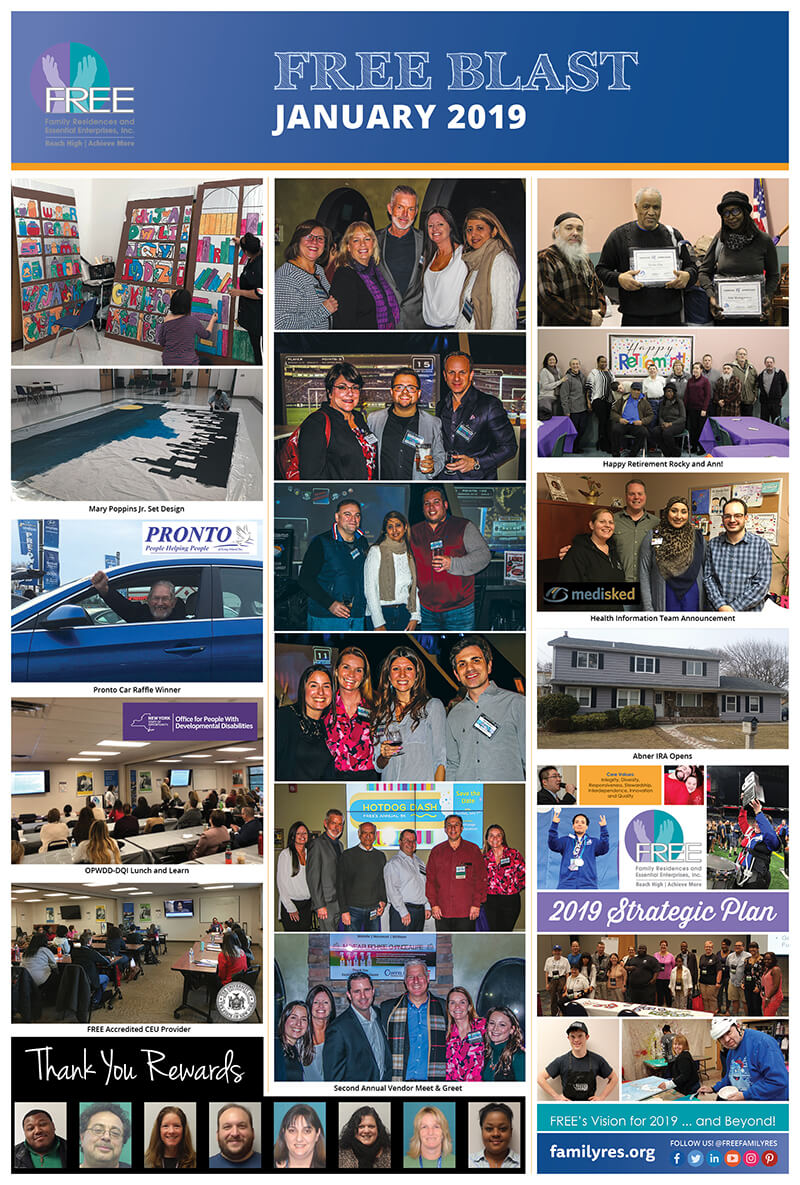 Click HERE to download the poster-sized version!  
FREE is guided by its Core Values…
Integrity, Diversity, Responsiveness, Stewardship, Interdependence, Innovation and Quality
Mary Poppins Jr. Set Design
Our talented team members and individuals who are part of the FREE Players are very busy making props for the set of their upcoming show, Mary Poppins Jr. Mark your calendars and be sure to see one of our two performances on Saturday, March 30th at WT Clarke High School. Show times are 2:00pm and 8:00pm. It's a one day only event, so get your tickets fast!  Sale date is February 15th.
Pronto Car Raffle Winner
Pronto of Long Island was the recipient of a brand new 3-year lease on a Hyundai Sonata from Atlantic Hyundai. This is the 9th year Atlantic Hyundai has supported Pronto with a new car for their car raffle. Thank you Atlantic Hyundai!  Congratulations Ronnie and welcome to the Pronto family!
OPWDD-DQI Lunch and Learn
OPWDD Division of Quality Improvement (DQI) and Bureau of Program Certification (BPC) presented at FREE on the survey process and plans of corrective action. They stressed the importance of communication and of fostering a culture of Continuous Quality Improvement. It was a great learning opportunity and we hope to partner with them for future training sessions.
FREE Accredited CEU Provider
FREE has been approved to provide continuing education for Licensed Master Social Workers (LMSWs) and Licensed Clinical Social Workers (LCSWs) in New York State. One of our greatest assets is our team members, and it is our privilege and responsibility to ensure that we provide them with the support necessary to enhance their knowledge and skills.
Thank You Rewards
FREE has been sharing with everyone the Thank You Rewards, showcasing the Valued Team Members who go above and beyond what is required of them. It is our honor to announce January's nominees: Tonya Barnes, Ian Batchelor, Joseph Consolo, Michelle Flood, Stephen Fucarino, Ross Hendrickson, Debbi Newberg, Miriam Ortiz, Jamie Pentzel and Anne Zoitke. These Valued Team Members have exhibited behavior that inspires all of us to go the extra mile. If you would like to nominate someone for a Thank You Reward, please contact Pat Hogan atPHogan@FamilyRes.org. Winners of a Thank You Reward receive a gift card and thank you card to show our appreciation.
2nd Annual Vendor Meet and Greet
FREE Holds 2nd Annual Vendor Meet & Greet to make it easier for FREE's vendors to network with one another, as well as get to know our agency better, we held our Second Annual Vendor Meet & Greet at SIMPLAY, located in Hauppauge. The evening included representatives from various companies and organizations that FREE, and the FREE Network, do business with. People mingled and got to know one another while enjoying games at Long Island's only multi-sport simulator facility.
Happy Retirement Rocky and Ann!
The FREE family is wishing two of our longest tenured employees best wishes as they enter retirement! Rocky and Ann had a surprise party to celebrate their impressive career at FREE that spans over 30 years. Thank you to Rocky and Ann for everything that you have done for the people we serve! Enjoy your retirement… you both have certainly earned it!
Health Information Team Announcement
The Health Information Team is proud to announce phase one of the Medisked implementation is complete and was a huge success. Additionally, they are excited to officially kick off phase two of the implementation with optimism that it will be just as successful. They have received positive feedback on the new platform and look forward to all team members experiencing the new platform!
Abner IRA Opens
It is with great pleasure that FREE announces that Abner IRA is officially open! Thank you to everyone who helped make this happen. We know the individuals we serve will be happy in their new home.
2019 Strategic Plan
True to our commitment, FREE is steadfast in our belief that the interests of the people we support must be the guiding principle in all that we do. Our mission, vision, values and strategic direction reflect this belief.  The strategic themes outlined in our plan distill FREE's strategic direction into key themes that will serve as a powerful management tool that aligns our priorities, behaviors, and decision making at all levels of the organization.  Strategic themes are the building blocks around which execution of strategy occurs. These themes allow us to be proactive in influencing the future of the FREE Network, which is particularly true in these unprecedented times of continuous change. The success of our strategic plan will require a commitment from the entire FREE family and we are confident that because of the unrelenting dedication of our valued stakeholders, that we will have an exceptional year.