Oakdale, NY— Program participants, staff and volunteers from Family Residences and Essential Enterprises, Inc. (FREE) and Smile Farms last week planted a field of hot peppers that will be used to make a special hot sauce that raises money for the groups. This is the first year hot and sweet peppers will be grown at the Smile Farms at FREE's Oakdale Campus.  When the peppers are harvested in the fall, they will be turned into two unique hot sauces, one red and one green, with the help of Brooklyn Grange.  Smile Farms Hot Sauce will be available for purchase on the organization's website as well as at local farmer's markets and small shops. The proceeds are donated to the organizations so that they may continue to provide the critical services to their differently-abled members.
The peppers are planted in the FREEdom Gardens. The 32 raised garden beds offer plenty of space to grow a wide selection of organic produce and flowers to enjoy at the dinner table or to adorn the porch with.
Family Residences and Essential Enterprises, Inc. (FREE)
Family Residences and Essential Enterprises, Inc. (FREE), founded in 1977, benefits and proudly supports more than 4,000 individuals with intellectual/developmental disabilities, mental illness and traumatic brain injury. It is the mission of FREE to help individuals of all abilities realize their full potential. FREE provides a diverse array of supports and services including housing; recovery services; transition to work; employment; day, community and family services; respite; crisis services; education and after school support; specialty health services; and advocacy.
The FREE Network collaborates with a variety of diverse 501(c)(3) nonprofit partners on educational, vocational, rehabilitative and a myriad of other creative initiatives to enhance the local communities and the lives of more than 35,000 people that reside within them. Each of the valued partners of the FREE Network has a unique mission, vision and strategic goals that are aligned in purpose, and embody the spirit of the meaningful work we do every day. For more information, please call 516-870-1614 or visit www.familyres.org.
Smile Farms Inc.'s mission is to provide developmentally disabled adults with meaningful work opportunities at farms, urban gardens, greenhouses and farm stands where they can grow and sell flowers, plants and produce in their local communities.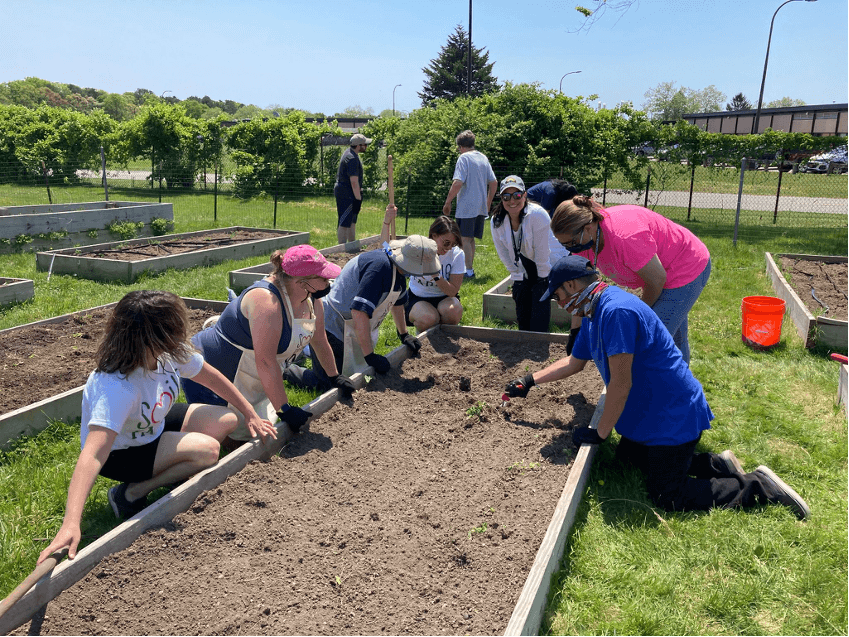 Members of FREE and Smile Farms prepare their gardens to grow the hot peppers that will be used to make a hot sauce that is sold with proceeds benefiting the organizations.