Edward Lattenhauer has been a prime example of an exceptional self-advocate.
He improves the lives of those around him by being a role model and displaying positive work ethic and determination towards the accomplishment of his goals. Eddie entered the TBI Structured Day Program Return to Work Track with a vocational goal of obtaining successful gainful employment. In his eight months at program, Eddie assisted at Terry's cafe taking on numerous job tasks and responsibilities. Eddie was the first TBI participant from our program to begin an internship with our maintenance department. Eddie continued to exceed all expectations within his volunteering. Eddie returned to program to discuss the lessons that he's learned while working within the company. In addition, he voiced the importance of responsibility and work readiness with his peers. Eddie never gave up. He continued to go on interviews and fill out various applications to prove to himself.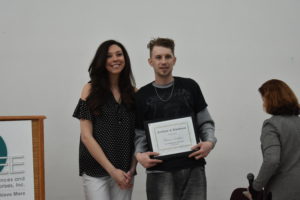 Eddie opened up at many group discussions about how he has overcome the troubles of his past and utilized them to become a better person. Eddie's leap of faith to return to the workforce motivated several additional TBI participants to voice additional interests they had previously been afraid to explore. Eddie joined FREE's Speaker bureau and shared his own personal TBI journey which has allowed him to reach others and relate to them on a more personal level. In return, many participants have looked up to Eddie and modeled his positive behavior towards their own self-efficacy. Eddie was given a certificate by the Suffolk County Legislator for his beneficial work with the Speakers Bureau. Eddie enjoys assisting his coworkers and peers towards reaching their true potential. Most recently, at FREE's Advocacy Disability Awareness Conference, Eddie was awarded, Self-Advocate of the year.