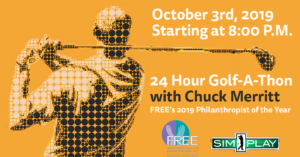 Family Residences and Essential Enterprises, Inc. (FREE) 2019 Philanthropist of the Year, Chuck Merritt, will be embarking on a unique journey to raise funds, as well as awareness, for FREE through a 24 hour golf simulator marathon at SIMPLAY Entertainment in Hauppauge.  Mr. Merritt will begin playing at 8:00 PM on Thursday, October 3rd until 8:00 PM on Friday, October 4th.  Using the SIMPLAY golf simulator, Mr. Merritt hopes to complete 50 rounds of golf and hit over 4,000 golf balls playing different virtual golf courses from all over the world!
There are several ways people can support Chuck in this endeavor.  All are encouraged to visit [EVENT IS OVER] and support the event, and his efforts, any way you can.
There will be a reception on Friday, October 4th from 7:00 to 9:00 p.m. at SIMPLAY to watch Chuck conclude this incredible challenge, and learn more about FREE, and the individuals they are proud to serve.
Chuck will be awarded Philanthropist of the Year at the 42nd Annual Celebration of Life Gala, benefiting FREE, on Thursday, October 24th at the Heritage Club at Bethpage.
Family Residences and Essential Enterprises, Inc. (FREE)
Family Residences and Essential Enterprises, Inc. (FREE), founded in 1977, benefits and proudly supports more than 4,000 individuals with intellectual/developmental disabilities, mental illness and traumatic brain injury. It is the mission of FREE to help individuals of all abilities realize their full potential. FREE provides a diverse array of supports and services including housing; recovery services; transition to work; employment; day, community and family services; respite; crisis services; education and after school support; specialty health services; and advocacy.
FREE also collaborates with a variety of diverse 501(c)(3) nonprofit partners on educational, vocational, rehabilitative and a myriad of other creative initiatives to enhance the local communities and the lives of more than 25,000 people that reside within them. Each of the valued partners of the FREE Network has a unique mission, vision and strategic goals that are aligned in purpose, and embody the spirit of the meaningful work we do every day. For more information, please call 516-870-7000 or visit www.familyres.org.
About SIMPLAY
SIMPLAY (short for Simulator Play) is Long Island's only multi-sport simulator facility. Equipped with 8 units, we have something to offer for everyone. From 87 golf courses around the world to choose from to fighting the undead in zombie dodge ball, SIMPLAY provides a unique experience for the entire family.
The 15,000 square foot facility is centrally located in the Hauppauge Office Park which makes it easy to get to from anywhere on Long Island. Each simulator can be programmed to play any of the major sports plus carnival games. So, you can try your luck kicking field goals, beating an alien soccer goalie, or working on your fastball. Our Simulators are offered on an hourly basis through our convenient on-line reservation system which makes it easy to see when times are available and book instantly. SIMPLAY is also equipped with a 400+ Square Foot putting green area for practice before, during and after your simulator session. We have plenty of 4K HD televisions strategically placed so you will never miss any games being televised.
SIMPLAY has a full service bar with service to the simulators so you never have to leave the action. We also offer a menu of lite-bites so you can eat while you play.
Our facility is equipped with a 4,000 square foot venue room which is perfect for any kind of event. This room can accommodate up to 200 people and can be rented independently or in conjunction with our simulators, that can provide a unique atmosphere.