My journey with FREE began in late 2001 when I met Barbara Townsend, who was the CEO of the agency at that time. We began talking and she asked me about my son, Joe, who was in crisis due to a family situation, which had intensified his complicated special needs. Amazingly, within 12 months, Joe was living in a residence with five other individuals. I thought at the time that this event was the end. In fact, it was only the beginning of what FREE was able to do for Joe, and has continued to do over the past 15 years. The many individuals, from the current CEO, Robert S. Budd, and President, Dr. Christopher D. Long, to the DSPs in the residence, have unfailingly done everything possible to ensure that Joe reaches his potential and achieves a life filled with opportunity.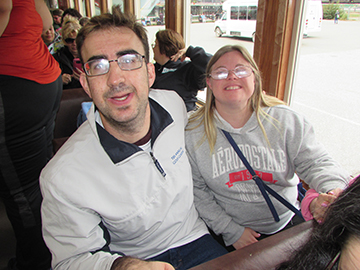 It was unimaginable when four years ago Joe married Gretchen – the love of his life! Although marriage within the disability community is extremely rare and often frowned upon, FREE embraced this wonderful young couple.
My journey is ongoing. There are no words to express how grateful I am to FREE, an agency that continues to advocate for the best possible life for every single individual they serve.
— Ellen Paige Nelson
Want to Contribute?
If you are a parent of someone who receives services from FREE and would like to share your story or thoughts, please email Mission_Advancement@FamilyRes.org.