A member of FREE for over 25 years, Annie Zoitke joined the team 1993. She is rarely seen without a smile on her face and is always going 1,000 miles a minute.  Just the mention of Annie's name in a room full of team members, administration, executive leadership, family members or individuals, and 99% of the time, they will know exactly who she is!
Annie has supported individuals throughout the entire FREE network.  She has worked in almost all of our homes in some management capacity, such as Locust Valley, Hudson, Crescent, Auborn, Park, Penelope, Smithtown, Lindenhurst, just to name a few.  When she is in a residence, she becomes part of that team and she creates a home for each and every individual.  For Annie to best advocate for each individual, she get to know who they are and how they can best be supported. She develops a rapport with the individuals and family members who then become reliant upon her to support not only the individuals, but the family members as well. Not only does Annie work in our residences supporting our individuals in this manner, she also plans numerous vacations, at least twice a year.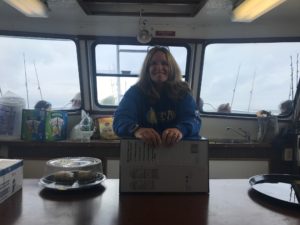 "Once a certain participant in our program wanted to go on the next vacation. This person is wheelchair bound, requires hoyer lifts and transfers, which would require very special accommodations during a vacation.  Annie not only, on her own, went to the management team to invite the individual on the vacation, she ensured all the necessary adaptive equipment was available.  She took this person on a cruise, beach wheelchair and all.  They swam in the ocean in another country for the first time since their accident which put them in a wheelchair."– Christina Arnao; Assistant Vice President (FREE)
Annie's hard work doesn't end there, she is also one of our very trusted trainers.  She teaches SCIP, CPR, FA and Defensive Driving.  She ensures all team members are trained properly in order to support our individuals. Annie is a true asset and her tireless commitment and compassion to help support, and positively change community perceptions of people with developmental disabilities is remarkable. It is awareness, acceptance and inclusion that provides individuals with the opportunity to make their own contributions to the community at large. Thank you Annie!