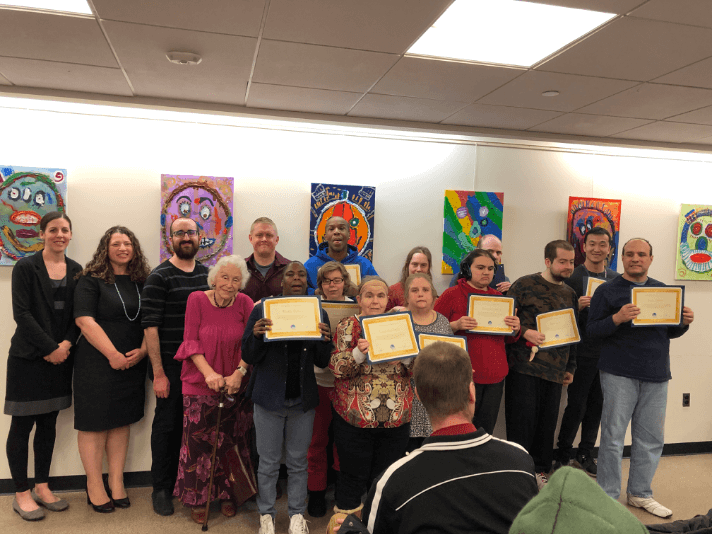 Family Residences and Essential Enterprises, Inc. (FREE), in partnership with the Patchogue-Medford Library, held a Meet the Artists Reception to honor special needs artists participating in
their Fine Art Program. The artists honored have their latest collection of original paintings entitled EXPRESSIONS exhibited at the library.  In addition to the artists whose works were on display, there were over 60 members of FREE's Program without Walls, representatives from FREE and the Patchogue-Medford Library and Library Trustees in attendance.  The exhibit will run from March 1- April 30. All are encouraged to view the works and perhaps purchase a piece.  The proceeds of sales go towards supporting the artist and their program.
"The Patchogue-Medford Library has been a tremendous friend to FREE's art program over the years, and we are thankful that they have again chosen to display this collection of original art in their Claire Davidson Siegel  Gallery," said Robert S. Budd, CEO, FREE.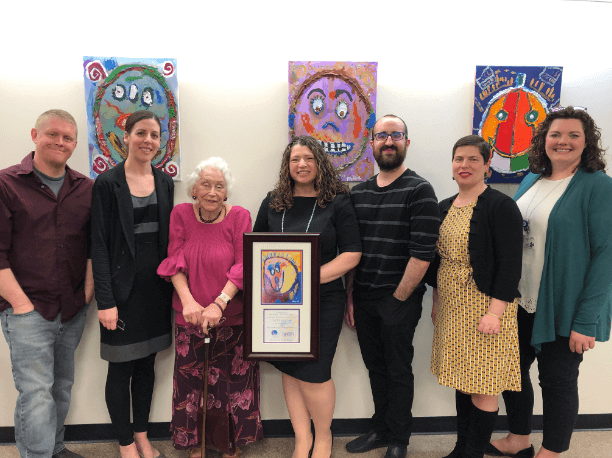 Danielle Paisley, Director, Patchogue-Medford Library, accepted an Award from FREE in Recognition of Supporting the Artists at FREE.
L-R Glyn Evans, Senior Habilitation Specialist, FREE; Joyce Thompson-Haas, Special Needs Coordinator, Patchogue Medford-Library; Claire Davidson Siegel; President of the Patchogue-Medford Friends of the Library; Danielle Paisley, Director, Patchogue-Medford Library; Jay Schuck, Library Assistant, Patchogue-Medford Library; Jennifer Bollerman, Assistant Director, Patchogue-Medford Library and Jenna Felder, Director, Community Services, FREE.
The artists represented are the finalists whose work displayed the quality to have earned a place in this inspired collection.  EXPRESSIONS is a series of acrylic polymer paintings that grew out of the feelings and emotions that everyone displays daily, and how through these displays we allow the world a glimpse into our own personal souls which are continually evolving. These EXPRESSIONS allow others to read our emotions no matter how subtle they may be, how negative, how positive, and overall how we as a species communicates without speaking a single word.
Family Residences and Essential Enterprises, Inc. (FREE)
Family Residences and Essential Enterprises, Inc. (FREE), founded in 1977, benefits and proudly supports more than 4,000 individuals with intellectual/developmental disabilities, mental illness and traumatic brain injury. It is the mission of FREE to help individuals of all abilities realize their full potential. FREE provides a diverse array of supports and services including housing; recovery services; transition to work; employment; day, community and family services; respite; crisis services; education and after school support; specialty health services; and advocacy.
The Family of FREE Network collaborates with a variety of diverse 501(c)(3) nonprofit partners on educational, vocational, rehabilitative and a myriad of other creative initiatives to enhance the local communities and the lives of more than 35,000 people that reside within them. Each of the valued partners of the FREE Network has a unique mission, vision and strategic goals that are aligned in purpose, and embody the spirit of the meaningful work we do every day. For more information, please call 516-870-1614 or visit www.familyres.org.