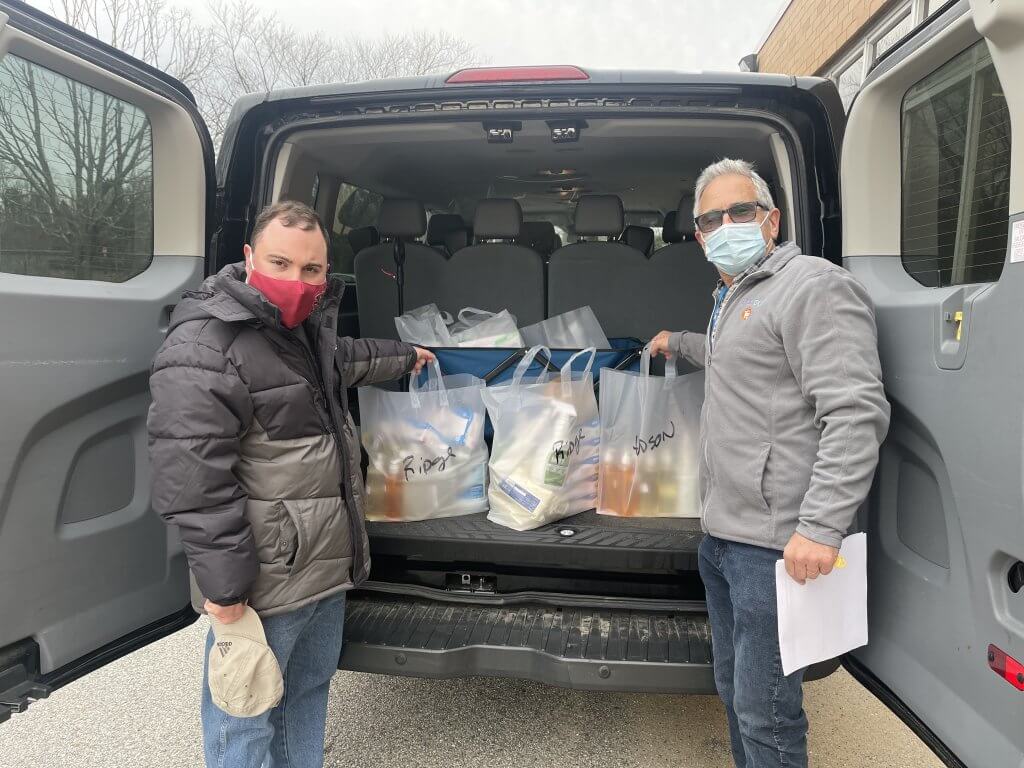 Caption: Here, Brian Walsh and John Meisen, members of the FREE-POD food delivery service program pack up food.
In what might be called a perfect example of "Do It Yourself" ingenuity, individuals with intellectual and developmental disabilities are now running their own food delivery service that assists people like themselves living in group residences and those who live at home with their families. The program, called FREE-POD was formed by Family Residences and Essential Enterprises, Inc. (FREE) during the COVID-19 pandemic crisis when food delivery services were often difficult, if not impossible to come by.
"In response to the challenge of getting food and supplies in a timely manner to our residences and to ease the burden on our Direct Support Professionals (DSPs), FREE launched its own in-house FREE-POD food and supplies delivery service,"  Robert S. Budd, CEO, FREE. "It's been challenging to get groceries delivered. FREE-POD delivers door-to-door food and other essential household items and personal protective equipment to each of our homes, independent housing and individuals living with their families."
According to Mr. Budd, FREE-POD will positively impact individuals with intellectual and developmental disabilities residing in the community by providing "on the job" employment training in all aspects of food preparation and distribution, inventory control, shopping and stocking.
"I really enjoy coming to work and packing up the food for people," said Paul Weinberg. "Everyone is always happy to see us when we give them the food."
Direct Support Professional Ron Salstein, who works with the participants in the program says, "The individuals in this program really get a lot of satisfaction from getting the bags of food ready and then delivering it into the hands of those in the residences. It's a wonderful socialization program and they leave feeling good about themselves."
"It's a win-win for everyone," said Budd.
FREE, has a fully operationalized food and supply distribution center supporting over 600 individuals and their families in over one-hundred locations throughout Long Island and Queens, New York. Currently, the program, which started this month, is being transitioned from FREE's employees delivering the food.
Rob Melnick, Assistant Vice President, Community Services, said that the national average of unemployment for people with disabilities remains over three times that of the population without disabilities.
"This has certainly been complicated by the COVID-19 crisis, making it that much more difficult for individuals with disabilities especially those who lack practical job knowledge or employment experiences," said Melnick.  "The training program will provide over 60 differently-abled citizens with the skills set necessary to secure employment in the food industry."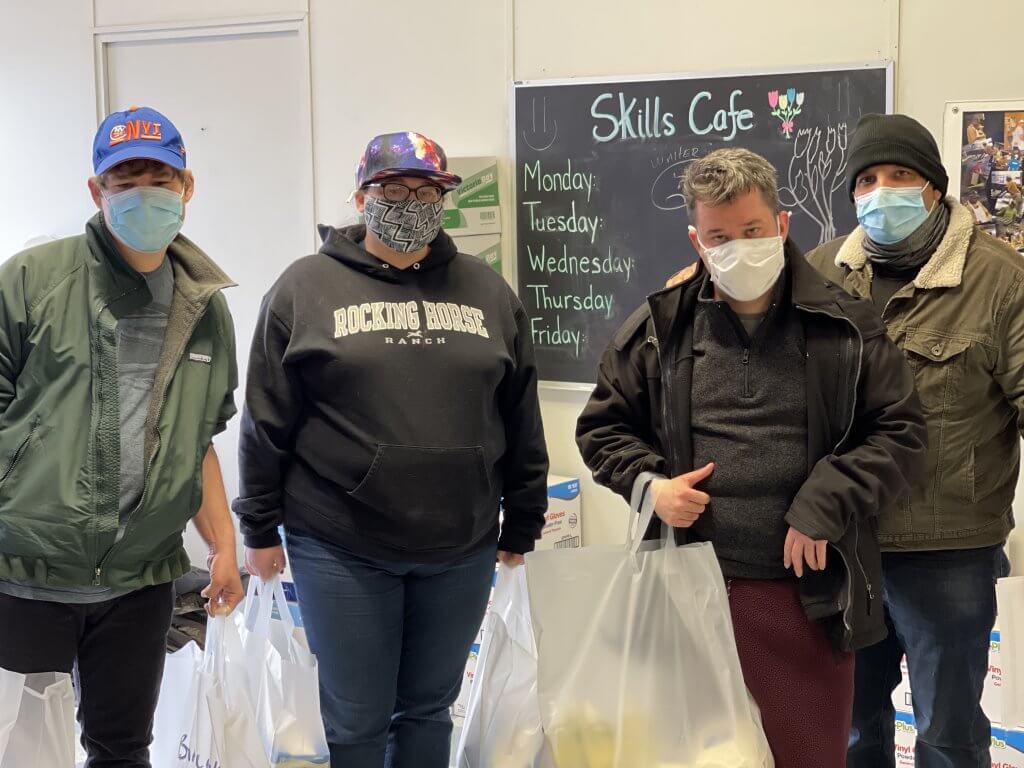 Caption: Here, Jordan Lerner, Nicole Santomauro, Matthew Knowles, and David Ruiz of the FREE-POD food delivery service program get ready for a day of deliveries.
About Family Residences and Essential Enterprises, Inc. (FREE)
Family Residences and Essential Enterprises, Inc. (FREE), founded in 1977, benefits and proudly supports more than 4,000 individuals with intellectual/developmental disabilities, mental illness and traumatic brain injury. It is the mission of FREE to help individuals of all abilities realize their full potential. FREE provides a diverse array of supports and services including housing; recovery services; transition to work; employment; day, community and family services; respite; crisis services; education and after school support; specialty health services; and advocacy.
The FREE Network collaborates with a variety of diverse 501(c)(3) nonprofit partners on educational, vocational, rehabilitative and a myriad of other creative initiatives to enhance the local communities and the lives of more than 35,000 people that reside within them. Each of the valued partners of the FREE Network has a unique mission, vision and strategic goals that are aligned in purpose, and embody the spirit of the meaningful work we do every day. For more information, please call 516-870-1614 or visit www.familyres.org.