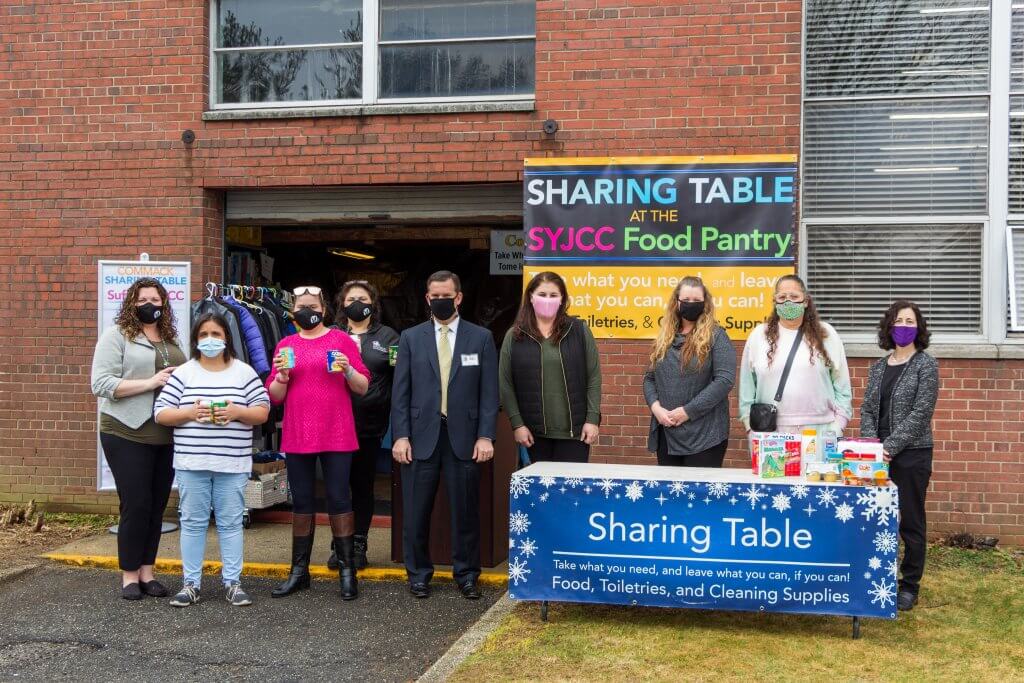 A local program for individuals with disabilities managed by Family Residences and Essential Enterprises, Inc. (FREE) has joined forces with The Sharing Tables of the USA to help bring an abundance of food, clothing and hygiene products to those who need it. The concept of a Sharing Table is simple: Take what you need, leave what you can – if you can. The Sharing Tables of the USA was started on Long Island by Mary Kate Tischler, who set up Long Island's first Sharing Table in Seaford last year.
To date there are 45 tables in New York State which help about 3,000 people a week. Individuals with disabilities attending FREE's Program Without Walls day program collect the supplies from one of Sharing Table's supply locations in Massapequa, then they are driven by a FREE Direct Support Professional to various stops where Sharing Tables are set up. The individuals unload the supplies and continue on their route throughout Nassau and Suffolk counties.
"Having the participants of our Program Without Walls assist others who are in need opens up their world and gives them a sense of purpose," said Robert S. Budd, CEO, FREE. "I cannot imagine a better partnership for our members than working with the Sharing Tables of the USA."
Tischler explained that the partnership between FREE and the Sharing Tables of the USA creates perfect symbiosis: "It is so incredibly helpful to the Sharing Tables to have the help of FREE with these deliveries, and, at the same time, we are so glad to know that making the deliveries provides a meaningful volunteer opportunity for the participants from FREE," said Mary Kate Tischler, Founder of The Sharing Tables of the USA. "We are so grateful for this partnership."
"The Suffolk YJCC is proud to house the largest Sharing Table on Long Island open 7 days a
week," said Rick Lewis, CEO, Suffolk YJCC. "With donations coming from all across Long Island, we are able to provide food to more and more people every day.  We could not accomplish this without our dedicated volunteers including our friends from FREE, and our steady donors."
FREE's Program Without Walls is an alternative to center-based day programs for individuals with disabilities. Participants take part in a variety of volunteer, recreational, and social experiences based upon preferences and self-identified areas of skill development.
Extra canned goods that are not used by the Sharing Tables are donated to FREE and are provided to 40-50 of FREE's independent living apartment programs.
About Family Residences and Essential Enterprises, Inc. (FREE)
Family Residences and Essential Enterprises, Inc. (FREE), founded in 1977, benefits and proudly supports more than 4,000 individuals with intellectual/developmental disabilities, mental illness and traumatic brain injury. It is the mission of FREE to help individuals of all abilities realize their full potential. FREE provides a diverse array of supports and services including housing; recovery services; transition to work; employment; day, community and family services; respite; crisis services; education and after school support; specialty health services; and advocacy.
The FREE Network collaborates with a variety of diverse 501(c)(3) nonprofit partners on educational, vocational, rehabilitative and a myriad of other creative initiatives to enhance the local communities and the lives of more than 35,000 people that reside within them. Each of the valued partners of the FREE Network has a unique mission, vision and strategic goals that are aligned in purpose, and embody the spirit of the meaningful work we do every day. For more information, please call 516-870-1614 or visit www.familyres.org.