On a beautiful Sunday morning, Family Residences and Essential Enterprises, Inc. (FREE) hosted our first annual 5K, the Hotdog Dash, at Eisenhower Park in East Meadow, NY. The Hotdog Dash was an exciting and fun opportunity for people of all ages and abilities to join together to walk, run, roll or stroll through Eisenhower Park while supporting a local, independent not-for-profit organization. What a great response for our first year with over 200 participants!
"It was wonderful to see the running community come out to support our individuals in this endeavor," said Robert S. Budd, CEO, FREE. "Our greatest hope is to see our individuals being accepted into these communities, regardless of their different abilities," he continued.
The race was kicked off with the National Anthem, performed by Barbara, one of our many talented individuals. Following the race, awards were presented to various participants, and everyone was treated to a barbecue.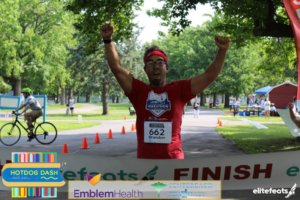 We would like to extend a special thank you to all of our sponsors, including our Presenting Sponsor, EmblemHealth, and our Finish Line Sponsor, Centereach Pharmacy. All attendees enjoyed hot dogs provided by Sabrett and Mike's Dog House as well as snacks and beverages by Arizona Beverage Company, Panera Bread, and Driscoll Foods.
Furthermore, our Top Fundraiser who continuously surpassed the goals they set for themselves – this dynamic duo has been a part of the FREE Family for many years and raised over $2,000 for the Hotdog Dash taking home the "Top Dog" award Cindy and Christine Werner!!!
With their success it should come as no surprise that the Top Fundraising Team is Cindy and Christine's own team "The Cocktail Weenies".
Thank you to all who supported this amazing event and hope to see you at next year's Hotdog Dash!