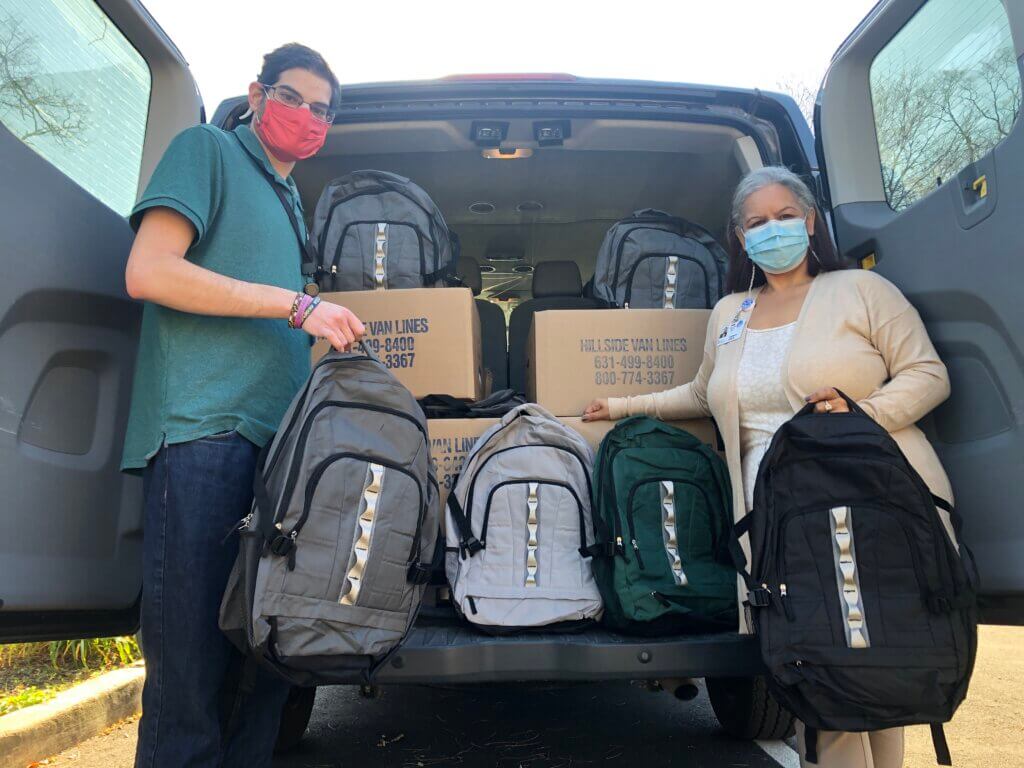 November 2020 is National Adoption Month
FREE"s 'Stop the Bounce' Initiative Urges Adoption of Foster Children
Care packages assembled by individuals with disabilities to be distributed to foster children
Old Bethpage, NY– Family Residences and Essential Enterprises, Inc. (FREE) is launching its "Stop the Bounce" initiative this November, which is National Adoption Month. President Dr. Christopher Long, 51, of Lindenhurst, has made adoption and foster care a priority in his personal and professional life. In an effort to raise awareness of the need to help children in foster care to "Stop The Bounce," a term that relates to finding forever homes for children in foster care.
Members of FREE's Day Program, which teaches skills to individuals with disabilities, assembled care packages for foster children. The backpacks will include items such as toys, blankets and journals. This partnership allowed FREE and Stop the Bounce to partner with Mercy First, an Agency provides residential services to youth on their campus in Syosset and in community-based group homes. Mercy First is going to be distributing these care packages to the great people they work with in their services.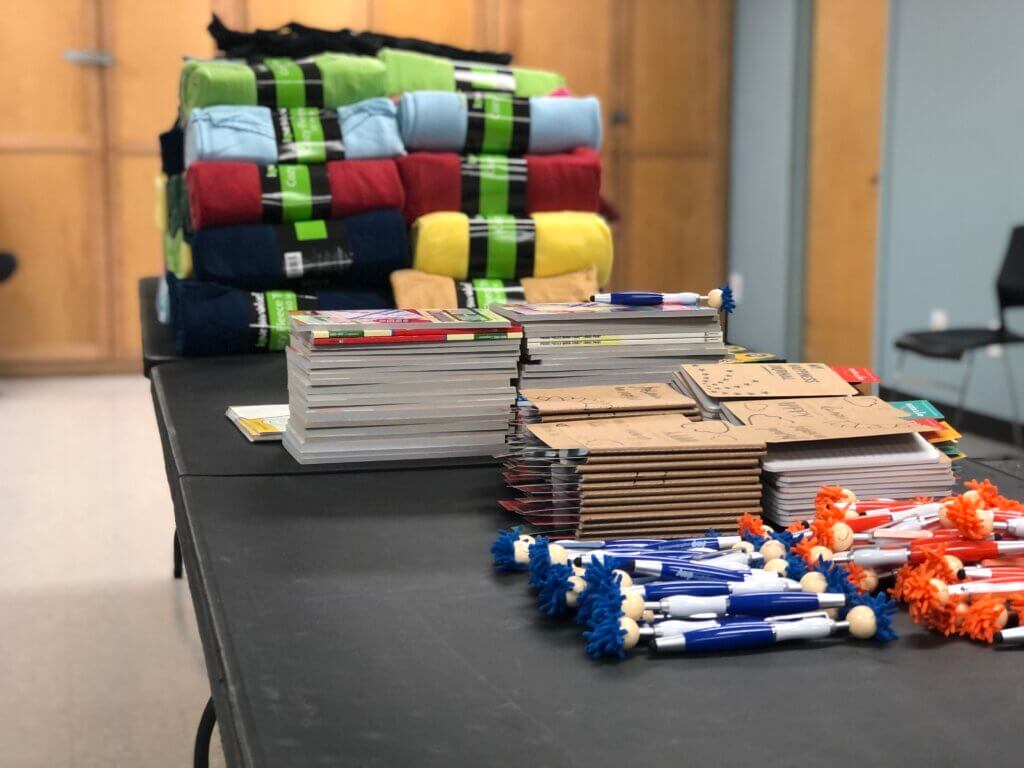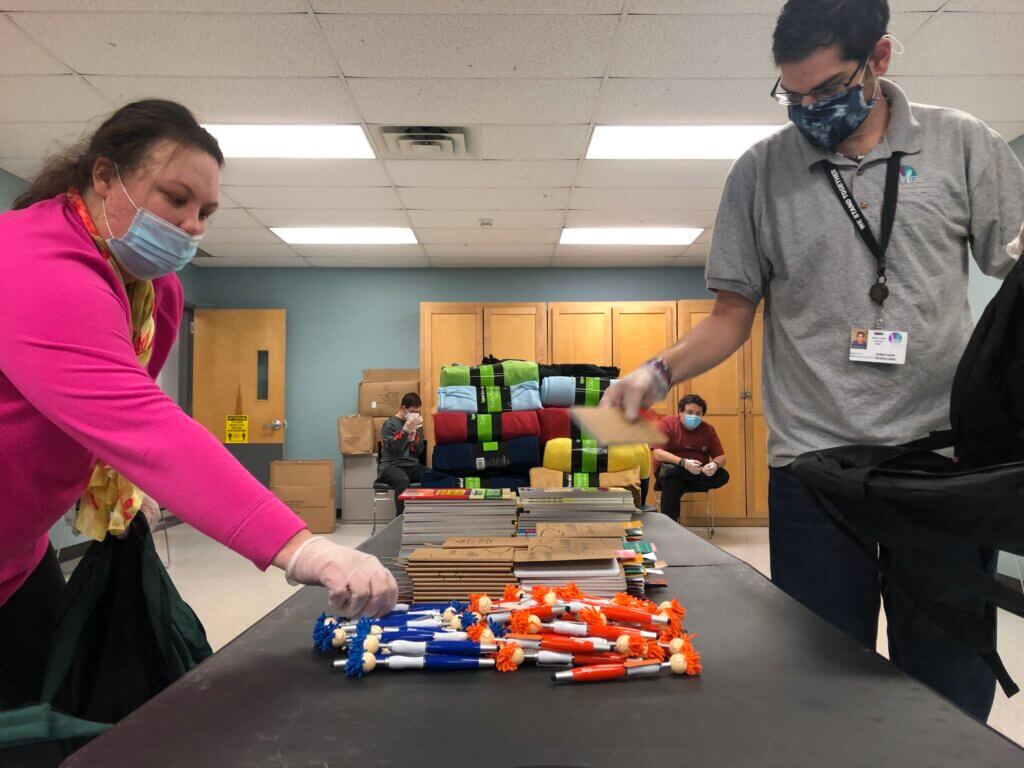 The American children currently in foster care are among the most at-risk children in American society. Research shows that adults who were formerly in foster care are more likely than the general population to succumb to poor life outcomes. Former foster children are more likely to not complete high school, unable to secure employment, become homeless, incarcerated, or dependent on state services.
"It is out hope that these care packages will let the children know that they have not been forgotten and hopefully even a small toy might bring them comfort in their new surroundings," said Long.
According to the U.S. Department of Health and Human Services (2019) there has been a steady increase in the number of children in foster care since 2011 as the latest Adoption and Foster Care Analysis and Reporting System data reflects nearly 424,000 children are in care today. And now the COVID-19 pandemic has caused fewer people to sign on to be foster parents.
According to the Annie E. Casey Kids Count Data Center,"The COVID-19 pandemic has curtailed in-person contact among children, families and social workers and left systems struggling to function. It's a scenario that leaves a vulnerable population — children in foster care — even more vulnerable." "After I learned the staggering statistics of children waiting for adoptive homes, right here in my own backyard, coupled with the confounding facts that the majority of children who grow up in foster care do not finish high school, are unable to secure employment, go to jail and/or become homeless at age 18, I was moved to action," said Long. "Although being a parent of five boys certainly presents its array of challenges, the love of family and the strength of the bond we share far outweighs the tribulations of the process that is now a distant memory."
"I hope people will find the love in their heart to consider adoption," said Long. "You can change a life for the better."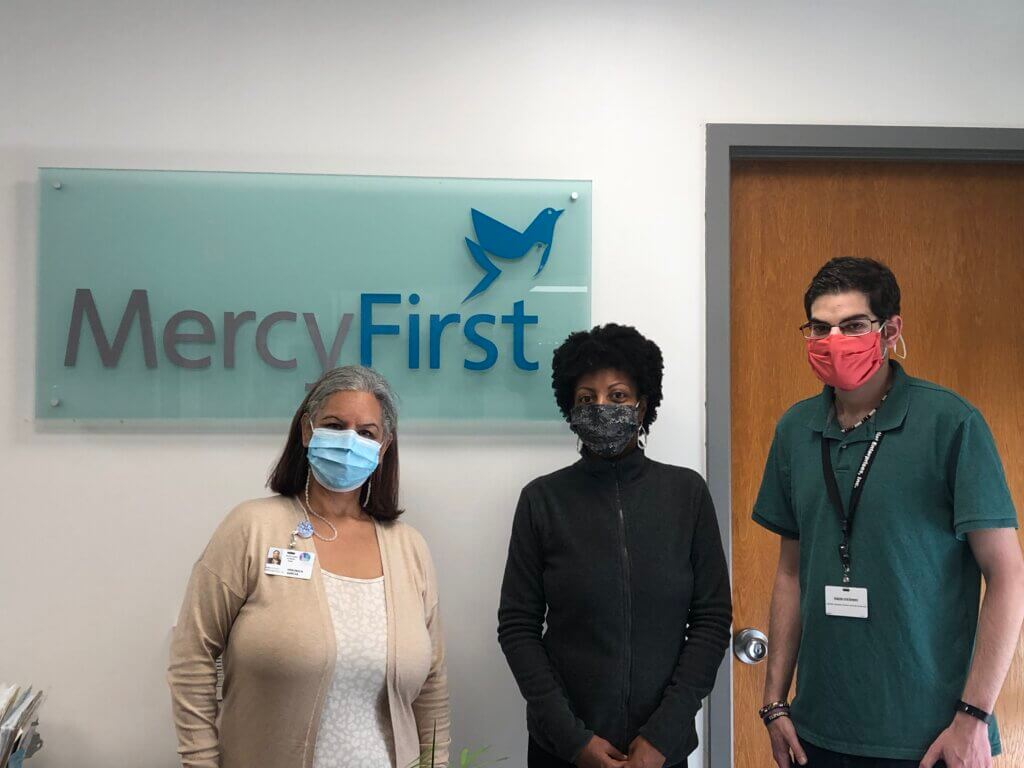 About Dr. Long
Christopher D. Long, Ed. D, is the President of Family Residences and Essential Enterprises, Inc. (FREE), a not-for-profit agency that supports individuals of all abilities with community living opportunities, employment, day services, clinical, education and after-school support, and other assistance. Dr. Long joined FREE in January of 2010. He has been recognized as a professional whose exceptional skills and dedication profoundly affect the lives of people with disabilities. Throughout his career, he has held various administrative positions in residential/housing services, day services, schools, supported employment and professional development.
Prior to joining FREE, for 10 years Dr. Long held multiple executive management positions at several not-for- profit health-related and human service organizations. Additionally, Dr. Long has a considerable amount of higher education teaching experience. In 2009, he joined the adjunct faculty at St. Joseph's College in Patchogue and teaches graduate courses for the Child Study Department. Dr. Long is also an adjunct faculty member at Stony Brook University in Long Island, NY.
Dr. Long holds a doctorate degree in special education, a Master of Arts in special education, a master's degree in educational leadership and Bachelor of Arts in secondary education/psychology. He holds a New York State Special Education permanent teaching certification and a New York State School Building Leader certification. Further, Dr. Long holds a Certified Alcohol Substance Abuse Counselor certification (CASAC).
Dr. Long was the 2005 winner of the prestigious Zella Bronfman Butler Award for outstanding contributions in the field of special education/human services. He is also the author of the inspiring book, "Swimming in a Pool of Peanut Butter," written from the perspective of children with ADHD. Dr. Long's second book, "Stop the Bounce," portrays the experiences of foster children who are hoping to one day find their forever family.
Dr. Long's diversified professional experience and passion for the human services and special education industries has provided him the skills necessary to be an effective leader, a confident visionary and an innovator.
Family Residences and Essential Enterprises, Inc. (FREE)
Family Residences and Essential Enterprises, Inc. (FREE), founded in 1977, benefits and proudly supports more than 4,000 individuals with intellectual/developmental disabilities, mental illness and traumatic brain injury. It is the mission of FREE to help individuals of all abilities realize their full potential. FREE provides a diverse array of supports and services including housing; recovery services; transition to work; employment; day, community and family services; respite; crisis services; education and after school support; specialty health services; and advocacy.
The FREE Network collaborates with a variety of diverse 501(c)(3) nonprofit partners on educational, vocational, rehabilitative and a myriad of other creative initiatives to enhance the local communities and the lives of more than 35,000 people that reside within them. Each of the valued partners of the FREE Network has a unique mission, vision and strategic goals that are aligned in purpose, and embody the spirit of the meaningful work we do every day. For more information, please call 516-870-1614 or visit www.familyres.org.