Hello All,
This is another month that truly highlights all the hard work that our Valued Team Members do on a daily basis. Our main focus was acknowledging how important our DSPs are to our organization. Thank You Rewards, Treasure Town donations, and even lending a hand when someone's car breaks down, are all wonderful examples of how we come together to celebrate our core values.
Respectfully,
Chris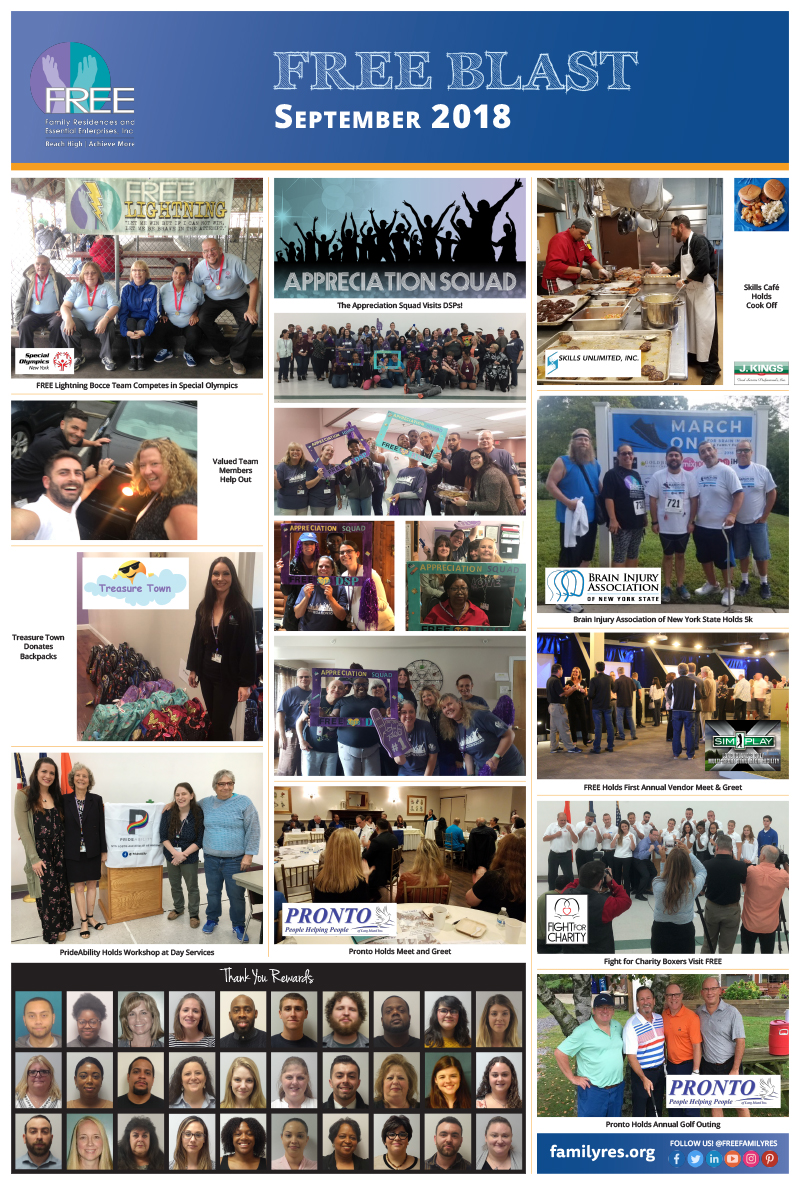 Click HERE to download the poster-sized version!
FREE Lightning Bocce Team Competes in Special Olympics
The FREE Lightning Bocce Team went to a Special Olympics NY Super-Regional Bocce Tournament in Rome, NY on September 8th. The team did a great job and took the Gold Medal in their Division. Way to go!!! Values of Integrity, Diversity and Interdependence
Valued Team Members Help Out
When a board member recently had car problems, FREE's Valued Team Members were quick to offer their assistance. Special thanks to Fred Catapano, Mike Minasi and Celeste Lipski for pitching in! Value of Integrity
Treasure Town Donates Backpacks
Every year, Treasure Town takes requests from Valued Team Members to assist them with sending their children back to school. Using monetary funds donated by fellow co-workers, Treasure Town was able to purchase more than 400 backpacks this year, along with tons of supplies that any child will need to return to school. Special thanks to everyone who contributes money to Treasure Town and all the volunteers that helped out. Values of Responsiveness and Stewardship
PrideAbility Holds Workshop at Day Services
Recently, a PrideAbility workshop was conducted with participants at FREE's Day Services program in Old Bethpage. Presenters included Claire Miller, PrideAbility Project Manager; Jillian Brunner, PWW; Doretta Waterman, President, Speakers Bureau; Geri Athenas, Parent Advocate, FREE To Be; and Stefanie Russo, Peer Mentor, Advocacy Department. Values of Integrity, Diversity, Responsiveness, Innovation and Quality
Thank You Rewards
As a way to extend DSP Appreciation Week, FREE has been sharing with everyone the Thank You Rewards, showcasing the Valued Team Members who go above and beyond what is required of them. It is our honor to announce September's nominees: Jorge Almanzer, Treanah Bazelais, Chrissy Bryant, Danielle Burke, Jeffrey Conyers, Nicholas Delligatti, Brian Eddy, Reginald Ganthier, Jennifer Gonzalez, Jessica Gramp, Kathleen Kennedy, Isabelle Lamy, Zakariya Latif, Allison Lee, Meghan Leonhardt, Erin Lynch, Jason McCarthy, Joanne Mineo, Laura Morella, Marti Peretzman, Sean Rizzo, Amy Scheffer, Pamela Schwartz, Rynese Smith, Athena Sitaras, Alea Sullivan, Teresa Sullivan, Eveyln Toloza, Larry Tserlin and Lisa Wolff. These Valued Team Members have exhibited behavior that inspire all of us to go the extra mile. If you would like to nominate someone for a Thank You Reward, please contact Pat Hogan at PHogan@FamilyRes.org. Winners of a Thank You Reward receive a gift card and thank you card to show our appreciation. Values of Integrity, Diversity, Responsiveness, Stewardship, Interdependence, Innovation and Quality
The Appreciation Squad Visits DSPs!
At each program, the Appreciation Squad, comprised of various members of the Leadership Team and volunteers from numerous departments, would arrive with the song "We Are Family" playing. They would come in dancing, getting the DSPs to join in and have some fun. Following their arrival, the Appreciation Squad would give them T-shirts, windbreakers and cookies, along with thank you cards from Robert S. Budd, CEO of FREE, and Dr. Christopher D. Long, President of FREE. Stay tuned, as the winners of the three raffle prizes will soon be announced!!! To view more photos of the Appreciation Squad visiting our valued DSPs, visit the Photo Albums widget in the Employee Portal. Values of Integrity, Diversity, Responsiveness and Innovation
Pronto Holds Meet and Greet
Members from Pronto recently held a Meet and Greet at the Brentwood Country Club. The evening started off with light refreshments and networking, followed by a panel discussion on issues impacting local communities, including immigration, gang violence/safety, addictions and more. The night came to an end after an open forum and closing remarks. This complimentary event was a great way for Pronto to receive feedback from local members of society on how to better the communities they live in. Values of Integrity, Diversity, Responsiveness, Interdependence, Innovation and Quality
Skills Café Holds Cook Off
Chris Ciccone, a former Master Chef contestant and current Skills Unlimited culinary instructor, faced off against Bobby Bouyer, a former Beat Bobby Flay contestant and current sales consultant at J. Kings, as well as Executive Chef at Storyville American Table, in a battle to see who could prepare the best signature burger. After the votes were tallied, Bouyer was declared the winner of the event. Skills used the cook off to bring awareness to their culinary and food service program, as well as raise funds for the services they offer. The event was sponsored by J. Kings. Values of Responsiveness and Innovation
Brain Injury Association of New York State Holds 5k
Recently, the Brain Injury Association of New York State (BIANYS) held its 5k! Photographed from left to right: This year's honoree, Department of Health (DOH) Traumatic Brain Injury (TBI) Waiver participant Colan Trowbridge; Susanne Regan, TBI Nursing Home Transition and Diversion (NHTD) Service Coordination (SC) Manager, who won first place for the Women's Age Division; James Pastore, TBI Waiver participant; and Ira Dunne, TBI Positive Behavioral Interventions and Supports (PBIS) provider and the Long Island Representative for BIANYS. FREE also provided Colan with a wonderful gift bag to display our support and appreciation. Values of Integrity, Diversity, Responsiveness and Quality
FREE Holds First Annual Vendor Meet & Greet
To make it easier for FREE's vendors to network with one another, as well as get to know our agency better, we held our First Annual Vendor Meet & Greet at SIMPLAY, located in Hauppauge. The evening included representatives from various companies and organizations that FREE, and the FREE Network, do business with. People mingled and got to know one another while enjoying games at Long Island's only multi-sport simulator facility. Values of Integrity, Responsiveness, Stewardship, Interdependence and Innovation
Fight for Charity Boxers Visit FREE
Long Island Fight for Charity (LIFFC) volunteer fundraising boxers recently visited FREE in Old Bethpage to meet the Long Islanders who are differently abled whom they will be fighting for in the prestigious November Fight for Charity Main Event. The boxers toured FREE's headquarters and learned about the organization. The LIFFC Main Event is one of the Island's most anticipated annual charity events. Over the past 14 years it has raised $1.1 million for local charities. The November Main Event is expected to attract more than 1,200 people and raise more than $200,000 for local not-for-profit organizations, including Long Island Community Chest, The Genesis School and FREE. Values of Integrity, Responsiveness, Stewardship, Interdependence and Innovation
Pronto Holds Annual Golf Outing
At the Heartland Golf Club, in Edgewood, sponsors and contributors of Pronto of Long Island Inc. gathered to express their gratitude and show their support for the Bay Shore-based organization. A light sprinkle of rain didn't dampen their fun, and after a nice round of golf, guests headed over to Bella Verde for dinner. As always, everyone had a wonderful time and it was a great fundraising event for Pronto. Values of Integrity, Responsiveness, Stewardship, Interdependence and Innovation