Hello All:
Our main focus for the month of September was celebrating the hard work and dedication that our DSPs—You are simply the cornerstone of our SUCCESS.
Special thanks to the Appreciation Squad for their efforts in coordinating this massive Thank You for our DSPs. Although DSP Month is now officially concluded, please know that we value your work all year round. Evidence of this can be found in a new area we are highlighting called the "Thank You Rewards." Organized  by the Human Resources team, this is an opportunity where people can be nominated to win a reward based on their work that goes above and beyond. More to come at the forums…..
Respectfully, Chris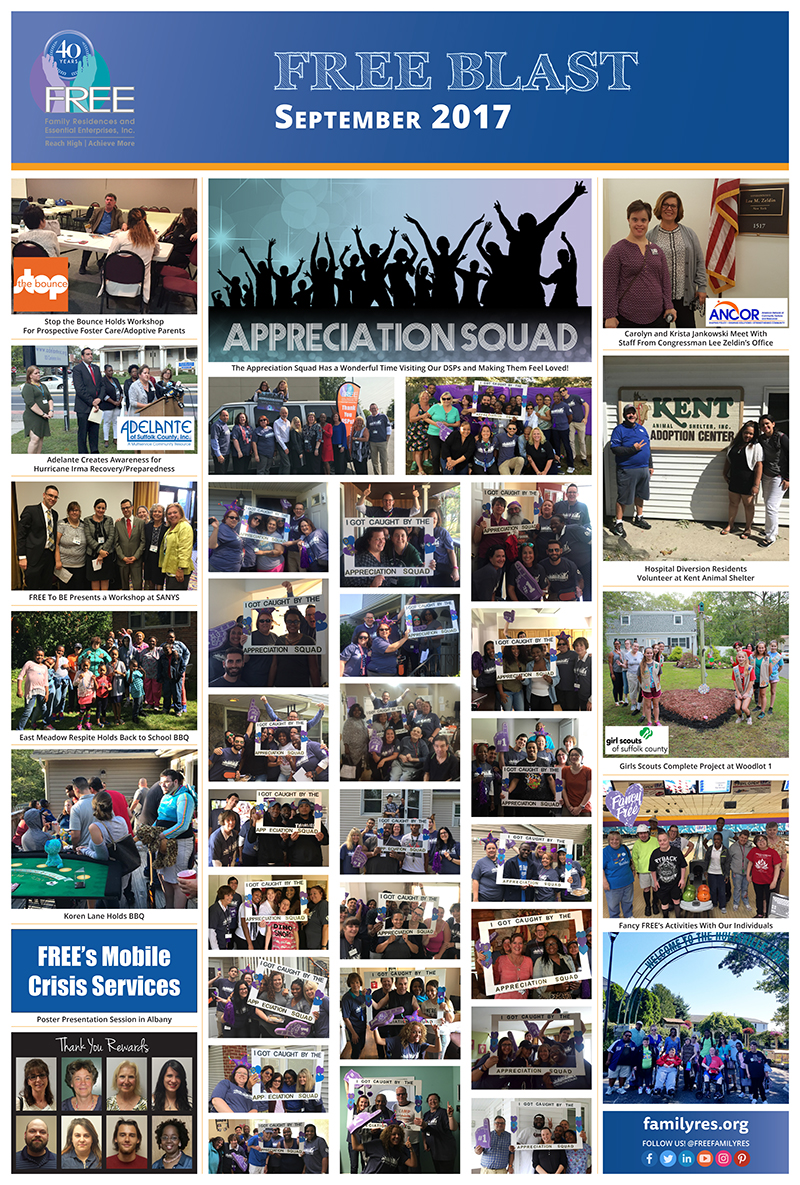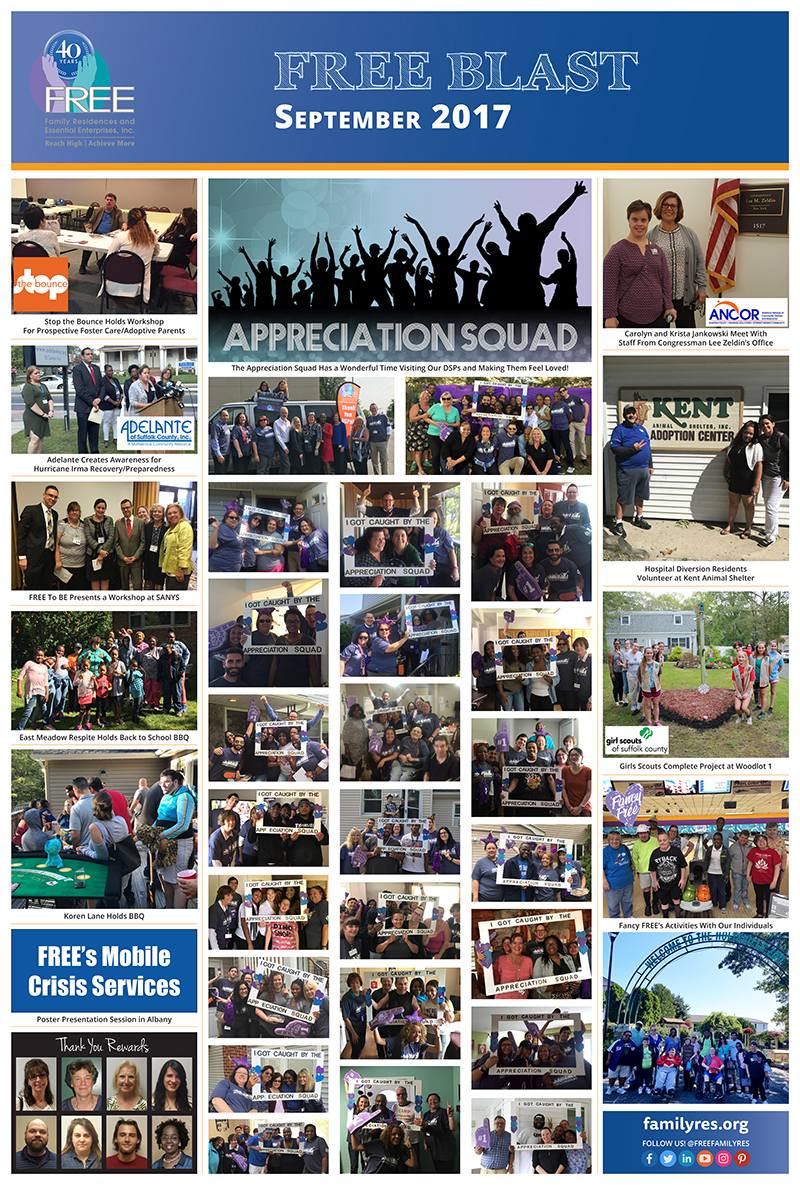 CLICK HERE FOR THE FULL-SIZE POSTER
Stop the Bounce Holds Monthly Workshop
The Stop the Bounce Prospective Foster Care/Adoptive Series held its second monthly workshop on the topic of Key Foster Care and Adoptive Parenting Skills. This informative and interactive workshop was led by Pat O'Brien, founder and former executive director for 18 years of You Gotta Believe, the Older Child Adoption & Permanency Movement, Inc. Pat is the Long Island-Rockland County Director for the Adoptive and Foster Family Coalition and President of the NYS Citizens' Coalition for Children, as well as an adoptive parent himself. Everyone who attended learned key parenting skills to ensure the most success, as well as tips and techniques to bring out the best in each child. The next workshop will be held on October 24 and will focus on "Parenting Through the Eyes of Understanding." For more information or to RSVP, contact Regina Savarese at 516-870-1600, ext. 1863; 516-265-3631; or RSavarese01@FamilyRes.org. Values of Responsiveness and Innovation
Adelante Creates Awareness for Hurricane Irma Recovery/Preparedness
Adelante and Assemblyman Lupinacci are partnering together to support those affected by Hurricane Irma in Puerto Rico. Adelante is currently accepting donations of goods needed for the recovery efforts. To find out ways you can help, please contact Olga El Sehamy at OElSehamy01@AdelanteSC.or. Value of Responsiveness
FREE To BE Presents a Workshop at SANYS
Self-advocates from FREE To BE, the Eastern Long Island GSA and Forbidden Fruits presented a workshop at the Office for People With Developmental Disabilities (OPWDD) Commissioner's Forum at the Annual Statewide Conference of the Self Advocacy Association of New York State (SANYS). OPWDD Acting Commissioner Kerry Delaney participated in this workshop, entitled "Over the Rainbow! The LGBTQ I/DD Movement Comes Out of the Closet!" This two-hour workshop invites attendees to hear about and discuss options for the formation of an LGBTQ Advocacy Coalition in New York State. To learn more about where else this workshop is taking place, please contact Claire Miller at 516-870-1645 or CMiller02@FamilyRes.org. Values of Diversity, Responsiveness, Innovation and Quality
East Meadow Respite Holds Back to School BBQ
Our East Meadow Respite Program held their Annual Back to School BBQ where they invite the families of the Individuals who live at homes throughout Nassau and Suffolk counties. This is an effort to advertise the Respite Program and introduce people to this service. At the barbecue, the Valued Team Members provides hotdogs, hamburgers, snacks, fruits and beverages. The families come and get a tour of the program, ask questions, as well as meet the Valued Team Members who work at that location. Because this is a family program hosted by an agency that is family-oriented, Valued Team Members' children are there to assist by giving the tours of the house, and interact and create arts and crafts with the Individuals. The Individuals that are currently staying at the East Meadow Respite Program are also included and will sometimes do the tours, as well as give information on the Program and provide testimonials about how happy they are when they visit the Respite Program. For more information on the East Meadow Respite Program, please contact Anu Arnold at AArnold@FamilyRes.org. Values of Responsiveness and Innovation
Koren Lane Holds BBQ
The Koren Lane residence recently held a barbecue. Koren Lane Supervisor Kevin A. Prego gave out gift cards to the highest roller and had his friend DJ at the event. A great time was had by all who attended. Values of Responsiveness and Innovation
Poster Presentation Session in Albany
FREE was asked to participate in the Poster Presentation Session in Albany, where OPWDD providers were asked to discuss the success of the projects that they implemented as part of the BIP grant. FREE was asked to present on their Enhanced Mobile Crisis Team in Nassau County. MeeSha Chan represented FREE and she was able to network with different providers. She spoke of our success with the Nassau and Suffolk Enhanced Mobile Crisis Program, which has helped reduce hospitalizations, 911 calls and residential placements due to the program support for the Individuals at home. She also discussed our current program, the Mobile Crisis Unit, and what the program entails. Values of Responsiveness and Innovation
Thank You Rewards
The Thank You Rewards is a program that has gone without the proper recognition it deserves for way too long. It consists of Valued Team Members, and in some cases, Individuals, who have recently performed an act that made them stand out from the crowd and get nominated. This month alone we have eight great stories to share with you. Mary Dicciani, a Registered Nurse, has been a rock for the Middle Island program during a time of management turnover and staffing crises. She has stepped out of her role as the RN to ensure shopping is complete, Individuals are engaged in active treatment, staff are trained in all areas — not just in her discipline — and has provided staffing coverage herself when the program was short staffed. Mary truly serves as a role model to other nurses on how to be a true team player and put the needs of the program and Individuals first, regardless of what the need may be. As the program has gone through transition, she has remained committed and focused and the Individuals have truly benefited from her assisting in all aspects of their care. Elizabeth Accetella, another Registered Nurse, has consistently assisted with ensuring other programs receive the nursing support they require. She has willingly accepted additional on-call responsibilities for residences outside of her caseload and has assisted with completing AMAP medication pours at various programs, including Day Services West, to ensure our DSP staff are fully trained and certified to administer medications to the Individuals they support. Elizabeth also assisted with providing diabetic training at the Smithtown IRA and wound care at the Westbury IRA, both of which show her commitment to the Individuals we support regardless of whether they are on her caseload. Earlier in the year, Monica Glamore, also a Registered Nurse, had increased her hours so that she could support the Koren IRA during a time of need. Without hesitation, she took on the program to support the medical needs of a behaviorally complex group of Individuals during a 45-day letter. Monica showed a vested interest in the program and dedicated her time to improving the quality of care the Individuals received and provided necessary training consistently to the team. Her efforts were validated by the return visit by DQI where the improvement was noticed. Jillian Brunner, from Day Hab in Bethpage, was recently nominated for a Thank You Reward. She is part of our Backstage PWW staff and her entire group is in the community on a daily basis. We were informed of a situation that she was able to problem solve independently, which is tremendous. Jillian is also a coach for the Color Guard and helps choreograph the theater productions. We are lucky to have her and want to thank her for her dedication. Kevin Merkel, also from Day Hab in Bethpage and works in theater, was nominated for a Thank You Reward. Kevin took it upon himself to create a new brass section for the Drum Corps. Kevin has been working tirelessly to teach our individuals new instruments. He has also taken these individuals out in the community so that they can bond and become comfortable with each other and learn to trust each other and create a positive environment for those involved. Rebecca Geiger, also working in the creative arts arena, has created an American Sign Language troupe. She is currently working with the group on learning songs so that they can travel with the FREE Players Ensemble and sign the music they are singing. Rebecca has been so patient and working extremely hard on this project. Moving on, the other day there was an emergency out in the community where an Individual fainted and became injured. One of our staff, Rob Veselovsky, handled the situation very calmly and had to carry our injured Individual out of a hiking trail. He kept the entire group calm and controlled the situation amazingly! It is in these situations where we see how great our staff are at handling these intense scenarios. From beginning to end, Rob was "calm, cool, and collected." When met at the emergency room, he was giving all the appropriate information needed for doctors to know how to treat our hurt friend properly. Everyone was so proud of Rob and how he handled this situation! While Rob was carrying the Individual, the 911 dispatcher needed to stay on the phone with someone so they can continue to locate the group while in the park. Rob needed to give the phone to one of our participants, Samantha M. Sam was so calm and mature during this entire situation; she gave great details of what was happening and where they were going. While we never want our Individuals to have to be in this situation, Sam handled it with the poise of a seasoned staff member! Donette Walrond was also nominated for a Thank You Reward. She took the initiative to start a collection of water bottles to donate to Mexico and Puerto Rico. No one asked her to do this; she said that she saw the need so she is responding to it. If you would like to nominate someone for a Thank You Reward, please contact Pat Hogan at PHogan@FamilyRes.org. Winners of a Thank You Reward receive a gift card and thank you card to show our appreciation. Values of Integrity, Diversity, Responsiveness, Innovation and Quality
The Appreciation Squad Has a Wonderful Time Visiting Our DSPs and Making Them Feel Loved!
At each program, the Appreciation Squad, comprised of various members of the Leadership Team and volunteers from numerous departments, would arrive with the song "We Are Family" playing. They would come in dancing, getting the DSPs to join in and have some fun. Following their arrival, the Appreciation Squad would give them hats and cookies; certificates of recognition and thank you cards from Robert S. Budd, CEO of FREE, and Dr. Christopher D. Long, President of FREE; take pictures and dance again on the way out! Stay tuned, as the winners of the three raffle prizes will soon be announced!!! Values of Integrity, Diversity, Responsiveness and Innovation
Carolyn and Krista Jankowski Meet With Staff From Congressman Lee Zeldin's Office
Carolyn and Krista Jankowski met with staff from Congressman Lee Zeldin's Washington, DC office as part of the ANCOR Leadership Summit that was held on September 19th. Value of Responsiveness
Hospital Diversion Residents Volunteer at Kent Animal Shelter
Residents from the Hospital Diversion Program recently went to the Kent Animal Shelter in Calverton to volunteer. Individuals had the opportunity to play with the animals at the shelter to help them socialize. Residents David M., Nicole S. and Emily R. played with both cats and dogs, in addition to taking the dogs for a walk and cleaning up after them. Residents look forward to being able to go to the shelter in the future on a more regular basis. Values of Innovation and Quality
Girls Scouts Complete Project at Woodlot 1
As part of our efforts to more fully integrate our Individuals within the community, FREE welcomed members of Suffolk County Girl Scout Troop No. 1853 to two of our residences for Individuals with intellectual/developmental disabilities. The Girl Scouts moved hostas, planted flowers, created signage, painted stepping stones, and made wind chimes and birdhouses. The Girl Scouts project at FREE also had to include sustainability, so many of the items they made were from recycled components. The project is part of their Silver Award — the highest award a Girl Scout Cadette can earn. Individuals in FREE's residential programs received skills development in such areas as socialization, recreation, problem solving, personal development, activities of daily living, travel training, health care and medication maintenance, and many more. Values of Diversity, Responsiveness and Interdependence
Fancy FREE's Activities With Our Individuals
Fancy FREE has had a busy month with our Individuals. On one occasion, they had a fun time bowling. On another adventure, they went to visit Holtsville Ecology Center where the participants enjoyed seeing and petting all the animals. Values of Responsiveness and Innovation