FREE BLAST-OCTOBER 2019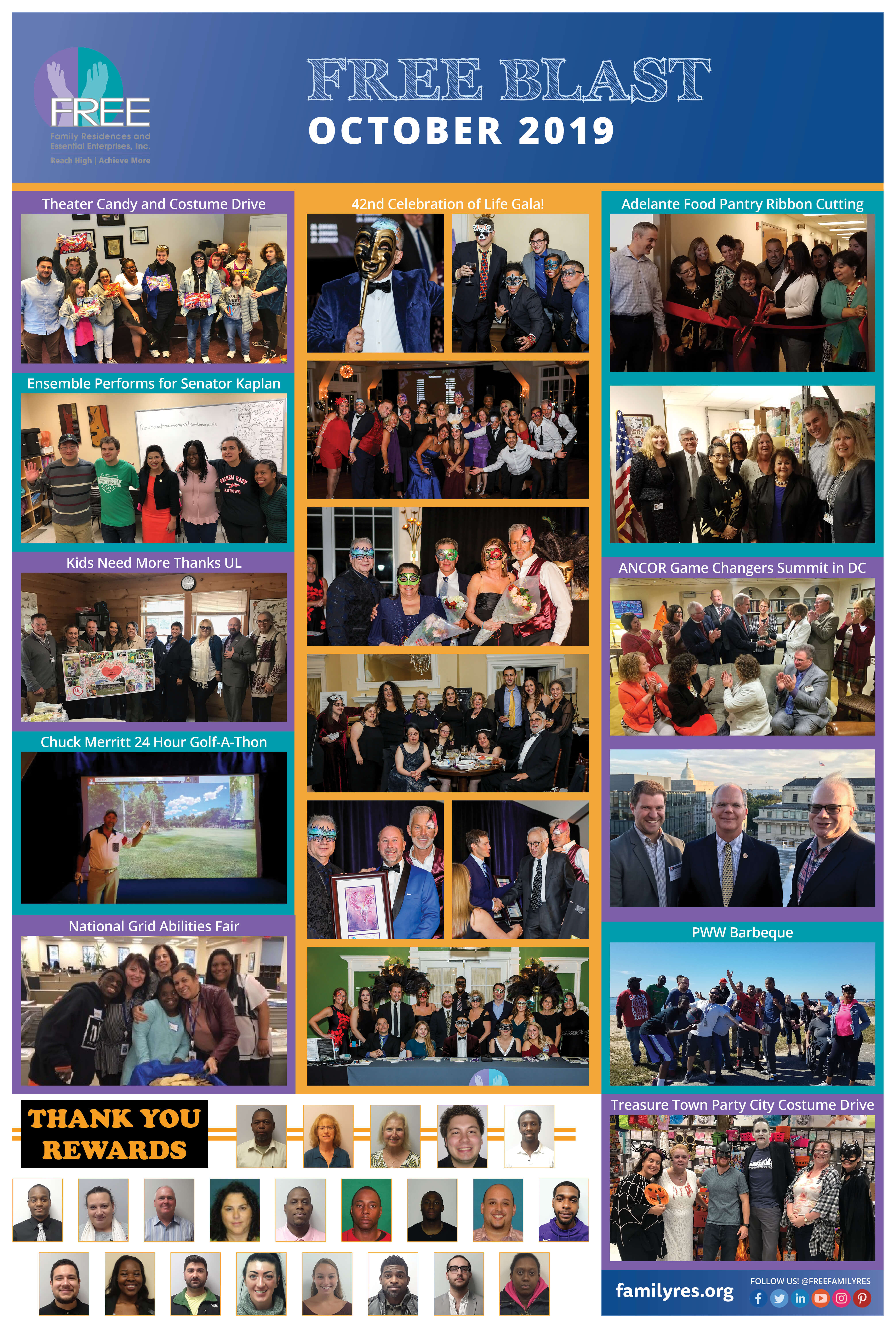 Hello All
October was a month of celebration, including, of course, our 42nd Annual Celebration of Life Gala! Again, we celebrate the many moments the Individuals we are so proud to serve had the opportunity to shine and showcase their incredible talents.
Respectfully,
Chris
Theater Candy and Costume Drive
The FREE Players Performing and Creative Arts program held a candy drive to support Assemblywoman Kimberly Jean Pierre Annual drive for Halloween candy and costumes! Happy Halloween to all!
Senator Kaplan Visits FREE
State Senator Anna Kaplan visited our Bethpage facility to learn more about the people that we serve and gave a statement on her visit; "Being a Senator is a lot of responsibility, and a lot of work, but today I was reminded of how blessed I am to have the opportunity to meet so many incredible people from across Long Island and across New York State. Thank you to the FREE Players Ensemble at  for putting on a great show for me this morning and leaving me with a great big smile on my face!" Thank you Senator Kaplan for spending the day with us!
Kids Need More Thanks UL
Saddle Rock Ranch had a thank you award ceremony for the volunteers from UL for their help with Kids Need More Camp this past July. UL was presented with a banner by Kids Need More and a certificate of thanks was given by FREE. Volunteers do priceless work for that we are grateful for UL.
24 Hour Golf-A-Thon
FREE's 2019 Philanthropist of the Year, Chuck Merritt, embarked on a unique journey to raise funds as well as awareness for FREE through a 24 hour golf simulator marathon at SIMPLAY Entertainment in Hauppauge. Using the SIMPLAY golf simulator, Chuck completed over 50 rounds of golf and hit over 900 golf balls playing different virtual golf courses from all over the world!
FREE Players at National Grid Abilities Fair
Our FREE Players Ensemble is always out and about putting on fantastic performances, you never know when they are going to show up. This month they got to perform for everyone in attendance at National Grid's Abilities Fair.
Mary Holzmann and the Enabling Disability Confidence Employee Resource Group (ERG) changed lives in a big way when they paired young college graduates with National Grid employees to give people with disabilities a chance to shine. Through the EmployABILITY program, some of these students were hired, full-time, for their benefit.
42nd Celebration of Life Gala
FREE celebrated their 42nd Annual Celebration of Life Gala on October 24th at The Bethpage Heritage Club. The night was a huge success and everyone had a wonderful time. Special thanks to all of our honorees, sponsors, donors, Valued Team Members and everyone else who helped make the evening such a magnificent affair. This special event pays tribute to exceptional leaders and humanitarian partners who are dedicated to our mission and have made outstanding contributions to our community. It serves both as a major fundraising event and as a friend-raising cultivation event. It is our generous supporters that enable FREE and their valued affiliates to continue the mission to help individuals of all abilities realize their full potential. This year's honorees were Shelly Goldstein, for a lifetime achievement award, and Chuck Merritt, named Philanthropist of the Year. There were amazing performances by Heather Parcells a Broadway Performer and FREE's very own FREE Style Dancers. The Master of Ceremonies for the evening was Joe Fusco. Throughout his diverse career as an actor and local journalist, Fusco has been nominated 15 times for an Emmy, winning once for Outstanding Investigative Journalism. He is active in supporting meaningful missions, including FREE's goal of helping individuals of all abilities realize their full potential.
Adelante Food Pantry Ribbon Cutting
On Thursday, October 24th, Adelante opened the new Food for Thought Pantry at the Long Island Select Healthcare (LISH) in Central Islip. Adelante will be using this food pantry to directly serve local residents who suffer from hunger and food insecurity.
ANCOR Game Changers Summit
ANCOR (American Network of Community Options and Resources) held their Game Changers summit in Washington DC! Robert S. Budd, CEO of FREE and Co-Chair of ANCOR's Included. Supported. Empowered. Campaign, was on hand with FREE Team members as leaders met with members of Congress and fellow national experts to help us find the best ways to get outcomes for the people we serve! Tyler an individual with FREE and Wai Ng also joined the FREE team to advocate for disability rights alongside ANCOR. #GameChangers19
PWW Barbecue
We are in full fall mode now but that doesn't mean we didn't end the summer on a great note. Some of our PWW groups ended the year with a BBQ that was filled with great food and sports. How did you celebrate the end of your summer?
Treasure Town Halloween Event
Thanks to Party City, children of Valued Team Members got to go to the store and pick out their own costumes. Special thanks to all who contribute to Treasure Town, as it allowed FREE to provide our Valued Team Members with approximately 100 costumes this year, putting huge smiles on the children's faces that received them.
Thank You Rewards
FREE has been sharing with everyone the Thank You Rewards, showcasing the Valued Team Members who go above and beyond what is required of them. It is our honor to announce this month's nominees: Thomas Edwards, Shari Morales, Monica Glamore, Michael Pacifico, Kyle Dawson, Ky-mani Harrison, Janice Kennedy, Gregory O'Brien, Giacomina Dainotto, Eric Matthews, Duane Thompson, David Hibbler, David Barhome, Dante Yuanis, Cristian Ortiz, Cierra Calliste, Chelsea Barbieri, Brianna Mellon, Branden Wollack, Andrew Iveaugh, and Amanda Legros. These Valued Team Members have exhibited behavior that inspires all of us to go the extra mile. If you would like to nominate someone for a Thank You Reward, please contact Pat Hogan at PHogan@FamilyRes.org. Winners of a Thank You Reward receive a gift card and thank you card to show our appreciation.