May was a busy month with events which marked the achievements of the people we are honored to support as well as many of our team members.  With the official kickoff of summer upon us, we look forward to another event-filled month ahead – including the Job Expo, PrideAbility and the KiDS NEED MoRE open house – all leading up to the Hotdog Dash in July.
Respectfully, Chris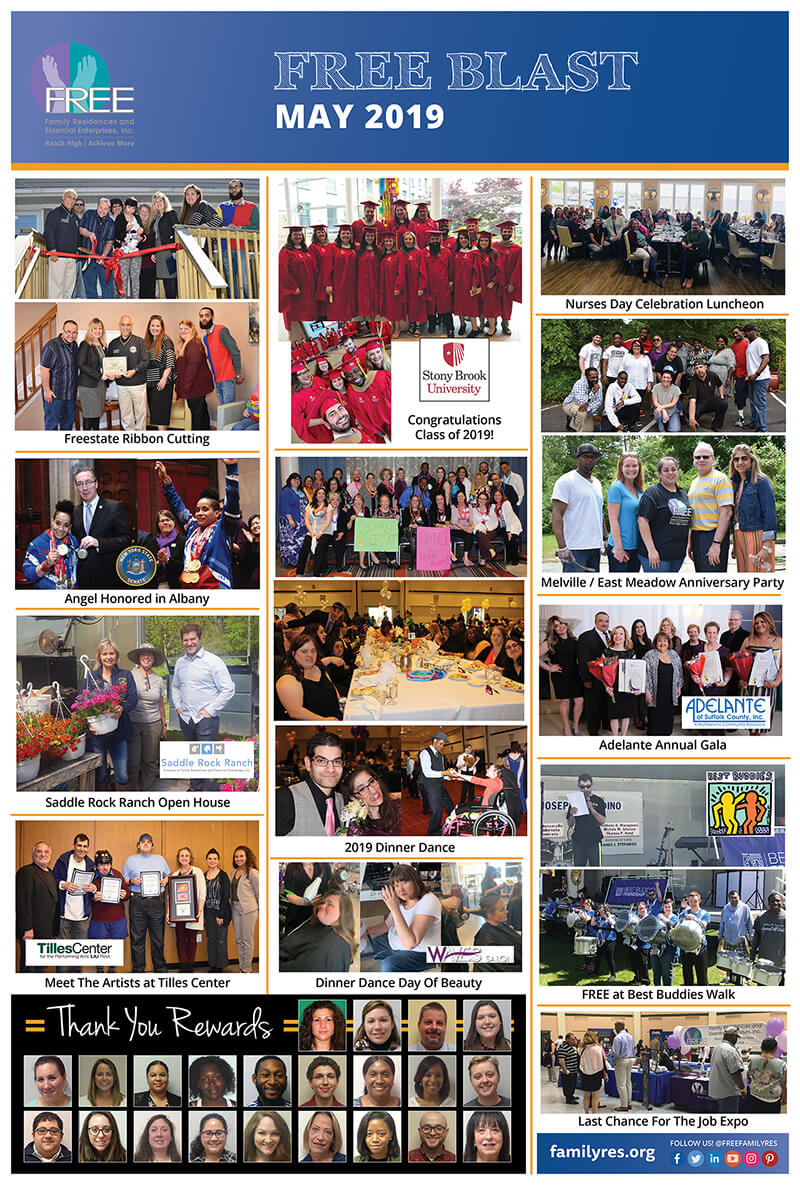 Chick HERE to download a poster-sized version of the Blast!
Freestate IRA Ribbon Cutting
FREE hosted a ribbon cutting and open house at their new residential home in Shirley on Freestate Drive. The team and people we support connected with Assemblyman Joseph DeStefano who presented the staff with the New York State Assembly Certificate of Merit. The home has many spacious bedrooms, two cozy TV rooms, a large eat-in-kitchen, and a huge backyard! Congratulations to everyone who contributed to the opening, especially the construction team who paid attention to every detail and went beyond our expectations.
Angel In Albany
We were extremely proud to hear that Angel Athenas was honored by her Senator Jim Gaughran and Senator Phil Boyle, as well as her Assemblyman Steve Stern and Assemblyman Raia on the floor of the NY Senate and NYS Assembly in Albany.  This honor is only bestowed upon NYS residents who exemplify the utmost perseverance and dedication to bettering themselves and the communities with which they live. Angel's triumphant trip to the Special Olympics, in which she won four gold medals, was just one of the achievements she received two standing ovations from all those in attendance.
Saddle Rock Ranch Open House
Suffolk County Legislator Sarah Anker attended the Open House at Saddle Rock Ranch to see the unique and individualized vocational services they offer for both youth and adult populations. She was given a tour of the greenhouse where plant care and gardening techniques are taught as part of the agricultural program, and where the students prepared for the annual FREE Spring flower sale. She also met some of the animals who are cared for in the training and ranch management course. Saddle Rock Ranch is a 15-acre working ranch and is part of the FREE Network
Meet the Artists at Tilles Center
FREE held a Meet the Artists Reception to honor those who participated in creating the ASCENSION collection in our Fine Art and Art Therapy Programs. All of the paintings will be exhibited at the Tilles Center for the Performing Arts at LIU Post through June 12, 2019. Each painting illustrates the artists' connection to our world and with depictions of different elements of nature. The artists worked through nine stages of creation, from beginning sketches in pencil to learning how to handle pastels, watercolors and finally acrylic paints.
Congratulations Class of 2019
Several FREE Valued Team Members attended a commencement ceremony at Stony Brook (SBU) to mark the first graduating class of employees from the School of Professional Development (SPD) Human Services Program. This pilot program allowed 22 FREE employees to attend SBU classes at FREE's Old Bethpage headquarters and online while earning credit towards their master's degree. We wish to offer them a special congratulations on their commitment to achieving their educational and training goals. As a learning organization, FREE is committed to ongoing education and professional development for all of its Valued Team Members and encourage all those eligible to take advantage of our tuition assistance benefit and the learning opportunities available within the FREE network. Please log onto our employee resource portal and click on the Benefits widget.
28th Annual Dinner Dance
More than 600 people attended this year's Annual Dinner Dance, which was held at the Hilton Long Island. Everyone who came to party had such an amazing time! Between the food, dancing, mingling and photo booths, there was never a dull moment throughout the night.  Everyone is already looking forward to next year's Dinner Dance – they just can't get enough! If you are a Valued Team Member at FREE, be sure to log in to the newly redesigned portal, where you can find a photo album of this year's dance.
Dinner Dance Day Of Beauty
A few of our individuals were given movie-star worthy pampering at Waves Salon to prepare for the Dinner Dance thanks to a generous donation from Steve at Pro-stripes. The Waves Salon is a FREE Business Directory member, and their team did the ladies' hair, nails, and make-up and made each feel like a princess. The confidence and excitement radiated was beautiful, and it was only amplified once they were dressed and walked down the red carpet into the dance. Thank you, Freddy and your team, at the salon; your partnership made this idea such a success. And to Steve; we hope you were able to see firsthand how much your gift meant to these ladies.
Thank You Rewards
FREE has been sharing with everyone the Thank You Rewards, showcasing the Valued Team Members who go above and beyond what is required of them. It is our honor to announce the May nominees: Diane Cammarata,  Kara Chevlin,  Steven Cohen,  Samantha Dayton,  Alicia    Distefano,  Caitlin Dunne, Veronica Garcia, Yanique Hazzard,  Marcus Jones, Wyatt Massey-Williams,  Sharon Mccowan,  Sheena Mccoy,  Megan Mckinney, Isaac Nahon,  Maria  Pelosi,  Lorianne  Raji,  Loren  Schinina,  Melissa  Siegel,  Robin Stone,  Nerissa  Williams,  Michael Zayas, and Sheila Zayas. These Valued Team Members have exhibited behavior that inspires all of us to go the extra mile. If you would like to nominate someone for a Thank You Reward, please contact Pat Hogan atPHogan@FamilyRes.org. Winners of a Thank You Reward receive a gift card and thank you card to show our appreciation.
Nurses Day Celebration Luncheon
FREE celebrated National Nurses Week by acknowledging our valued nursing team with a lunch at The View in Oakdale. We wish we could bestow this honor with them daily; they are truly the heroes of our team. We acknowledge that our field does present unique opportunities and their role is multi-faceted which requires them to wear many hats. They are healers, expert assessors, advocates, teachers, confidants, and valued colleagues. For these and many more reasons, we thank each and every one of you for the part you play in contributing to the high standard of nursing excellence.
Melville / East Meadow Anniversary Party
We were so lucky to have perfect weather for a party to acknowledge the anniversaries of these two special homes. East Meadow Respite, which opened 30 years ago, celebrated their landmark year at Melville Crisis, which was commemorating 32 years!  Both homes have and will always be a safe and supportive place for individuals requiring more structure and/or a family crisis. The day was filled with food, fun and entertainment.
Adelante Gala
Adelante's annual gala was held on May 10, 2019 at Villa Lombardi in Holbrook, NY.  Adelante honored Cheryl Keshner of Empire Justice, Dafny Irizarry, Long Island Latino Teachers Association and Narcisa Macias of National Grid; all of whom have been great supporters of Adelante's community projects through the years. The event was a wonderful success!
FREE at Best Buddies Friendship Walk
FREE was represented at the Best Buddies Friendship Walk at Marjorie Post Park in Massapequa. Aidan Price from FREE's after-school program was selected as this year's student ambassador for the Long Island Region and gave a speech about the importance of inclusion. He participates in the Best Buddies chapter through Mt.Sinai/FREE. The FREE Players Drum Corp performed at the walk as well. The Best Buddies Friendship Walk is the number one walk in the country raising awareness and funds to support inclusion for individuals with intellectual and developmental disabilities (I/DD). It is a program dedicated to one-to-one friendships, leadership development, integrated employment, and inclusive living opportunities for individuals with I/DD. Congratulations to all who attended, especially Aidan and our Drum Corps.
Last Chance For The Job Expo
The 2019 Job Expo is only days away! Our annual Community Partnership Forum and Talent Connection will be held on Friday, June 7 from 9:00 a.m. – 2:00 p.m. at Farmingdale State College – Roosevelt Hall. We are pleased to be partnering this year with ACLD, Life's WORC, Skills Unlimited, and TRI. Please share this information with your programs or others who you believe would benefit from this special event. It is a great opportunity for people who are differently-abled to meet with recruiting representatives from businesses throughout Long Island. Go here for more information.