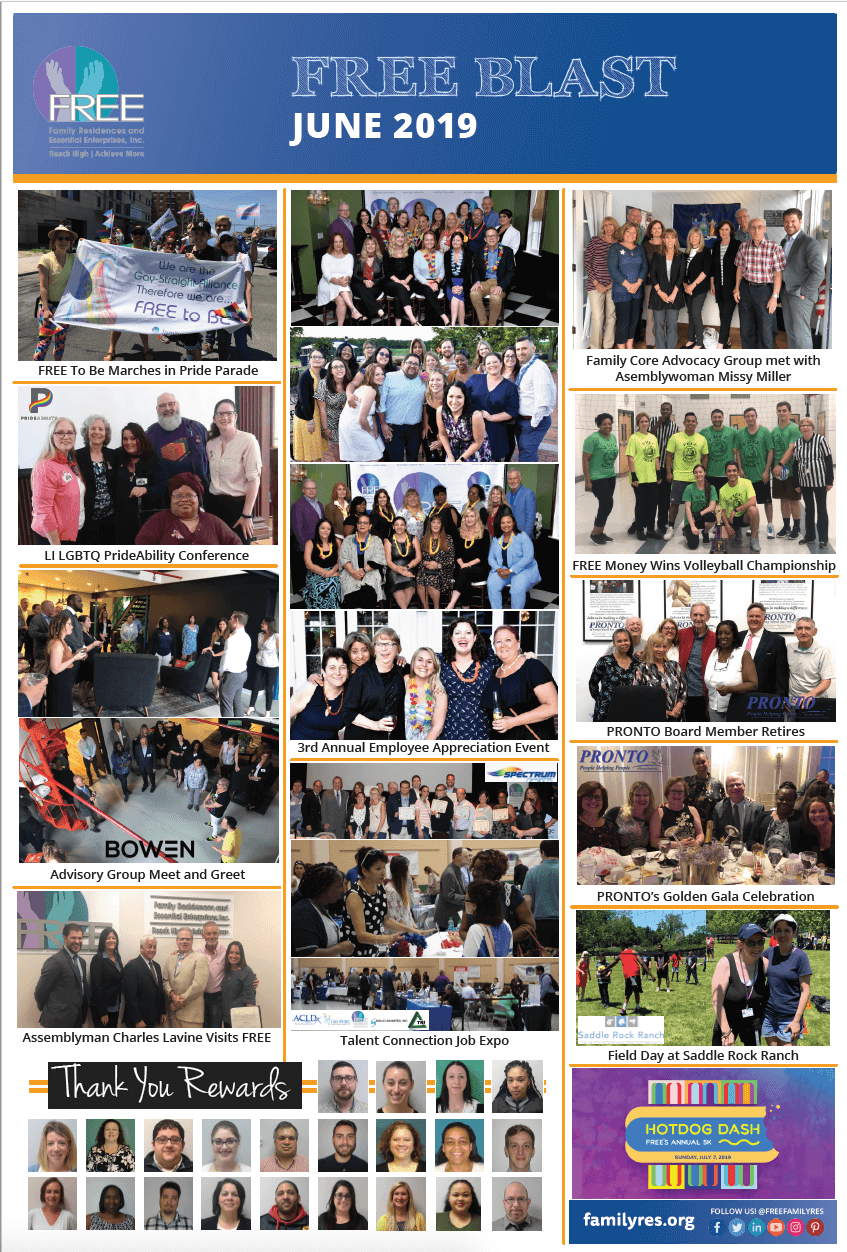 FREE To BE Marches in Pride Parade
The FREE To BE group had a great time marching in this year's pride parade. They also had a wonderful experience participating in the Market Fair in Long Beach. Special thanks to the LGBT Network for another amazing pride weekend. FREE To BE is looking forward to next year's festivities!
Long Island LGBTQ PrideAbility Conference
The PrideAbility Living Your Best Life Conference was hosted by AHRC on June 5th in their Brookville Mansion. 90 people from across Long Island and New York State attended including Robert S. Budd, CEO, FREE, Stanfort Perry, Executive Director, AHRC Nassau, Jackie Hayes, NYS Developmental Disabilities Planning Council (NYS DDPC), Kay Broughton, NYS DDPC and Priya Nair, Diversity and Inclusion Fellow, Office of Governor Andrew M. Cuomo.  It was the first of its kind Long Island LGBT Regional Conference which provided people who stand at the intersection of identifying as LGBTQ as well as being a part of the community of people with disabilities, a unique opportunity to learn, grow and connect. Brooke Guinan, FDNY Firefighter and Human Rights Advocate, the sister of a woman receiving services, was the keynote. We will be hosting more LGBTQ Regional Conferences across New York State!
FREE's Advisory Group Meet and Greet
What an amazing night! FREE made many new connections. Special thanks to the Advisory Group for making the connections and Bowen Media for letting us use your amazing space. The night was enjoyed by all!
Assemblyman Charles Lavine Tour
Assemblyman Charles Lavine toured FREE's Old Bethpage facility and presented a proclamation to Nicole Carter for completion of the Stony Brook Masters program. Thank you, Assemblyman, for being so supportive of FREE's mission.
Thank You Rewards
FREE has been sharing with everyone the Thank You Rewards, showcasing the Valued Team Members who go above and beyond what is required of them. It is our honor to announce the June nominees: Nina Armstrong, Bill Fircz, Michelle Gicz, Brittany Governale, Nolan Hammer, Glenn Holt, Jennifer Marzigliano, Jessica McCarrick, Danielle Mills, Mike Minasi, John Muldoon, Isaac Nahon, Diane Naughton, Jenna Provenzano, Robin Robinson, Christine Scarpinato, Patricia Simpson, Shaina Stroh, Jamal Tinsley, Jessica Warish, Kenneth Weinheim, and Kathleen Wood. These Valued Team Members have exhibited behavior that inspires all of us to go the extra mile. If you would like to nominate someone for a Thank You Reward, please contact Pat Hogan atPHogan@FamilyRes.org. Winners of a Thank You Reward receive a gift card and thank you card to show our appreciation.
Third Annual Employee Appreciation Event
This year's Employee Appreciation Event was held at The Heritage Club in Farmingdale. More than 400 Team Members gathered to have fun, enjoy delicious food and honor those who either hit milestones this year, or went above and beyond to help the agency succeed. The longevity certificates were handed out to those celebrating 10, 15, 20, 25, and 30 years with FREE. Other Team Members acknowledged were Movers and Shakers, True Team Players, and Going Above and Beyond. Team Members can visit the Employee Portal to see more photos from the event.
"Talent Connection" Job Expo a Huge Success
This year's Job Expo had a great turnout. Hundreds of people attended the various workshops, exhibitor tables and Community Partnership Forum that took place at Farmingdale State College. The keynote speakers included Patrick Bardsley, CEO, Spectrum Designs and Josh Mirsky, Spectrum Designs. The event also included success stories and "Top Star" Employer Awards. This year, the Job Expo was hosted by ACLD, FREE, Life's WORC, Skills Unlimited and TRI.
FREE's Core Family Advocacy Group met with Assemblywoman Missy Miller
FREE's Core Family Advocacy Group met with Assemblywoman Missy Miller in her Atlantic Beach district office to discuss the latest news in Albany and what it takes to be a great parent advocate. Thank you Assemblywoman Missy Miller for taking the time to meet and showing how we is more powerful than you or I.
FREE Money Wins Volleyball Championship
At the end of the season, FREE Money the defending champs took the trophy for the third time. Congratulations FREE Money!!!
Frank Sinisi PRONTO Board Member Retires
PRONTO Board meeting was very special and very touching. Long time Board member and dear friend Frank Sinisi retired from the Board. Frank was a beloved and respected leader and a truly good and kind man. We will miss you Frank!
PRONTO'S Golden Gala Celebration
PRONTO'S Golden Gala on June 5th was a rousing success! Pronto celebrated their 50th anniversary with fanfare and excitement. Thanks to all who made this event so memorable and congratulations to the honorees. Once again, the joy of being a part of PRONTO was evident everywhere you looked!
Field Day at Saddle Rock Ranch
Saddle Rock Ranch had some summer fun! The day included bean bag toss, water relay, and an intense game of volleyball with a score of 21 – 17.
Last Chance for the Hotdog Dash!
FREE is excited to host our first annual 5K, the Hotdog Dash! It will take place Sunday, July 7th at Old Bethpage Village Restoration. We invite people of all ages and abilities to join together to walk, run, roll or stroll through this historic Long Island landmark.  Following the race and award ceremony will be a barbeque, including food, beverages, local business displays, games, and raffles! Click here for more details and registration info https://www.familyres.org/event/hotdog-dash-frees-annual-5k/