Hello All,

June was a great representation of how FREE helps members of the community obtain employment. Both the Job Expo and Employment Readiness Workshop empower the people we support to learn about various aspects of obtaining and sustaining meaningful work. Also, the Employee Appreciation Event is a wonderful example of how companies may say "thank you" for a job well done.

Respectfully, Chris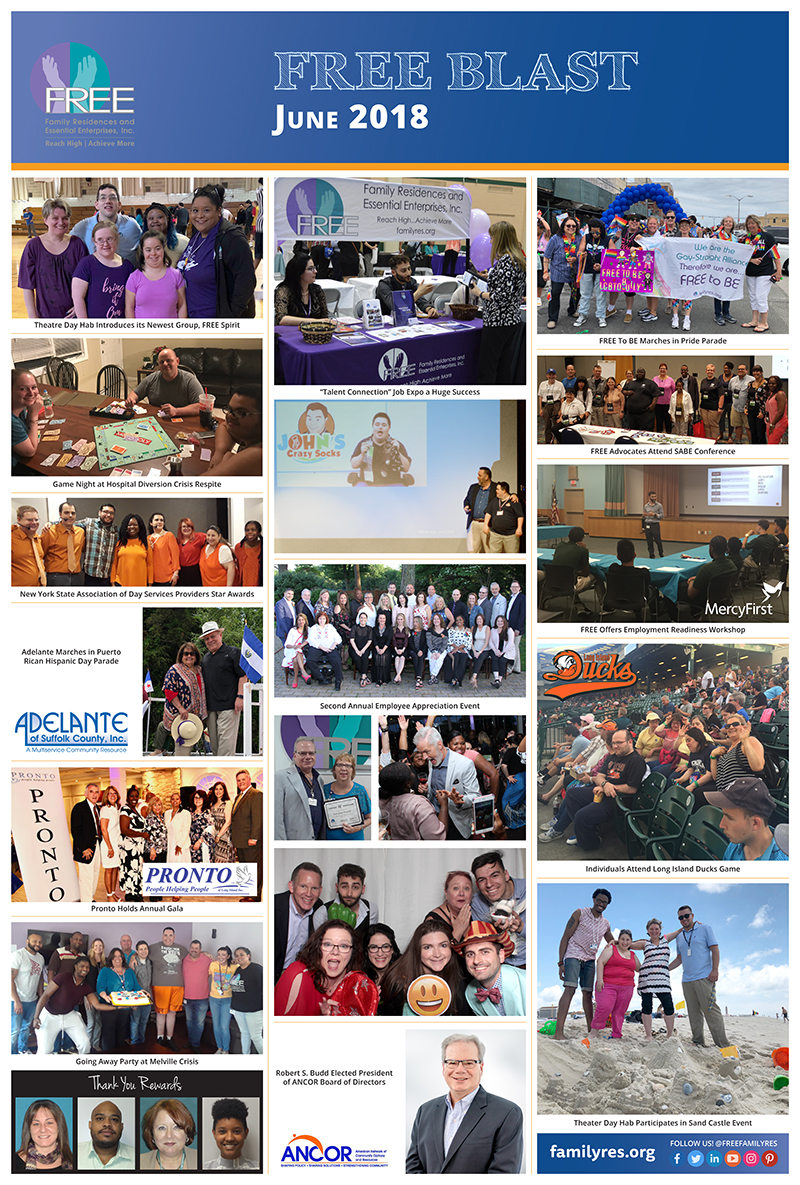 For the full-sized poster, click here!
Theatre Day Hab Introduces its Newest Group, FREE Spirit
Alexis Kolarik started the FREE Spirit cheer team because she believes cheer is something that brings happiness to everyone. It helps the more shy Individuals come out of their shell, teaches teamwork, as well as good sportsmanship, and promotes positivity. They currently cheer for the basketball team and will start to cheer for other teams in the future. Alexis is hoping to have them involved in competitions and possibly parades, and is looking into having them work with professional cheerleaders and sports teams. 
Values of Integrity, Diversity, Innovation and Quality
Game Night at Hospital Diversion Crisis Respite
Individuals and Valued Team Members enjoyed game night at Hospital Diversion Crisis Respite, where those present participated in a game of Monopoly. The night provided a relaxed atmosphere to allow residents respiting at the site to get to know each other and the staff. Game night was a great success and residents are looking forward to more in the future.
Values of Responsiveness and Innovation
New York State Association of Day Services Providers Star Awards
Two deserving Valued Team Members were honored at this year's New York State Association of Day Services Providers Star Awards — they were Rebecca Geiger and Edwin Gomez. At this event, the FREE Players Ensemble also performed. 
Values of Diversity and Innovation
Adelante Marches in Puerto Rican Hispanic Day Parade
The 52nd Puerto Rican Hispanic Day Parade opened with Adelante's Senior Program's float, as well as Adelante's youth carrying the 22 Hispanic flags. The day was enjoyed by all, and next year's event is already anticipated.
Values of Integrity, Diversity and Innovation
Pronto Holds Annual Gala
This year, Pronto held its annual gala at The Watermill in Smithtown. Many donors and friends of Pronto were in attendance, showing their support for this community outreach center serving children and families living in Brentwood, Bay Shore, Central Islip and the neighboring communities.
Values of Responsiveness, Stewardship and Innovation
Going Away Party at Melville Crisis
The Melville Crisis team celebrated Louis on his exciting move into a new residence. He will be greatly missed!
Values of Responsiveness and Quality
Thank You Rewards
As a way to extend DSP Appreciation Week, FREE has been sharing with everyone the Thank You Rewards, showcasing the Valued Team Members who go above and beyond what is required of them. It is our honor to announce June's nominees: Christina Arnao, Herve Bleus, Pat Hogan and Devanee Septh. These Valued Team Members have exhibited behavior that inspire all of us to go the extra mile. If you would like to nominate someone for a Thank You Reward, please contact Pat Hogan at PHogan@FamilyRes.org. Winners of a Thank You Reward receive a gift card and thank you card to show our appreciation.
Values of Integrity, Diversity, Responsiveness, Stewardship, Interdependence, Innovation and Quality
"Talent Connection" Job Expo a Huge Success
This year's Job Expo had a great turnout. Hundreds of people attended the various workshops, exhibitor tables and Community Partnership Forum that took place at Farmingdale State College. The keynote speakers included John and Mark Cronin, co-founders of John's Crazy Socks. The event also included success stories and "Top Star" Employer Awards. This year, the Job Expo was hosted by ACLD, DDI, FREE, Life's WORC, Skills Unlimited and TRI.
Values of Diversity, Responsiveness, Interdependence, Innovation and Quality
Second Annual Employee Appreciation Event
This year's Employee Appreciation Event was held at the Stonebridge Country Club in Smithtown. More than 400 Valued Team Members gathered to have fun, enjoy delicious food and honor those who either hit milestones this year, or went above and beyond to help the agency succeed. The longevity certificates were handed out to those celebrating 5, 10, 15, 20, 25, 30, 35 and 45 years with FREE. Among them was Lori-Jean Farrell, who was honored for 30 years of service. Other Valued Team Members were acknowledged for Superstar Audits, Thinking Outside the Box, Going Above and Beyond and for Being a Stormtrooper. Valued Team Members can visit the Employee Portal to see more photos from the event.
Values of Integrity, Diversity and Innovation
Robert S. Budd Elected President of ANCOR Board of Directors
ANCOR's Board of Directors recently held elections and is pleased to announce that Robert S. Budd will serve as Board President for the 2018-2019 term, beginning October 1, 2018. Robert noted in his letter of interest for the position of President that he "sees amazing opportunities before us, and has confidence that the collective efforts of our membership will significantly influence the future of our system." Dr. Christopher D. Long, FREE President, commented, "Robert, you are most deserving of this appointment and it is an honor to co-lead the FREE Network with you every day."
Values of Responsiveness, Interdependence and Innovation
FREE To BE Marches in Pride Parade
The FREE To BE group and OUT at SILO had a great time marching in this year's pride parade. They also had a wonderful experience participating in the Market Fair in Long Beach. Special thanks to the LGBT Network for another amazing pride weekend. FREE To BE is looking forward to next year's celebration.
Values of Integrity, Diversity and Quality
FREE Advocates Attend SABE Conference
At this year's SABE (Self Advocates Becoming Empowered) Conference, held in Birmingham, AL, FREE helped facilitate a workshop entitled The Rights Cards. The seminar, in collaboration with CQL, taught those in attendance about human and civil rights and how to exercise them, different ways to use CQL's Rights Cards, and how to help your friends exercise their rights. The workshop was led by Tavarus Wesley and Leanne Mull, from CQL, and Stefanie Russo, FREE Peer Mentor and Advocate.
Values of Responsiveness and Quality
FREE Offers Employment Readiness Workshop
The Human Resources Team at FREE provided an Employment Readiness Workshop to MercyFirst Summer Youth Employment students. MercyFirst, serving more than 3,200 children, teenagers and families each year, inspires hope and promotes healing by providing quality human services and educational opportunities while advocating for social change.
Values of Diversity, Responsiveness and Quality
Individuals Attend Long Island Ducks Game
A wonderful night was had by more than 100 Individuals and family members at the Long Island Ducks game at Bethpage Ballpark! Sadly, the Long Island Ducks were defeated by the Southern Maryland Blue Crabs, 5-4, in 11 innings in the finale of a three-game series at Bethpage Ballpark. Special thanks to the Family Advocacy Core Group for facilitating this amazing outing!
Values of Innovation and Quality
Theater Day Hab Participates in Sand Castle Event
Volunteers from FREE's Theatre Day Hab program joined Nassau Coliseum staff for a sand castle building event. Everyone enjoyed the outing and look forward to doing it again.
Values of Innovation and Quality