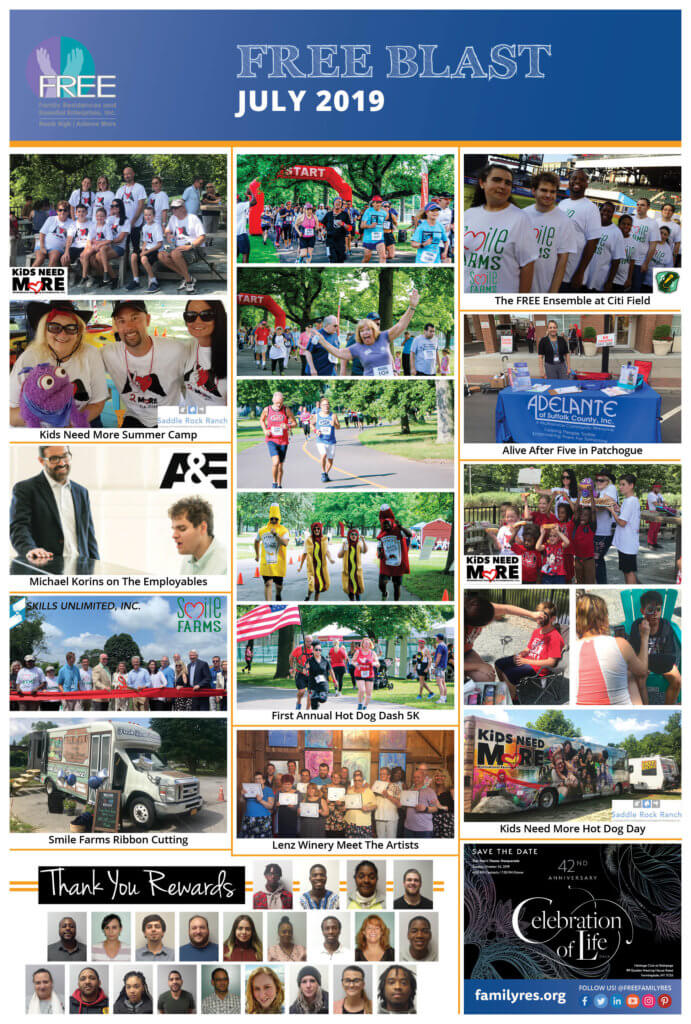 Click HERE to download a poster-sized version of the Blast!
Kids Need More Summer Camp
Saddle Rock Ranch in partnership with KiDS NEED M♥RE, and Rock-n-Roll U (RNRU), held a music festival for children with cancer, and other serious illnesses, participating in their summer camp at Saddle Rock Ranch in Middle Island, NY.  Bands from RNRU, a kid's music school located in Hauppauge, performed for the children at the camp. FREE and KiDS NEED M♥RE want the camp at Saddle Rock Ranch to provide a respite for families and give the children the most amazing experience possible by providing Arts & Crafts, Sports, Music, Large & Small Animal Experiences, and of course Therapeutic Horseback Riding.
Michael Korins on The Employables
Michael is a cast member in the new A&E series "The Employables". We were so proud to see Michael's episode this past month. "The Employables," an eight-episode documentary series following job seekers or who are neurodivergent as they discover their talents and pursue meaningful employment.
Skills Unlimited and Smile Farms Ribbon Cutting Ceremony
Smile Farms Inc., a non-profit, founded by the McCann family of 1-800-FLOWERS.COM, Inc., dedicated to providing meaningful job opportunities for individuals with developmental disabilities, held a Ribbon Cutting ceremony at its newest location, Smile Farms at Skills Unlimited, 405 Locust Avenue, Oakdale, NY.  Skills Unlimited (Skills) is an affiliate of FREE that provides vocational training programs for adults with developmental disabilities.  Smile Farms at Skills Unlimited brings together innovators and makers of change to create solutions for the problem of unemployment for people with developmental disabilities.
First Annual Hot Dog Dash!
The Hotdog Dash, our first annual 5K was an exciting and fun opportunity for people of all ages and abilities to join together to walk, run, roll or stroll through Eisenhower. What a great response for our first year with over 200 participants! The race was kicked off with the National Anthem, performed by Barbara, one of our many talented individuals. Following the race, awards were presented to various participants, and everyone was treated to a barbecue.
We would like to extend a special thank you to all of our sponsors, including our Presenting Sponsor, EmblemHealth, and our Finish Line Sponsor, Centereach Pharmacy. All attendees enjoyed hot dogs provided by Sabrett and Mike's Dog House as well as snacks and beverages by Arizona Beverage Company, Panera Bread, and Driscoll Foods. Furthermore, our Top Fundraiser – this dynamic duo has been a part of the FREE Family for many years and raised over $2,000 for the Hotdog Dash taking home the "Top Dog" award Cindy and Christine Werner!!! Thank you to all who supported this amazing event and hope to see you at next year's Hotdog Dash!
Meet the Artists Reception at LENZ Winery
A Meet the Artists Reception was recently held to honor the Individuals who participate in the Fine Art and Art Therapy Programs who have their works on exhibit at The LENZ Winery, one of Long Island's oldest and most prestigious North Fork vineyards. LENZ has been a longtime supporter of FREE, having hosted a number of showcases in the past. The collection on display, TO FLY, is a series of acrylic polymer paintings consisting of wide ranging depictions of differing fantasies of what it would be like to be able to fly, and will be up until September 2nd, 2019. The night was a huge success with nine pieces of artwork sold.
FREE Players Ensemble Performs at Citi Field
The FREE Players Ensemble was honored to perform the "National Anthem" at Smile Farms' 3rd Annual Citi Field Fundraiser a "Night Under the Lights". The Ensemble did an excellent job, as always, and look forward to future performances. Also, congratulations to Stephanie Lewis, FREE's AVP of Vocational Services for the honor of receiving the New York Mets Home Plate Award from Smile Farms and 1-800-Flowers for her contribution to employment of people with disabilities.
Alive After Five in Patchogue
Adelante attends Alive After Five in Patchogue to educate the community on the many services they provide. Long Island's biggest street fair – live music, local artists, great vendors and amazing food Alive After Five in Patchogue has something for everyone! Stop by and visit Adelante at the next event.
Kids Need More Hot Dog Day
National Hot Dog Day will provided the backdrop for a very special celebration of life.  FREE, in partnership with KiDS NEED M♥RE, celebrated the life of Joseph Hoehn, a sibling of current campers, who died of congenital heart disease and loved hot dogs.  The tribute was led by his mother Kathy Birch, who now provides grief counseling to families in a similar situations.
Thank You Rewards
FREE has been sharing with everyone the Thank You Rewards, showcasing the Valued Team Members who go above and beyond what is required of them. It is our honor to announce the July nominees: Chris Accovelli, Bryn Bershaw, Sean Blatt, Carolyn Cordts, Allison Dailey, Kyle Dawson, Mychal Gloss, Taylor Grant, James Griffith, Thayler Guirand, Ross Hendrickson, Teresa Hodge-Garcia, Christian Irizarry, Janice Kennedy, Stephanie Levine, Danielle Mills, Michelle Sanchez- Medina, Kenneth Simmons, Jamal Tinsley, Latoya Williams, and Kerri Zimlinghaus. These Valued Team Members have exhibited behavior that inspires all of us to go the extra mile. If you would like to nominate someone for a Thank You Reward, please contact Pat Hogan at PHogan@FamilyRes.org. Winners of a Thank You Reward receive a gift card and thank you card to show our appreciation.
Mark Your Calendars for the 42nd Anniversary Celebration of Life Gala!
FREE is excited to host 42nd Anniversary Celebration of Life Gala!
It will take place Thursday, October 24th at The Heritage Club in Bethpage State Park. Check the FREE website for more details and registration info.