FREE Blast – January 2020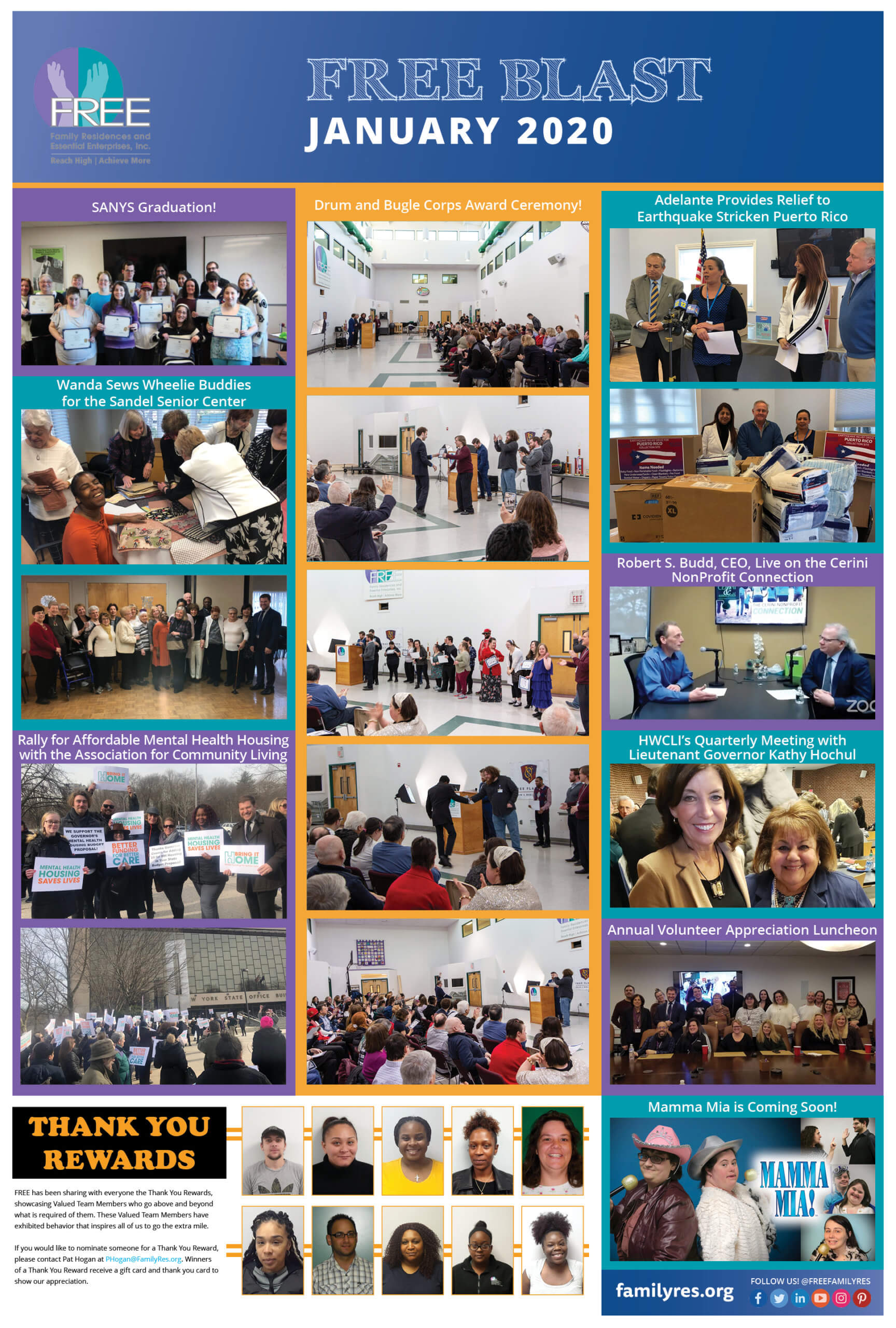 SANYS Graduation!
Earlier this month, a number of our individuals completed SANYS U Graduation! SANYS U is a 9 week course on Advocacy that centers around peers teaching peers how: to speak up for themselves, to learn how to ask for what they want/need, to learn about their rights and to speak up for those that cannot speak for themselves.
Wanda Sews Wheelie Buddies for the Sandel Senior Center
Wanda, a woman with special needs supported by Family Residences and Essential Enterprises, Inc. (FREE), who sews "Wheelie Buddies", presented over 60 of them as gifts to the Seniors at the Sandel Senior Center in Rockville Centre, NY at their annual New Year's party!
Rally for Affordable Mental Health Housing with the Association for Community Living
Members of FREE participated in a rally for affordable mental health housing at the Long Island State Office Building in Hauppauge with the Association for Community Living, urging the Governor and State Legislature to provide resources and funding for mental health programs and supports.
Drum and Bugle Corps Awards Ceremony!
The Drum and Bugle Corps had their awards ceremony to celebrate the accomplishments of its members here at Bethpage! We are proud to honor their achievements and wish them continued success for years to come!
Adelante Provides Relief to Hurricane Stricken Puerto Rico
State, County, and Town Officials joined with Maidaya Maldonado, Operations Director, Adelante of Suffolk County, as well as residents with families affected by the deadly earthquake in Puerto Rico provided an update on the devastation and information on how best to donate to the relief efforts.
Robert S. Budd, CEO, Live on the Cerini NonProfit Connection
Ken Cerini and Guest Speaker Robert S. Budd CEO of FREE gave advice for when your nonprofit should consider merging, how FREE can partner or merge with your nonprofit to keep your organization running successfully, and more! To see the whole interview click here!
HWCLI's Quarterly Meeting with Lieutenant Governor Kathy Hochul
Health & Welfare Council of Long Island's Winter Quarterly Meeting was this past January 24th. New York State Lieutenant Governor Kathy Hochul  presented the 2020 New York State of the State and how it affects the health & human services sector here on Long Island.
Annual Volunteer Appreciation Luncheon
FREE held its annual Volunteer Appreciation Luncheon to thank all of the 2019 volunteers! Without the dedication of these valued team members, we would not be able to achieve all the amazing things we do each year!
Mamma Mia is Coming Soon!
FREE Players will be performing Mamma Mia! Click here to get your tickets today.
Thank You Rewards
FREE has been sharing with everyone the Thank You Rewards, showcasing the Valued Team Members who go above and beyond what is required of them. These Valued Team Members have exhibited behavior that inspires all of us to go the extra mile. If you would like to nominate someone for a Thank You Reward, please contact Pat Hogan at PHogan@FamilyRes.org. Winners of a Thank You Reward receive a gift card and thank you card to show our appreciation.