Hello All,

February at FREE focused on love, caring and helping. From celebrating Valentine's Day, to honoring the donors who help support FREE and the Individuals we are so proud to serve, to the advocates who travel to Albany on a consistent basis to fight for those who cannot fight for themselves, FREE has proven that we are like a family and that WE is more powerful than YOU or I.

Respectfully, Chris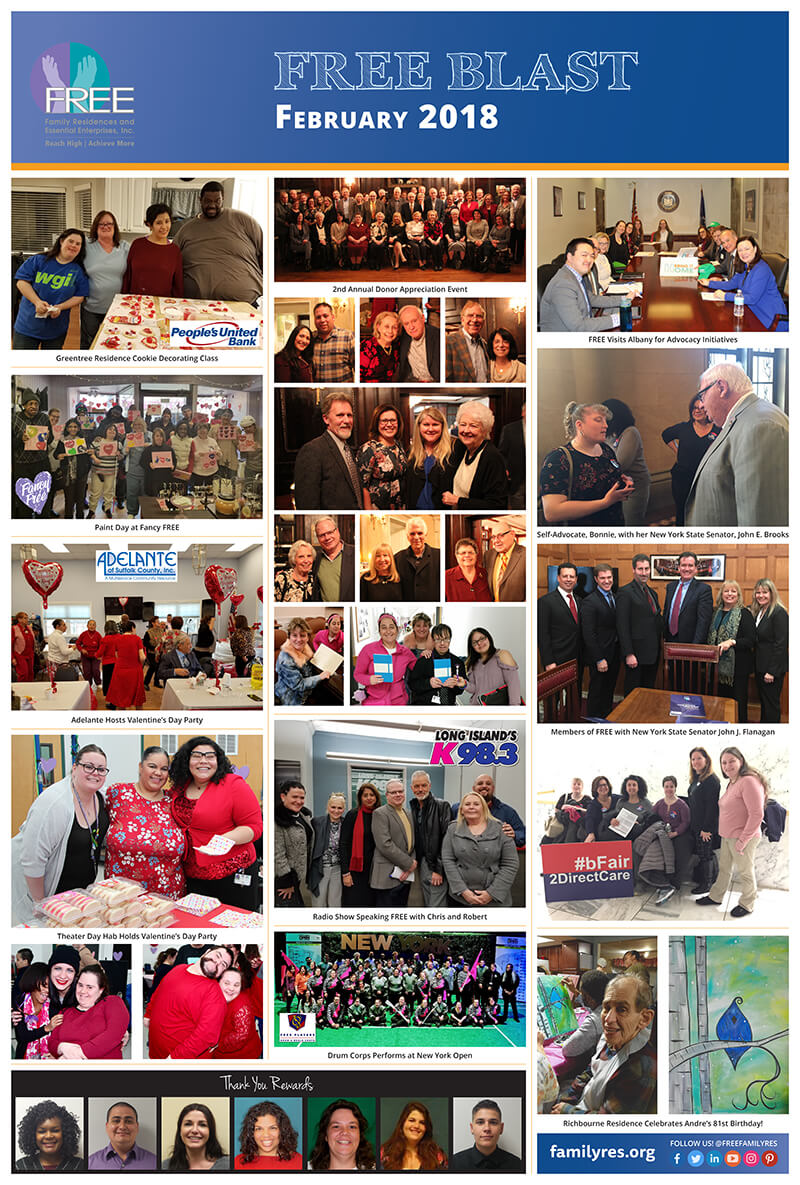 Click HERE for the Full-Sized Poster!
Greentree
Residence Cookie Decorating Class
Recently, FREE's Greentree Residential Program was happy to host Kathleen Attanasio, Branch Manager at People's United Bank in Huntington, who volunteered to lead a baking class for them. The group was educated on how to create a variety of sweet treats for Valentine's Day. Everyone learned a little something, ate delicious cookies, and had tons of fun while doing it.
Values of Diversity, Responsiveness and Innovation
Paint Day at Fancy FREE
Fancy FREE recently held a Valentine's Day Paint Day for the Individuals who participate in the Program Without Walls run out of the gift boutique. All the Individuals had a blast and can't wait for another Paint Day to come around.
Values of Diversity, Responsiveness and Innovation
Adelante Hosts Valentine's Day Party
Adelante of Suffolk County recently hosted a Valentine's Day party for members of their Senior Citizens Program. Adelante decorated for the occasion and the seniors were able to sing, dance, and have a great time together. The festivities were capped with a Valentine's Day cake.
Values of Diversity, Responsiveness and Innovation
Theater Day Hab Holds Valentine's Day Party
The Theater Day Hab Program, run out of FREE's Old Bethpage location, recently held a Valentine's Day Party. Individuals had the opportunity to dance along to the DJ, mingle, eat snacks and enjoy each other's company.
Values of Diversity, Responsiveness and Innovation
Thank You Rewards
La Star Knight
, the Bethpage Day Hab Nurse, on at least four occasions came to assist an employee when they have suffered a medical emergency. She is so comforting to them and we have come to rely on her when this occurs during her work day.
Bruno Cruzate
began working with my Community Habilitation Phase 2 program in November 2017. Bruno was assigned to an Individual who has past and current significant behavioral challenges. The Individual yearned for structure and a routine. The Individual also has many skills, has gone to school in years past and has desires to get back to working on those skills to have a better future. When Bruno started with this Individual, Bruno was trained on his residential habilitation goals. However, Bruno has done more than just his CH responsibilities (running goals and completing community outings). In order to enhance the Individual's skills, Bruno thought outside the box and took the Individual's likes and turned them into volunteer opportunities in which the Individual can gain work readiness skills. Bruno made connections with the Riverhead Aquarium, Northshore Land Alliance, Stony Brook Nursing home, Sunken Meadow Park, etc., and was able to get the Individual set up with volunteering multiple times each week. Many of the opportunities were a distance away from where the Individual lived – however, Bruno did not mind and would take the Individual to all opportunities that presented themselves despite the mileage. Bruno also took time out of his own schedule to go on the Seal Walk at Jones Beach on the weekend with the Individual. Besides finding these unique opportunities to gain skills, Bruno also found ways to improvise and run the Individual's goals in different ways. Bruno paid for an educational teacher worksheet program on the computer using his own money so the Individual didn't have to use their money (as they get a limited amount) just to be able to have a different option and expand upon the Individual's skills. This computer program has refreshed the Individual on his basic skills and has also been able to enhance his knowledge in areas of math, reading and spelling. Typically, things like this can be done at the library, but there are only so many things you can do at the library over and over again. Bruno thinks out of the box and has true passion for the program. The Individual also expressed that he wanted to be a part of advocacy, and Bruno found resources to be able to get the Individual to be a part of it. Bruno is also assisting the Individual with the Special Olympics. By building a great rapport with the Individual, creating structure, routine, and a creative way to work on the Individual's goals, the Individual has had a decrease in behavioral challenges, and his residence and family have seen a significant difference in the Individual. The residence reported that this has been the happiest the Individual has been. Lastly, Bruno was recently bringing the Individual to his nursing home volunteer opportunity at the gift shop and when he pulled in with the Individual, he observed a man on top of a woman in the parking lot and the woman was screaming, crying, and trying to push the man off her. Bruno immediately ensured that the Individual remained safe in the car with him, but rolled the window down to see if the person was okay and if there was an issue. He then parked the car a distance from the incident to keep the Individual safe and upon going into the nursing home with the Individual, he reported the incident to 9-1-1. Not only did Bruno keep the Individual safe, but he helped a community member, as well. He then proceeded to explain to the Individual the real-life situation they experienced and what to do when something like that happens. He also worked with the Individual on coping skills, as his anxiety was high from the situation. Bruno is a well-rounded Valued Team Member who has made a difference in this Individual's life in such a short time. He is a great asset to our team and FREE.
Hannah Martello
also began working with the Community Habilitation Phase 2 program in November 2017. Hannah was assigned to an Individual who also has a significant past and current history of behavioral challenges. This Individual had challenges with her past workers and Hannah has been able to really build a great rapport and relationship with the Individual. Since Hannah has been working with the Individual, the residence and family have seen a difference in the Individual, including a significant decrease in behavioral challenges. Recently, the Individual had a desire to lose weight and eat healthy. The Individual would never wake up at a decent time, shower, or go to the gym, and since Hannah came along, the Individual has had a desire to do so. In speaking to the Individual's residence, Hannah found out that the Individual didn't receive enough money to be able to pay for a year-long gym membership. Hannah decided to use her own money to purchase a membership for the Individual so the Individual doesn't have to worry about the cost and can work on her desire to lose weight. Hannah has also been working as a yoga instructor on The Farm with FREE and has taken the Individual on her own time to go with her to The Farm to take the yoga class. Hannah has also been creative with the Individual's health goals by using her own money at times to assist the Individual in purchasing healthy food items to cook. The Individual will pick a healthy recipe, Hannah would take her to shop for the food items, purchase the food items for her and assist her with cooking. The Individual has loved learning how to cook healthy and since money is limited for the house and Individual, Hannah was gracious enough to use her own money to complete this task. Lastly, Hannah goes out of her way to find opportunities that the Individual advocated for. The Individual wanted to volunteer to enhance her skills, so not only has she been able to volunteer at The Farm, but she has also been volunteering at the Girl Scouts of America. This has allowed the Individual to work on her goals in different ways and enhance her skills for a job in the future. Hannah is a very positive person and has been a great influence on the Individual. Hannah goes above and beyond to ensure she meets the goals of the Individual and then some. She truly cares and is devoted to her cases. She is a great asset to our team and FREE.
Dayana Ortiz
and
Karen Hansen
, of DSW, were assets with the route transition with the Suffolk Transportation bus company. Both attended meetings with management and admins from Suffolk Transportation. Dayana updated all the data routes in the Digital Agency system. She also helped Karen with busing and problem solving all the issues that arose. Dayana and Karen also created an Excel spreadsheet to assist with understanding each Individual's new bus route. Since Suffolk Transportation changed all routes and pick up/departure times for all the Individuals at DSW, Karen has ensured Individuals are on the correct bus and she troubleshoots all issues with Suffolk Transportation.
Katherine Lyons
consistently volunteers to remain past her scheduled shift to stay with Individuals that are unable to ride the bus home. Recently, Katherine offered to drive an Individual home in her own vehicle when the residential program was having issues with their van and the Individual was unable to ride the bus due to behavioral challenges. Additionally, since Katherine is relief staff, she does not have an assigned room, but she has gone out of her way to figure out how to work with an Individual in a specific room that has been having behavioral challenges.
Rhiannon Jacobsen
responds to crisis team calls even when she is not assigned to the crisis team. She has volunteered to take on new responsibilities, such as training staff. DSW recently had an Individual that was assigned to another room that was having significant behavioral challenges and Rhiannon built a special relationship with this Individual. Due to the relationship Rhiannon built, she was able to successfully decrease the intensity of the Individual's negative behaviors. This relationship was evident and the team determined that it would be in this Individual's best interest to move to Rhiannon's room. When the management team presented this to Rhiannon, she embraced it with a positive attitude and a willingness to assist the program and the Individual in any way that she could. If you would like to nominate someone for a Thank You Reward, please contact Pat Hogan at PHogan@FamilyRes.org. Winners of a Thank You Reward receive a gift card and thank you card to show our appreciation.
Values of Integrity, Diversity, Responsiveness, Stewardship, Interdependence, Innovation and Quality
2nd Annual Donor Appreciation Event
To show our gratitude to all the amazing people who consistently provide resources to FREE, we held our 2nd Annual Donor Appreciation Event, held at The Mansion at Oyster Bay. Everyone had a wonderful time dining and mingling, and look forward to next year's celebration. As a special thank you, Individuals from FREE wrote heartfelt notes in the journals that were given out to the donors.
Values of Responsiveness, Stewardship and Innovation
Radio Show Speaking FREE with Chris and Robert
February's topic was mental health and included guests Anu Arnold, Senior Vice President of Integrated Health and Community, FREE; Kristen Lott, Assistant Vice President, Behavioral Health Services, FREE; Holly Mosby, Assistant Vice President, Behavioral Health Services, FREE; David Barhome, Assistant Vice President of Integrated Health and Community Services, FREE; and Doreen Baxter, Supervisor, MICA, Babylon Program. March's topic will be the 2018-19 Budget and Government Advocacy for People with Disabilities. The program will air on Sunday, March 4, from 7:00 a.m.-8:00 a.m., on K98.3. Guests will include Steve Malito, Esq., Chair, NYS Government Relations at Davidoff, Hutcher, & Citron LLP; New York State Senator Phil Boyle; and Joe Jankowski, Senior Director of Government Relations, FREE.
Values of Integrity and Innovation
Drum Corps Performs at New York Open
The FREE Players Drum & Bugle Corps recently performed at the New York Open, which debuted on Long Island this February 11-18 at the newly renovated, state-of-the-art NYCB LIVE, home of the Nassau Veterans Memorial Coliseum. This ATP World Tour 250 Series event is one of only 10 United States men's professional tennis tournaments held on tour today, and the sole indoor championship in the country. The Drum Corps had a wonderful time playing and hope to be invited back again.
Values of Innovation and Quality
FREE Visits Albany for Advocacy Initiatives
Bring it Home: Better Funding for Better Care is a coalition of community-based supportive housing providers, mental health advocates, faith leaders, and consumers and their families, urging New York State to adequately fund community-based housing programs for individuals with psychiatric disabilities. Members from FREE recently attended meetings regarding this topic, along with other agencies and politicians. During the same visit to Albany, FREE also attended the 2018 Legislative & Policy Forum hosted by the New York Alliance for Inclusion & Innovation and The Arc New York. New York State Senator John E. Brooks and New York State Senator John J. Flanagan, Temporary President and Majority Leader, spoke with members of FREE regarding these topics, among others.
Values of Diversity and Responsiveness
Richbourne
Residence Celebrates Andre's 81st Birthday!
The Individuals at FREE's Richbourne residence were excited to celebrate Andre's 81st birthday, which took place on January 31. To make his day special, Valued Team Members hosted a paint night at Richbourne, where everyone got to participate and have a ton of fun! Happy birthday, Andre!!!
Values of Diversity and Innovation