Hi all:
It is my pleasure to bring to you December's Blast! As we reflect on the past year, I would like to express how thankful we are for each and every one of you. Each one of us possesses different strengths and talents and we value our diversity. The success of FREE is built on the collective efforts of our team members and in this past year, we have enjoyed many! You are all truly appreciated.
Wishing you all and those you love a season of hope, happiness and a prosperous 2019! 
Sincerely, Chris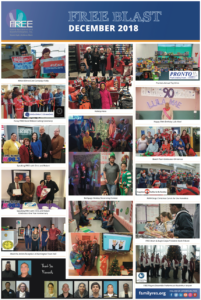 Click HERE to download the poster-sized version!  
#bFair2directcare Campaign Rally
A #bFair2directcare rally was held at Suffolk Community College in Brentwood. FREE  self-advocates, friends, family and team members joined together in support of increased wages for our Direct Support Professionals (DSPs). Values of Integrity, Responsiveness, Quality, and Interdependence
Fancy FREE Kiosk Ribbon Cutting Ceremony
Fancy FREE ribbon cutting ceremony at Broadway Commons in Hicksville, NY to unveil the kiosk. The Fancy FREE kiosk will sell a variety of gift items emblazoned with artwork created by the artists at FREE who participate in FREE's Fine Art and Art Therapy programs. In addition, many of the artists will be at the kiosk to help sell their products to the public.
The kiosk provides valuable vocational training opportunities to help prepare individuals with disabilities to transfer learned skills to attain community-based employment. Individuals will learn customer service, marketing, money management, and inventory skills. Providing hands-on training to members of FREE's community is crucial in helping them find employment in a job market with a 9.2% unemployment rate for individuals with disabilities.Values of Responsiveness, Quality and Innovation
Speaking FREE with Chris and Robert
The December episode of "Speaking FREE with Chris and Robert" focused on Holiday Initiatives at FREE and Adelante of Suffolk County. Robert S. Budd, CEO, FREE and Christopher D. Long, Ed.D, President, FREE moderate the monthly radio program. This episodes guests include: Pilar Delgado, Assistant Vice President; Adelante Suffolk County and Network Cultural Competence, Veronica Garcia, Director of Day Services; FREE, Stephanie Lewis, Director of Vocational Services; FREE. If you missed the show and would like to watch it please visit https://www.familyres.org/december-16-episode-of-speaking-free-with-chris-and-robert/. Values of Diversity, Responsiveness, Interdependence, Innovation and Quality
Speaking FREE with Chris and Robert Celebrates One Year Anniversary
Chris and Robert hosted a celebration marking the One Year Anniversary of Speaking FREE with Chris and Robert. Past radio show guests attended and enjoyed the day as we reflected on the incredible year of empowering those we are so privileged to serve. Values of Diversity, Responsiveness, Interdependence, Innovation and Quality
Special Exhibit at Huntington Town Hall
Family Residences and Essential Enterprises, Inc. (FREE), and Town of Huntington Supervisor Chad Lupinacci, invite everyone to a Meet the Artists Reception held at Huntington Town Hall to honor artists participating in FREE's Fine Art and Art Therapy Programs. These artists have their works exhibited at Huntington Town Hall, located at 100 Main Street, Huntington, NY, from November 27th to January 8th. The collection on display is called "Revelations", a very special exhibition of artwork created by individuals with Autism and other Special Needs, participating in Fine Art and Art Therapy programs at FREE. All are encouraged to view the works and perhaps purchase a piece.  The proceeds of sales go towards supporting the artist and their program. Values of Responsiveness, Quality and Integrity
Holiday Hero
Thanks to a generous donation of $25,000 from an anonymous "Holiday Hero" over 100 of our individuals were able to go on a shopping spree at Target in Farmingdale! We could not be more grateful! It was truly a magical evening that could be felt by all! Thank you to our Holiday Hero for making the season merrier! Values of Integrity and Innovation
Holiday Decorating Contest
Everyone who participated in the decorating contest overwhelmed the judges with their creativity and participation by all involved.  Each area really went to such great lengths to incorporate themes specific to their department, involving their entire team and creating such wonderful handmade decorations.  The detail involved was extraordinary. It was very difficult for the judges to choose one winner.  After much deliberation Development and Mission Advancement won the contest. To honor the collective participation, creativity and team spirit the judges will be hosting a lunch for all those involved. Thank you to all who participated. Values of Integrity and Innovation
Pronto of Long Island Holds Holiday Toy Giveaway
At Pronto families selected toys for their children making their holiday wishes come true. Pronto President Vivian Hart, and other volunteers, acted as personal shoppers to help families select toys for their children. Values of Diversity, Responsiveness and Quality
Happy 90th Birthday Lula Mae
Hauppauge Day Services celebrate Lula Mae's 90th birthday! Happy Birthday Lula Mae from your entire FREE Family! Value of Integrity and Quality
PWW Sings Christmas Carols at Coalition for the Homeless
PWW carolers entertained the staff and shoppers at Coalition for the Homeless with an assortment of holiday songs. As a famous elf once said, "The Best Way to Spread Christmas Cheer is Singing Loud For All to Hear". Values of Integrity and Innovation
FREE Drum &Bugle Corps Pay Tribute to George HW Bush
The award-winning FREE Players Drum & Bugle Corps filmed a tribute video to the late President George Herbert Walker Bush to celebrate his life and service to this country.  In his memory the Drumline performed "Anchors Away" as President Bush is the last President to serve in combat as a US Navy Pilot during WW II, "Hail to the Chief" for his time as President, a special performance by our Brass instructor/FREE Direct Support Professional Kevin Merkel, a former United States Marine, who performed "Taps" out of respect for his service to this country. The video and performance also served as a "thank you" from the special needs community to the late President George H.W. Bush for opening the door for the FREE Players Drum & Bugle Corps to exist by supporting and signing the Americans with Disabilities Act (ADA) in 1990 during his Presidency.  The ADA was the nation's first comprehensive civil rights law addressing the needs of people with disabilities, prohibiting discrimination. Values of Responsiveness, Quality and Integrity
FREE Players Ensemble Perform at MacArthur Airport
FREE Players Ensemble Perform at MacArthur Airport's 5th Annual Holiday Concert Series, featuring music performed by students from Islip Town and throughout Long Island, jazz ensembles, acoustic guitar performances, and much more. Values of Responsiveness, Quality and Integrity
Thank You Rewards
FREE has been sharing with everyone the Thank You Rewards, showcasing the Valued Team Members who go above and beyond what is required of them. It is our honor to announce December's nominees: Greg Varro, Rob Alpi, Sahrish Ahmed, Antoinette Edmonston, Tasia Upshur, Jessica McKnight, Susan Narbutt, Nicole Carter, Sean Gamblin, and Ed Regensburg. These Valued Team Members have exhibited behavior that inspire all of us to go the extra mile. If you would like to nominate someone for a Thank You Reward, please contact Pat Hogan atPHogan@FamilyRes.org. Winners of a Thank You Reward receive a gift card and thank you card to show our appreciation. Values of Integrity, Diversity, Responsiveness, Stewardship, Interdependence, Innovation and Quality