Hi All,
It is my pleasure to bring to you December's Blast! As we reflect on the past year, I would like to express again how thankful we are for each and every one of you. Each one of us possesses different strengths and talents and it is evident by our collective success that we have harnessed and continued to celebrate our diversity!! You are all appreciated.
Wishing you all and those you love a season of hope, happiness and a prosperous 2018!
Sincerely, Chris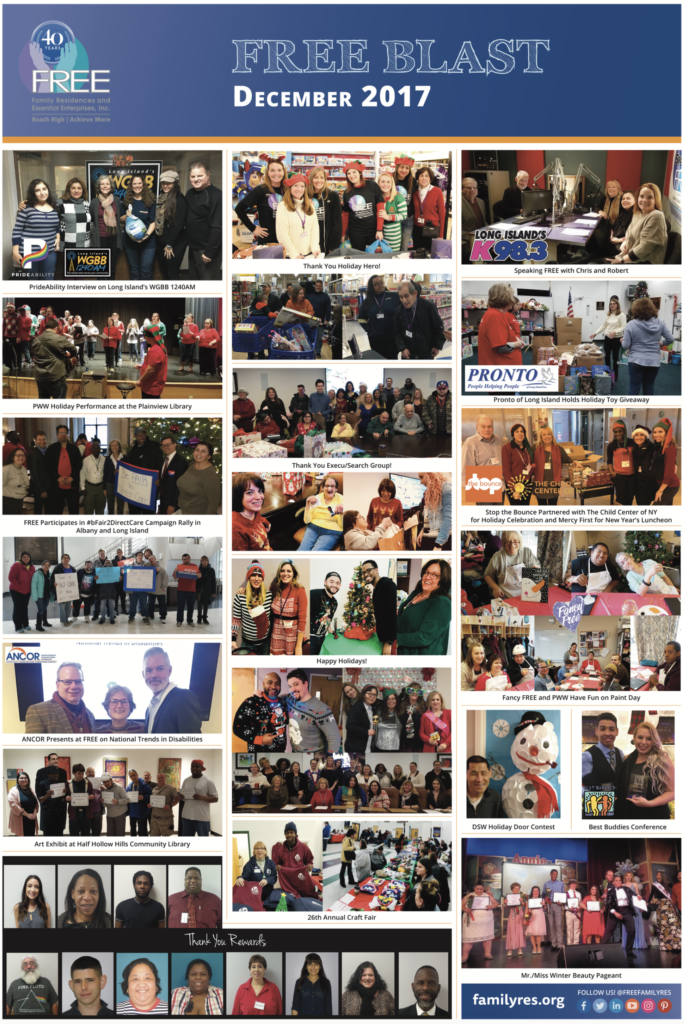 PrideAbility Interview on Long Island's WGBB Radio
Claire Miller was interviewed by Stephen Vaccaro on Long Island's WGBB Radio Show about PrideAbility, an LGBTQIA Outreach Project funded by the NYS Developmental Disabilities Planning Council.
PWW Holiday Performance
The PWW Chorus held a holiday performance at the Plainview Library where they spread holiday cheer! Values of Responsiveness and Diversity
#bFair2directcare Campaign Rally
FREE self-advocates, friends and family members joined together in support of the #bFair2directcare campaign asking the Governor and the NYS legislature for increased wages for our Direct Support Professionals (DSPs). The state wide campaign kicked off in Albany earlier this month and on December 19th FREE gathered with other Long Island Agencies at Nassau Community College to rally support of DSP's across the Island. Values of Integrity, Responsiveness, and Interdependence
ANCOR National Trends Presentation
FREE was honored to have Diane McComb, State Association Executive Forum Liaison for ANCOR present to our Network Board of Directors and Leadership Team on the National Trends in Disabilities. Values of Responsiveness, Innovation, and Quality
Art Exhibit at Half Hollow Hills Community Library
Meet the Artists reception at Half Hollow Hills Community Library honored artists participating in FREE's Fine Art and Art Therapy Programs. Huntington Town Supervisor Elect Chad Lupinacci joined the celebration to honor the artists. Half Hollow Hills Community Library in Dix Hills is hosting the Ascension art collection until January 3. "Ascension" is FREE's second Professionally Juried Competition of artwork created by the Artists of FREE. Over 40 paintings were submitted to this year's competition! The artists represented are the finalists whose quality of work "rose high" to have garnered entrance into this glorious collection. Fifteen Tier One pieces were selected along with First, Second and Third place winners by our esteemed judge, Kevin Larkin, Director of the B.J. Spoke Gallery in Huntington and award-winning artist. This event was covered by FOX 5 NY in the New York Minute. Values of Innovation and Responsiveness
Toys 'R' Us Shopping Spree from our Holiday Hero
Thanks to a generous donation of $25,000 from an anonymous "Holiday Hero" over 100 of our individuals were able to go on a shopping spree at Toys 'R' Us in Lake Grove! We could not be more grateful! It was truly a magical evening that could be felt by all! This amazing story was featured on ABC, CBS, News 12 and WLNY 10/55 TV. The ABC Channel 7 report on the Holiday Hero Anonymous Donor went national. The report aired in Atlanta, Raleigh, Orlando and Seattle. Thank you to our Holiday Hero for making the season merrier! Values of Integrity and Innovation
The Execu/Search Group Holiday Gift Giving
FREE hosted the Woman's Network at The Execu/Search Group as they presented holiday gifts to individuals with the men and women in several of FREE's programs from their very own wish lists! It was a morning filled with happiness and holiday cheer! Thank you Execu/Search for making so many wishes come true!
This incredible story that truly showed the spirit of the holidays was featured on News 12 TV. Values of Integrity and Innovation
Holiday Celebrations
The spirit of the holidays could be felt everywhere at FREE. Throughout FREE our team members, and the men and women we support celebrated the holidays!
26th Annual Craft Fair
So many talented artisans and bakers set up their tables at this year's Craft Fairs! Team Members and Individuals were able to visit tables and purchase holiday gifts for friends and family!
Speaking FREE with Chris and Robert
The latest episode of Speaking FREE with Chris and Robert on K98.3 WKJY radio station focused on Giving During the Holidays. Robert and Chris were the moderators. This month's Guests were Nancy Cohen, Vice President of Development and Mission Advancement, FREE; Sue Sorrentino, Senior Vice President Integrated Day and Youth Services, FREE; and Febe Garcia, Youth Program Coordinator, Adelante. The program aired on Sunday, December 24, 7:00 a.m.-8:00 a.m. Keep an eye out to see when the next edition of this monthly radio show will air. Values of Diversity, Responsiveness, Interdependence, Innovation and Quality
Pronto of Long Island Holds Holiday Toy Giveaway
At Pronto over 400 families selected toys for their children making their holiday wishes come true. Pronto President Kathy Bennett, and other volunteers, acted as personal shoppers to help families select toys for their children. Pronto also welcomed a representative from the New York Governor's office who also donated toys for distribution. Values of Diversity, Responsiveness and Quality
Stop the Bounce Holiday Celebrations
Students from The Child Center of NY's programs at August Martin High School, the Civic Leadership Academy, and Aspirations High School in collaboration with FREE and FREE's Stop the Bounce initiative hosted a holiday celebration for 100+ local children from the Hammels Cornerstone community, foster children, and other nearby schools. The high school students collected funds, set up age-appropriate wish lists, and collected and wrapped gifts. The students also served as volunteers at the event in roles such as greeters, food servers, activity leaders, and gift givers — dressed as elves!
The Child Center of NY serves more than 26,000 children and their families with evidence-based, innovative programs that provide skills, opportunities, and emotional support to help them lead healthy, successful lives. We look forward to future collaborations! Values of Diversity and Responsiveness
Stop the Bounce and MercyFirst New Year's Luncheon
FREE's Stop the Bounce program hosted a New Year's Lunch at Phil's Restaurant in Syosset for a dozen teens in foster care placement at MercyFirst, in which youth received gifts and created positive affirmations and New Year's Resolutions for themselves. Values of Diversity and Responsiveness
Fancy FREE and PWW Paint Day
Fancy FREE and PWW Bethpage joined together on paint day and had a great time. What a talented group! Value of Innovation and Quality
DSW Holiday Door Contest
This month DSW had a Holiday Door Contest, 13 rooms participated along with the nursing and nutrition department. Congratulations to the Nursing department Debbie, Tyanna and Alyia they won first place. Their winning door is the man made out of cups. Second place was room three, Jax and Cierra. Congratulation to all who participated! Value of Innovation and Quality
Best Buddies Conference
Amanda Baker, Program Coordinator in the Day Respite program, was honored at the Best Buddies conference held at Chateau Briand in Westbury on December 4th for her work with the Mt Sinai school district Best Buddies Chapter. Amanda has successfully integrated individuals who participate in FREE's Respite program to attend socials at Mt. Sinai high school in addition to having participated in 5 Best Buddies walks over the years and taking other leadership roles with the Best Buddies initiative. Johnathan Bates from our PM East Afternoon Respite program was chosen as Amanda's campaign manager. Together they met their goal of raising over $3,500.00 for Best Buddies Long Island. It was a great night! Values of
Responsiveness, Innovation, and Interdependence
Mr./Miss FREE Winter Beauty Pageant
An Evening of Beauty, Talent and Fashion Spotlighting FREE's Amazing Individuals and the beauty that lives within each and every person. Congratulations to all who participated! Values of
Responsiveness, Innovation, and Interdependence
Thank You Rewards
Jessica Belcher from START brought to HR's attention that she received too much of a bonus and wanted to return the excess monies. Aliya Marrow, LPN for DSE. An individual from Day Services West was having a behavior challenge that required supine control to be utilized several times. Aliya did not hesitate to assist even though the individual did not attend her program. Aliya came right over and assisted members of the management team with the supine control and stayed with the individual until she was calm and then gave her treatment for her injuries. Pierre Desruisseaux with Melville Crisis stayed past his shift calling hospitals and nearly every number in the caller ID to find our individual who over extended his allotted community time. Pierre would not leave until he was found! In addition, Pierre came to the aid of an AVP and OD when there was a situation. Clyde O'Connor with Melville Crisis. Clyde has been a valuable asset when it comes to also assisting other programs he has been covering 2 programs. Clyde has stepped up countless times to assist with the other programs whether it be for meds or transportation. Clyde is overall an exceptional employee! Floyd Gordon with River Heights was the only staff present when applicants began arriving early for the group interview that was hosted. He had them sign the visitor log, and helped welcome them and get them settled in and situated ever so graciously. Matt Nolan from Jefferson. Jefferson has been going through transition. With everything going on Matt the supervisor had been amazing and has basically been living and breathing Jefferson 24/7 as well as helping at Amityville when he can with overnight observations. Corazon Icamen from West Islip for putting the individuals needs first and taking her personal time to shop and prepare for the snow storm. Corazon took the initiative and went the extra mile to ensure the residence was fully stocked with food and filled all vehicles with gas. Brenda Allen from West Islip has been a huge asset to the program during the transition of management. Brenda has been further educating the management team and assisting with training them on the individuals' needs and wants. Brenda has also been utilized for her knowledge in the IDT meetings and also ISP meetings. Brenda is always going the extra mile. Cynthia Greco, Raafia Khan, and Jamie Pentzel with Operations have been putting much time into the Smithtown IRA for months now. This has been in addition to their main responsibilities as Operations Director and Supervisors respectively. Their dedication and positive attitude have created an improved culture at the house, and also created a collaborative relationship amongst Smithtown, 12th St and Parsonage IRA's! Charles Chaney from Amityville came to the aid of an AVP and OD when there was a situation. If you would like to nominate someone for a Thank You Reward, please contact Pat Hogan at PHogan@FamilyRes.org. Winners of a Thank You Reward receive a gift card and thank you card to show our appreciation. Values of Integrity, Diversity, Responsiveness, Interdependence, Stewardship, Innovation and Quality