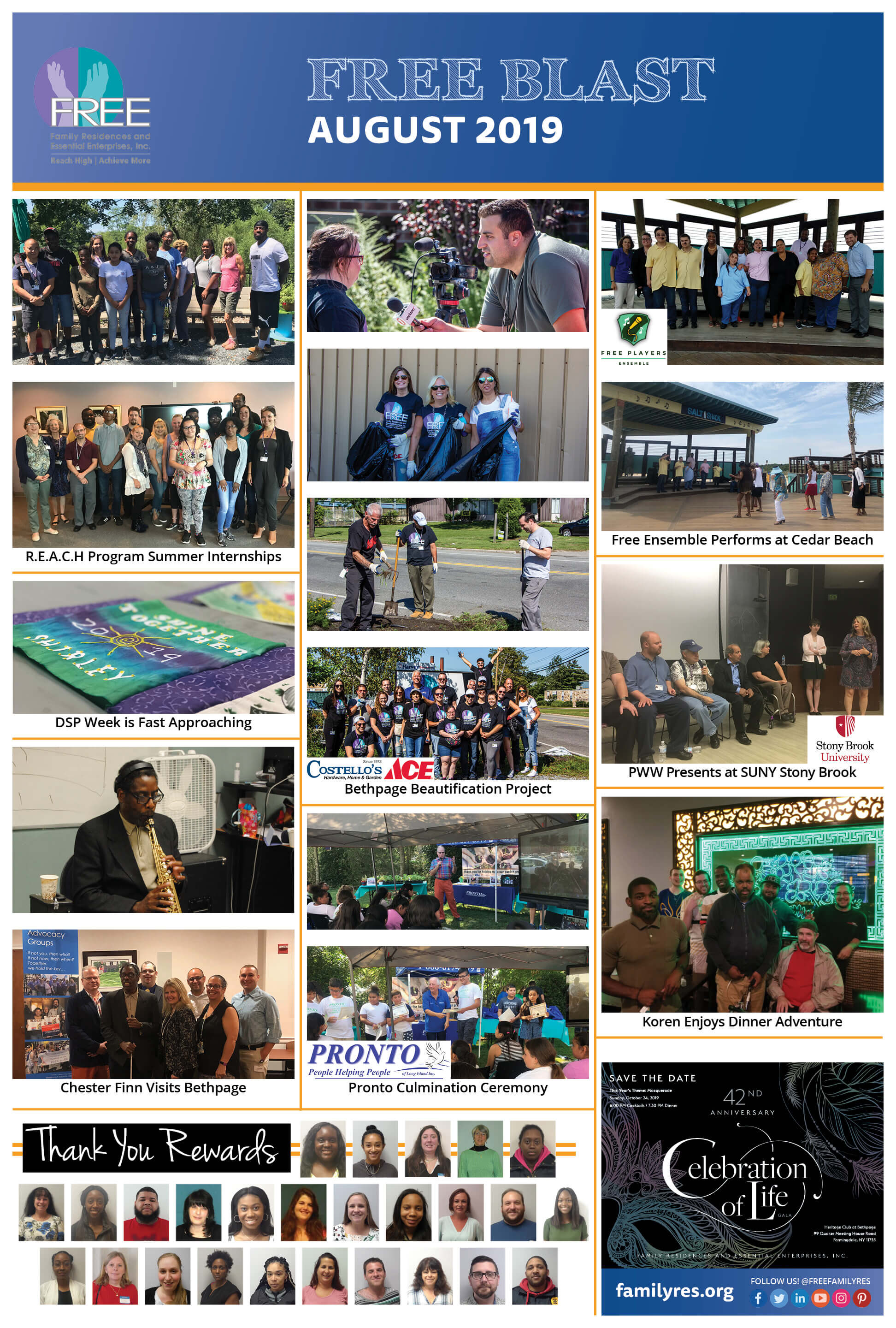 R.E.A.C.H Program Summer Internships
FREE's Youth and Education Services Department partnered with the Economic Opportunity Council's Wyandanch R.E.A.C.H Program to provide summer internships for over 20 students. Saddle Rock Interns learned about animal care, gardening and helped build a bocce and horseshoe court for the grounds and Bethpage Interns were placed in a variety of different departments and assisted with luncheons/other special events. A culminating event was held at Bethpage and Saddle Rock to celebrate the student's accomplishment of completing a six-week internship as well as to thank all of the participating departments to giving students the opportunity to gain work experience.
DSP Appreciation Week is Fast Approaching
DSP Appreciation Week is fast approaching! Many of our programs and departments have created their own piece of an amazing quilt to show their appreciation in their own unique way. Look for the full unveiling during DSP Appreciation Week next month! #DSPRW19
Chester Finn Visits Bethpage
Chester Finn, A National Self Advocate Leader who works for NYS OPWDD visited FREE.  As a musician himself, he toured our theater program and performed with and for our talented performers!  Additionally, he met with representatives of our self-advocacy groups and their staff to share his story and to empower them to share their voices with others.
Costello's ACE Hardware Volunteer Day at Bethpage
Thank you Costello's ACE® Hardware for an amazing day and an incredible transformation at our Bethpage building. The incredible volunteers from Costello's ACE Hardware worked with FREE staff to teach individuals with special needs about weeding, mulching and planting flowers all while helping to beautify the grounds around FREE. Thanks again!!!
Pronto Culmination Ceremony
Pronto held Culmination Ceremony for at-risk middle school students that participated in their free summer STEM program.  The program focused on healthy eating, environmental science and water conservation, botany, computer training, consumer education, and writing. As part of the program, students were taken on educational field trips, treated to guest speakers, nutrition workshops, environmental education and cooking demonstrations in partnership with Cornell University Agriculture Extension.  The goal was to introduce and develop knowledge of planting, farming, and maintaining sustainable food sources.
Thank You Rewards
FREE has been sharing with everyone the Thank You Rewards, showcasing the Valued Team Members who go above and beyond what is required of them. It is our honor to announce the July nominees: Anne Biondo, Carolyn Cordts, Theresa Dougherty, Lauren Gennarelli, Connie Hendrickson, Ross Hendrickson, Glenn Holt, Jasmine Jean, Karika Johnson, Emily Kaufman, Amanda Legros, Karen Longspaugh, Katherine Lyons, Danielle Mills, Francine Nemeroff, Lorraine Raji, Evan Reiter, Kelly Roche, Johnnie Scott, Patricia Simpson, Carole Smith Savannah Tejada-Persaud, Trichina Terrell, Jamal Tinsley, Tasia Upshur, Brianna Williams, and Mary Woods. These Valued Team Members have exhibited behavior that inspires all of us to go the extra mile. If you would like to nominate someone for a Thank You Reward, please contact Pat Hogan atPHogan@FamilyRes.org. Winners of a Thank You Reward receive a gift card and thank you card to show our appreciation.
FREE Ensemble Performs at Cedar Beach
The beach is easily one of the best places to be at during the summer. FREE Ensemble spent the day performing at Cedar Beach for the North Amityville Senior Center. Thank you to Tanya Crocker and Cheryl Burwell from the North Amityville Senior Center for helping us create this magical day of sun and dance!
PWW Presents at SUNY Stony Brook
FREE's PWW participants Casey and Dennis, spoke at the Medical Student Orientation at SUNY Stony Brook.  Both Casey and Dennis provided key information about their likes and dislikes when having to go to the doctor or dentist.  It was very well received, and they were asked to come back to present to other future Med students!
Koren IRA Enjoys Dinner Adventure
Koren IRA enjoyed a great night out at Global Buffet for a family dinner.  The guys as well as the staff, had an AMAZING time together.  A special thanks to Chelsea and the team for making this evening so memorable!
Mark Your Calendars for the 42nd Anniversary Celebration of Life Gala!
FREE is excited to host the 42nd Anniversary Celebration of Life Gala!
It will take place Thursday, October 24th at The Heritage Club in Bethpage State Park. Check the FREE website for more details and registration info.