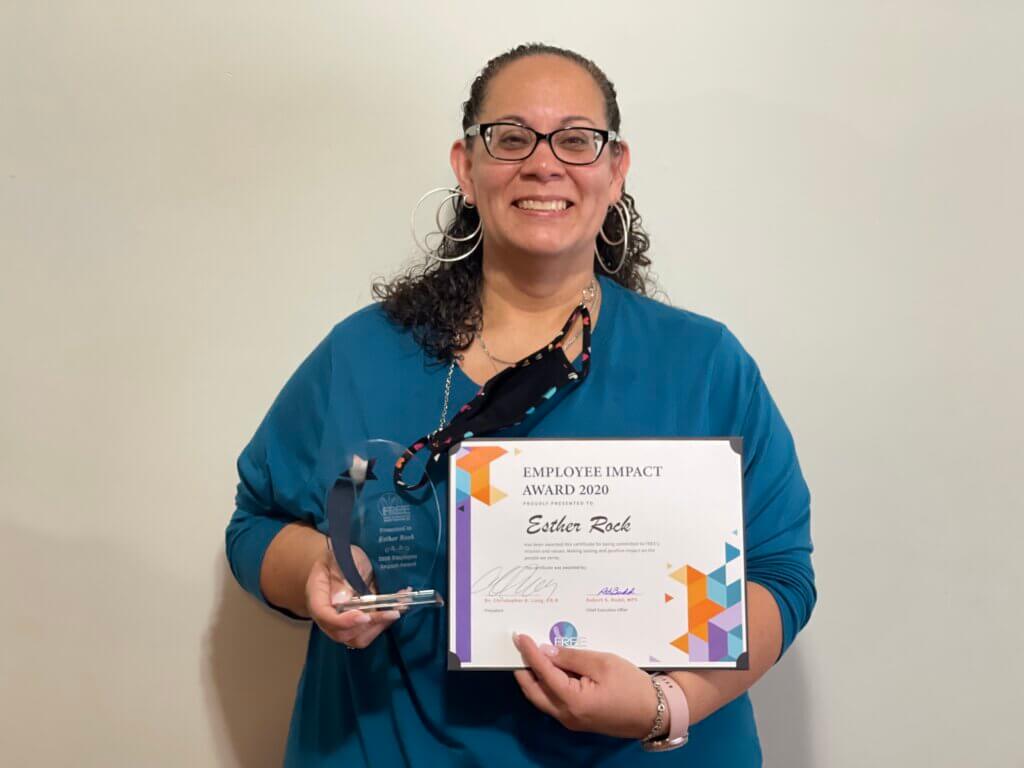 We are proud to announce our 2020 Employee Impact Award winner, Esther Rock! Every year a call goes out to our FREE staff to nominate their colleague's for the award. We received a lot of great stories this year but the one for Esther was especially moving. We would like to share a little bit about her with you. Esther started at our Abner residence as a relief staff. From the day she arrived she has been nothing but a pleasure to work with. Esther's main concern is the individuals and the house, she has gone above and beyond the call of duty. Esther has taken on many responsibilities that is not required of her. She has flexed her schedule from the very first day to ensure the safety of the individuals. If the residence is waiting on a delivery or an item is needed, Esther will bring from home or go to the store to buy with no hesitation. Esther is a pleasure to work with, she is the true definition of a team player and a dedicated worker.
Esther has a great rapport with all of the doctors and supports for the individuals. If there is anything needed from the number of clinicians and we cannot reach them, Esther will call from home on their personal numbers to get what is needed. The Registered Nurse for Abner praises Esther for her work she does when it comes to medical. As long as she knows that Esther is on, she doesn't have to worry about anything. Esther, without a second thought, volunteered to be quarantined at the site when one of the individuals tested positive. Leaving her family and loved ones at home to ensure the safety of Abner. Esther is always on time, stays later if needed and changes her schedule on a day to day basis just so the house runs smooth. For about the last 6-10 months Esther has not taken any days off to use some of her time. This month Esther was scheduled to take a vacation, the Assistant Manager, and a team member was out sick, another team member had a death in the family. Again without hesitation, Esther agreed to pull back her request, changed her schedule and worked. Even with balancing home and work, she managed to still think of her fellow staff member and purchase a "sorry for your loss" card for the individuals and staff to sign.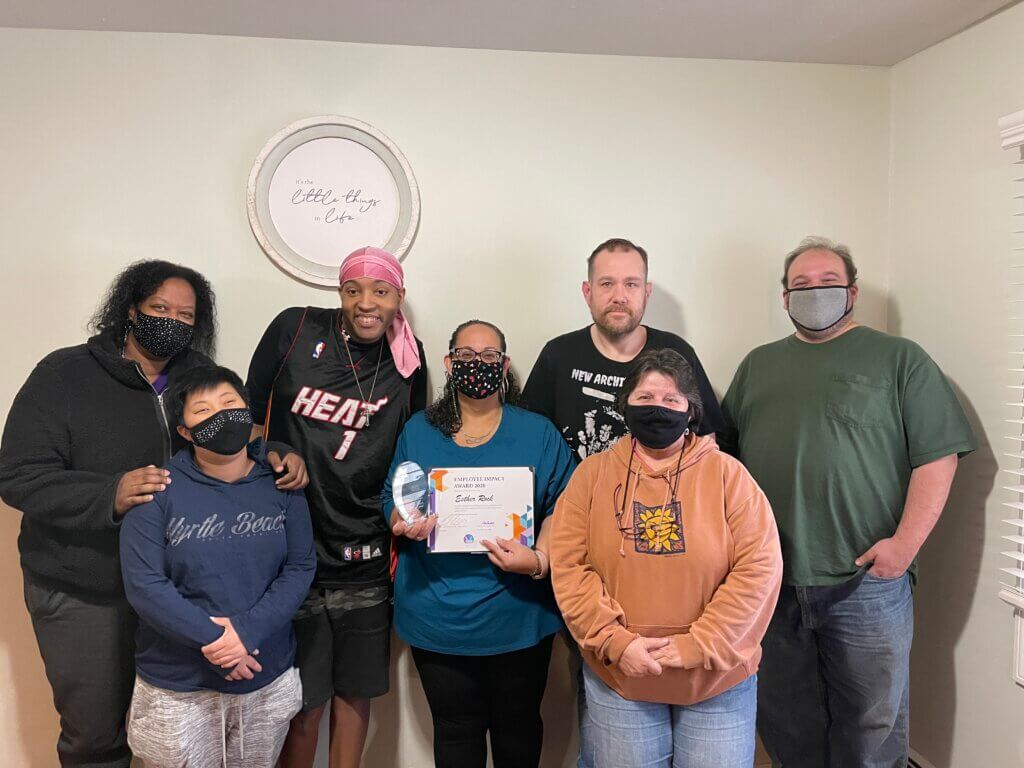 When it comes to the individuals, we have no doubt that she exemplifies our mission. Esther assists all of the individuals to help meet their potential. It can be assisting with cooking, taking them out shopping or just sitting down with them listening to their frustrations. When it comes to assignments Esther will show initiative and have done before anyone asking. She hears the many stories how staff and the individual don't like certain masks or that they keep losing them. So what does Esther do? She comes in with lanyards for staff to wear around their neck so that they can attach their masks to and don't have to worry about losing them, along with that she pulls out more masks for the individuals that they like to wear.
Difficult situations may arise and if Esther is on shift, she will definitely try to figure it out before calling someone else. If she does have to call, it's to say " I did this, or I did that", not to ask what should I do, and at the end of conversations she will end it with "I gotchu girl"
We must say Abner is lucky to have her. She is well liked by all, especially the individuals. At Abner, they don't just like anyone, they have to get to know you, to trust you. They know now she has no "typical" schedule so on days that she is not in they continue to ask for her. To them she's "Momma Esther". If anyone is deserving of this award, Esther Rock certainly is!