By Brian Calhoun, Senior Music Specialist

The FREE Players Drum & Bugle Corps was founded in 2010 and is one of the very first differently abled Drum Corps to exist in the world. The Corps is part of FREE's Theatre Arts Day Program in Old Bethpage. Drum Corps is essentially a professional marching band that requires the musicianship of a symphony, combined with the athleticism of a professional sport, mixed with the pageantry of a Broadway show. Since our inception, we have made history on several occasions by traveling across the country to perform at world class events, most notably the WGI Percussion World Championships, DCI Eastern Classic, Newsday Marching Band Festival, USBands NY State Championships, Battle In the Apple, Walt Disney World, the NYC Columbus Day Parade, and now the Drum Corps International (DCI). Here is a day by day recap of DCI: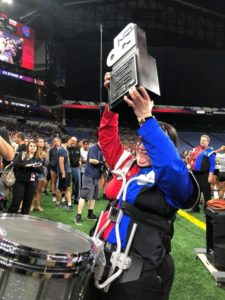 August 8th
DCI Performers Showcase and Hall of Fame
The Captain of our Drumline, Jennifer Pace, was our first member ever to compete when she performed her solo, "Superstar Hollywood," at the DCI Performers Showcase I&E (Independent & Ensemble). Jennifer received a huge standing ovation for her efforts and the video of her solo has received more than 100,000 views on Facebook. It was one of the most emotional, moving moments in our Corps history. She even received some words of advice and encouragement from DCI Hall of Famer Scott Johnson prior to competing. Scott is to Drumline (especially marching snare) what Babe Ruth is to baseball – the greatest of all time. There couldn't have been a better person to give Jennifer some last minute advice prior to competing.
Shortly after Jennifer competed, our Mini Corps performed at the DCI Performers Showcase on the Ensemble stage to another rousing standing ovation. Later that same night, the Mini Corps performed again at the DCI Hall of Fame Ceremony. The Mini Corps performed better than ever and brought the house down once again. Our performance was dedicated to Hall of Fame inductee Ken Turner and his 3-year-old grandson, Jack, who has Down Syndrome and was in attendance to watch our performance. We hope we inspired Jack to follow in his legendary grandfather's footsteps when he is older.

August 9th
DCI World Championship Prelims
This was, by far, the most challenging day. Due to new coach bus driver restrictions requiring nine hours of rest in between trips, we had no choice but to leave over an hour later than initially planned. We were not aware of this change until we were already in Indiana. This offset the entire itinerary for the day making it extremely difficult to have everything unloaded, set-up in time, and members ready to perform on time. DCI was very accommodating to make sure we had everything we needed to overcome this obstacle, allowing our buses to pull into the loading dock, reaching out to Heatwave Drum & Bugle Corps to help move our equipment inside, lending us additional wheelchairs and moving any mountain necessary to make sure we were successful despite the impossible time obstacle that stood in our way. We were not able to test sound due to our arrival time being cut short, however we were able to perform on time. This day taught all of us everything we needed to know to ensure 100% success the following day. DCI even filmed an amazing video of our performance. On Facebook, this video has received more than one million views!!!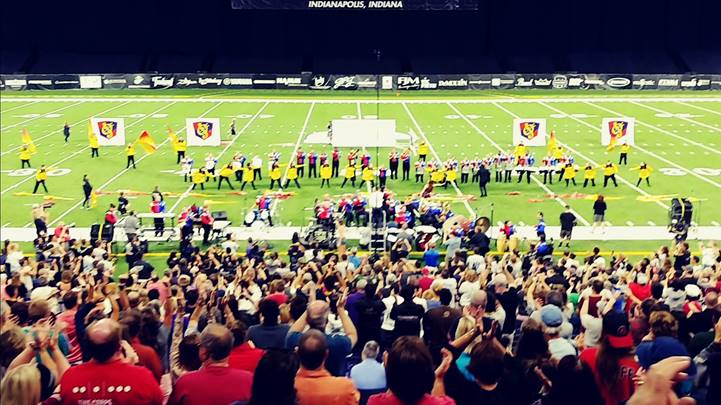 August 10th
DCI World Championship Semifinals
This day went much smoother than Thursday. DCI was kind enough to allow us to keep all of our props, equipment and instruments stored underneath Lucas Oil Stadium. DCI also allowed our staff to arrive much earlier in the day to troubleshoot sound and set up all the equipment before members came. By the time they arrived, everything was already setup and we were able to have probably our best warm up ever. Something magical was definitely in the air on Friday night.
Just like in Allentown, PA, for the DCI Eastern Classic in 2015, the selfless Sacramento Mandarins sent their entire 150 member Drum & Bugle Corps to help us. They especially provided extra assistance with their sound team, and Color Guard members even help lead part of our show. Words cannot express our sincerest gratitude towards this amazing organization.
Friday night's performance of "Against All Odds" was breathtaking. It was the largest crowd we have ever performed in front of. The members performed the most advanced show in our Corps history and they did the best they ever have. The standing ovation, the chants of FREE Players that rang out across Lucas Oil Stadium, the amazing trophy we received, the pride each member displayed and the sheer joy on their faces for achieving this milestone and historic accomplishment was like something out of the movies. We inspired thousands in attendance and millions watching all over the world to chase their dreams, never set limitations and that music is for everyone!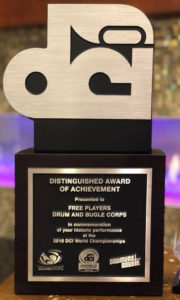 August 11th
DrumLine Battle/SoundSport
We competed for the first time ever in our Corps history in both DrumLine Battle and SoundSport. This day was a unique experience for us and it was impossible to finalize the itinerary, as we did not know if we would advance in the DrumLine Battle competition or not. Thank you to everyone that was patient and understood the competitive nature of the day and how it differed from all past events we have ever performed at.
In DrumLine Battle, we achieved our first competitive win ever against a Vibes Performing Arts Drumline. This was not a sympathy win or a hand out from judges – our members earned this win fair and square. As someone that has judged DrumLine Battle in Indianapolis the past two years, I can assure you that we never would have advanced if we didn't earn it. This was a milestone achievement to be able to legitimately defeat a group without any disabilities!
Our second Battle was against Blazeline. Blazeline was simply phenomenal and were a class act. We fought a very tough battle and it almost went into an extra round, but in the end Blazeline won. We couldn't be prouder of all our members holding their own against one of the best groups in the world, earning respect from not only Blazeline but from the entire audience in attendance.
Our SoundSport experience was fantastic! We won Silver in our division (All Age, Over 50 Members) and sang/played "Happy Birthday" to legendary Drum Corps announcer Steve Rondinaro, and participated in our first retreat as a competitive group. The crowd even chanted for an encore and we delivered!
Last but not least, we battled Community Living Hamilton Drum Corps in exhibition to close off SoundSport. Community Hamilton is an all inclusive Drum Corps from Canada. This was an historic moment and the first time ever two differently abled groups faced one another.



In Conclusion…
I feel DCI was the most inclusive, heart-warming, rewarding trip in our Corps history. It was also the most difficult to plan, staff, teach, organize and took over two years to successfully get off the ground. DCI was our most successful fundraising effort ever – we raised almost $72,000. $65,000 will be used to subsidize travel expenses for all members and the remainder will be used to continue to support the Corps future. We received the most media coverage ever, including ABC, NBC, CBS, FOX TV affiliates across the nation, The Associated Press, TIME, USA Today, as well as several features by News 12, FiOS 1 and Newsday. Our social media exploded (Facebook, Instagram, Twitter and YouTube), receiving thousands of likes, shares and millions of views.
Thank you to all our members, staff, volunteers, families, sponsors, Tri-Valley Brass and DCI for helping the FREE Players Drum & Bugle Corps share their mission of inclusiveness for all through the power of music!