Hi all:
As summer unofficially comes to an end, we see all the effort that everyone has been putting forth, helping children to get ready to go back to school. Even more impressive are those who were able to take advantage of summer youth programs, allowing them to expand their minds even further. We, at FREE, always encourage everyone to keep on learning, and have fun while doing so!
Respectfully, Chris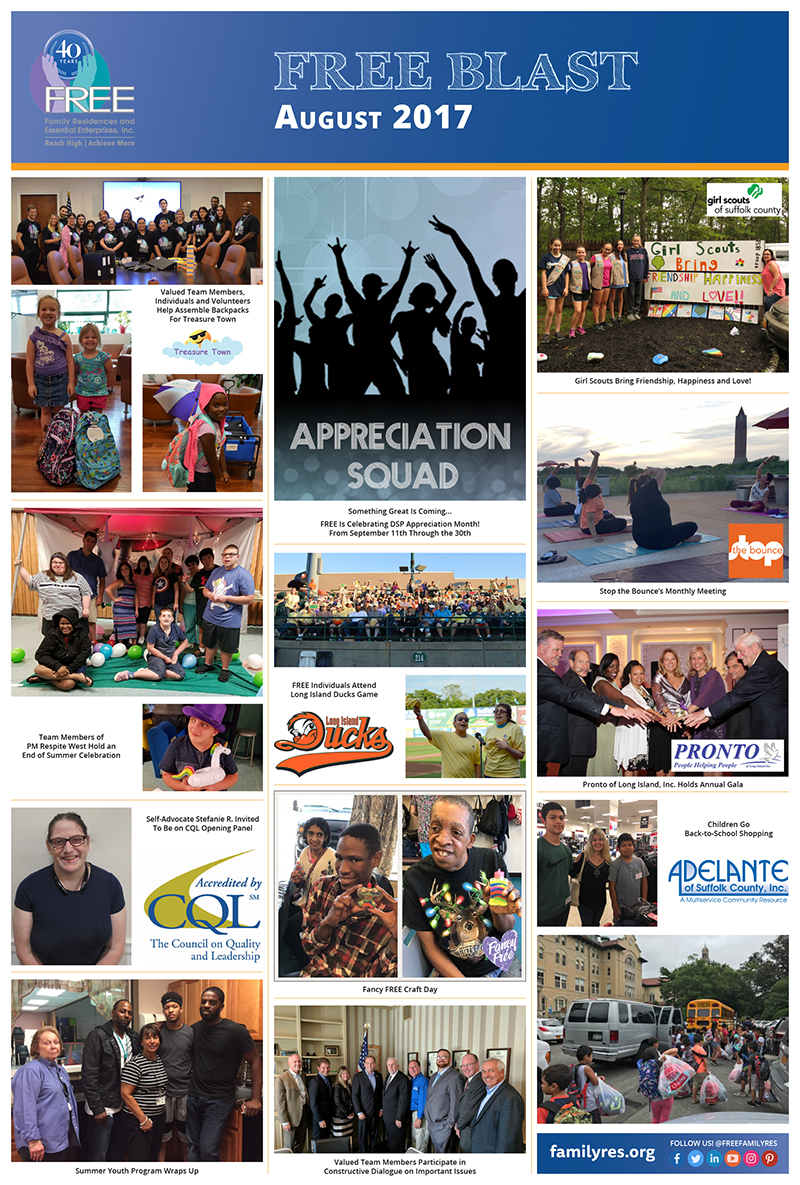 CLICK HERE FOR THE FULL-SIZE POSTER
Valued Team Members, Individuals and Volunteers Help Assemble Backpacks for Treasure Town
Every year, Treasure Town takes requests from Valued Team Members to assist them with sending their children back to school. Using monetary funds donated by fellow co-workers, Treasure Town was able to purchase more than 500 backpacks this year, along with tons of supplies that any child will need to return to school. Special thanks to everyone who contributes money to Treasure Town, as well as Pat Hogan, Celeste Lipski, Lori-Jean Farrell, Stephanie Celardo, Matthew Giantiempo, Damien Monaco, Danielle Celardo, Nancy Cohen, Kathy Thumudo, Cindy Werner, Tracy Sweet, Marc Montano, members of Swept FREE, Joe Jankowski, Patrice Radowitz, Lisa McDonald, Randi Gustitus, Kate Speckin, Eric Altshuler, Ryan Donelly, Booker Hucks, Anaijah Brown, Stefanie Russo, Veronica Garcia, Lindsay D., Doretta W. and Steven B. for donating their time to make this possible. Values of Responsiveness and Stewardship
Team Members of PM Respite West Hold an End of Summer Celebration
Valued Team Members of PM Respite West held an end of summer celebration with the theme: "Unicorn Summer Tea Party." This year, Valued Team Members opened up the event to family members of the Individuals we are so proud to serve. Everyone was very pleased to be a part of the festivities. Value of Innovation
Self-Advocate Stefanie R. Invited to Be on CQL Opening Panel
Stefanie R. was nominated for the 2017 Awards of Excellence through The Council on Quality and Leadership (CQL). CQL received many qualified applications from providers across the world, and although Stefanie was not selected this year, she received a much bigger honor. "When I saw her nomination, I so enjoyed reading about her work that I was hoping she might consider being a part of our opening panel on person centered supports [for the 2017 CQL Conference: Blueprint for Person-Centered Practices," commented Mary Kay Rizzolo, PhD, President and CEO, CQL. Of course Stefanie said yes to this amazing opportunity. Congratulations Stefanie! Value of Quality
Summer Youth Program Wraps Up
The Suffolk County Summer Youth Department of Labor Employment Program recently wrapped up. Coordinated by the Education & Youth services division, six youth worked in Hauppauge and Amityville sites, many as their first employment experiences. Pictured is one of the youth who successfully completed his summer youth employment in Day Services West, assisting in culinary preparation, maintenance and day program services, surrounded by supportive staff. He did such a great job that he has been invited to come back to volunteer or work at FREE again! Values of Responsiveness and Innovation
Appreciation Squad
Are you ready for DSP Week? Because we like to do things our way, we decided a week isn't long enough, so FREE is celebrating DSP Appreciation Month from September 11th through the 30th. As we gear up to show you our appreciation, we want to make sure that all DSPs get to join in on the fun! When the time gets closer, we will unleash some secrets about what we have planned for this year's festivities. Keep an eye on your email and social media @FREEFamilyRes for further updates! Value of Integrity
FREE Individuals Attend Long Island Ducks Game
A wonderful night was had by more than 150 Individuals and family members at the Long Island Ducks game at Bethpage Ballpark thanks to our Holiday Hero! The Ducks won 10-0 against the Southern Maryland Blue Crabs. And Barbara and Angel's performance of the National Anthem was outstanding! Special thanks to the Family Advocacy Core Group for facilitating this amazing outing! Value of Quality
Fancy FREE Craft Day
Recently, Fancy FREE held a craft day. The participants created different items using sand art. All of our valued Individuals enjoyed themselves very much. Letizia Francis, Program Coordinator at Fancy FREE, commented, "Fancy FREE loves to craft!" Keep an eye out for their next set of exceptional creations. Value of Quality
Valued Team Members Participate in Constructive Dialogue on Important Issues
Anita Dowd-Neufeld, Chief Administrative Officer at FREE, and Joe Jankowski, Senior Director of Government and Public Relations at FREE, attended a luncheon with Congressman Lee Zeldin, alongside other members of the community who serve within the health and human services field of Long Island. They discussed housing, opioid addiction, need for food, access to healthcare, etc. "Thank you all for coming and participating in a constructive dialogue on these important issues," commented Adam Saccardi, Congressional Aide for Lee Zeldin. Values of Responsiveness and Innovation
Girl Scouts Bring Friendship, Happiness and Love!
Members of Girl Scout Troop No. 1853 brought friendship, happiness and love to the Individuals and Valued Team Members at our Ridge residence. The Girl Scouts came to the program on several different visits, where they tended to some very tall weeds around the front, split up plants they already had and planted them in various areas, planted vegetation that Steve the Gardner brought, painted rocks and put them around the entranceway, made and painted birdhouses that were very colorful and hung them in backyard along with bird feeders, and they made a big sign to hang by the mailbox on the fence with some square bricks that say things like, "Girl Scouts Bring Love and Friendship!" Values of Responsiveness and Innovation
Stop the Bounce's Monthly Meeting
Stop the Bounce's monthly meeting was held at Jones Beach, where adoptive/foster care youth engaged in a yoga and mindfulness practice led by a certified yoga instructor. Everyone had a relaxing and informative time! Values of Responsiveness and Innovation
Pronto of Long Island, Inc. Holds Annual Gala
Recently, Pronto of Long Island, Inc. held its annual gala. The event was a huge success and everyone who attended had a wonderful time. Pictured (from left to right) are: Pronto Vice President Michael Grant, Treasurer Jay Satenstein, Board Member Sherry McPherson-Berg, Secretary Vivian Hart and President Kathy Bennett; and Honorees Nina Fenton, Howard Somberg and Joe Dugan. Value of Stewardship
Children Go Back-to-School Shopping
Olga El Sehamy, Director of Adelante of Suffolk County, Inc., stated, "Thank you for your donations! This year we exceeded our previous numbers and were able to accept 103 children!!! Our staff and volunteers [at Adelante] took them shopping for new clothes while their parents stayed behind and participated in workshops and received useful information. It was a win-win for everyone! There are many stories, some sad and some happy — but these are the days that give me strength to keep going." Values of Responsiveness and Innovation